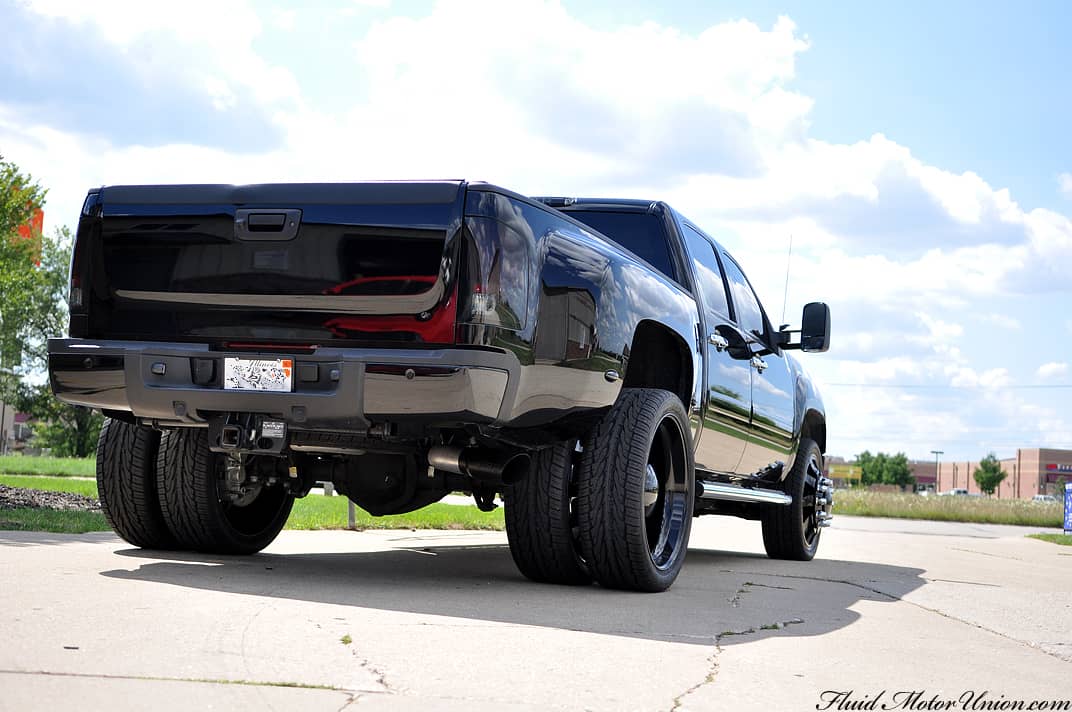 20 Aug

Blackout, tinting, smoking, and more for tail light, head lights, grill and wheels!

Remember those headlights and foglights we tinted a little while back? Well, the owner's back for more. A lot more. Here how we perform Blackout, tinting, smoking, and more!

Those headlights and foglights ended up going on something immensely large and immensely badass — a dually GMC Sierra Denali HD with the 6.6L Duramax diesel motor. In a word, it's big. So big, in fact, that it barely fit in the paint booth for the first job on the list — painting the exterior door trim black.

Along with the painted door trim, we removed the front grill and other trim pieces from the front fascia in preparation for painting them black, as well. Beginning to see a trend here? He wanted the GMC on the front grill to remain red, so we taped that off carefully and began prepping the surfaces for paint. At the same time, we sent his new aftermarket wheels out for powdercoating in the same shade. In addition to the front pieces, his new wheels' hub caps needed a fresh coat of black as well.

With every surface prepared for the booth, we carried everything inside and started spraying. A few coats later, we had the desired effect and set everything out to finish drying.

It was at the same time that the wheels arrived back from the powdercoaters, looking fantastic.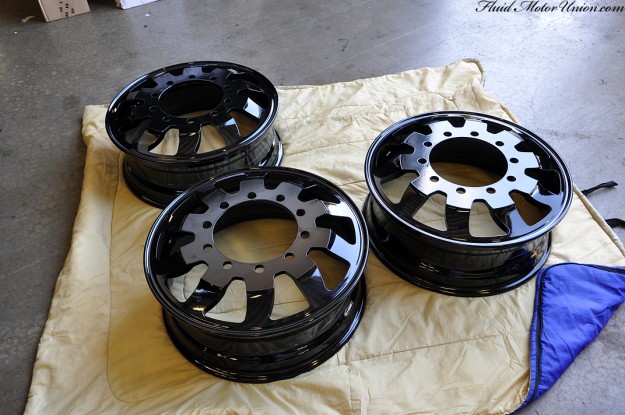 In preparation for the final reassembly of the vehicle, we also put together the remaining modifications to be done. In addition to the murdering-out of the vehicle, we also stripped the GMC of its chrome badges and body stickers, leaving the door handles chromed to stand out with the lug nut covers, which will be chrome as well. There was also a new exhaust rear section that needed to be added with a (you guessed it) black 5″ tip. Finally, we wired in a new tuning system to the Duramax's ECU, allowing for increased performance. If there's one thing that we've always loved about diesels, it's that with a little bit of effort, even the largest trucks can turn out 12-or-13-second quarter mile times. Once all of those things were accomplished, we reattached all the newly-blackened parts and took it outside to wash and photograph. In short, the look of this truck became dramatically more aggressive with the addons. Take a look for yourself:
All in all, the customer emerged from the job very pleased, as were we. Now he'll have a dually that's wildly separate from the majority of the others on the road, plus he's still able to tow an entire city block — probably even more now that he's got some extra torque lying around.
Have a great Monday! Just kidding — we all know that's never possible. Only 4.5 more days until Friday!