05 Feb

Black Is Back

Oh yes, the Instagram picture speaks the truth. The RBM x FMU CLK63 AMG Black Series is back at Fluid MotorUnion.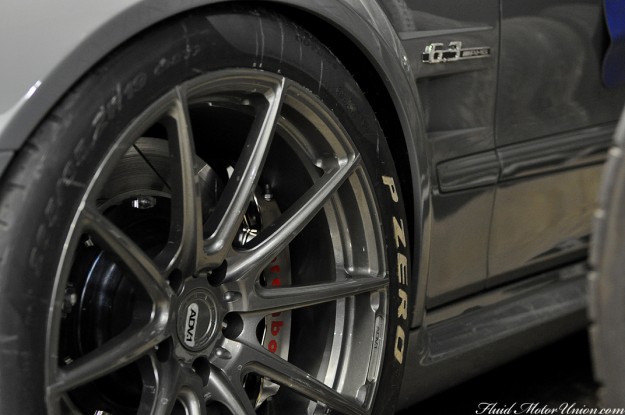 Just this past Saturday, we knew we were in for a treat when a car carrier rolled up to FMU with this beauty peeking out from behind the door. If you aren't up to speed with the car, this is a Mercedes-Benz CLK63 AMG Black Series which has undergone some serious modification. Its first round of work began at Fluid MotorUnion, where we installed the Varis GT wing, Weistec Supercharger Kit and developed our own custom exhaust setup for its display at SEMA in 2011. The exhaust consists of 100% custom headers with two runners (one from each bank) that cross over the other, followed by a completely custom stainless steel exhaust setup that runs into a bespoke exhaust-blown diffuser setup where the tailpipes normally are. You can see more on the exhaust-blown diffuser here, as it was recently removed from the car to protect it during transport.
From the first picture alone, you may have noticed a few changes to the Black Series since it last arrived here. In terms of what you can see, the wheel and tire setup has been changed. The old ADV.1 Wheels setup was ditched in favor of a new set from the same brand, along with a serious braking upgrade by way of Brembo. The tires are from Pirelli, and will undoubtedly provide zero traction in this crap Chicago weather.
Seeing as how this is a car destined for the race track, many of the typical Mercedes creature comforts have been eschewed in the name of saving weight and electrical draw. One part of the car that contributes heavily to both of the aforementioned categories is the audio system, which has been replaced with this Genuine Cardboard Fiber panel to cover up the lack of an in-car entertainment system. It looks expensive; we're scared to touch it.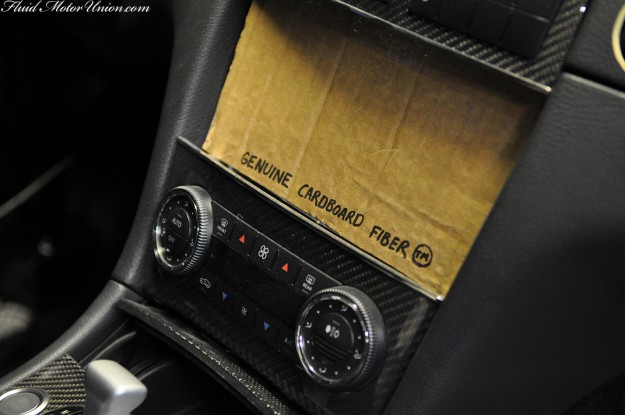 On a slightly more serious note, the racetrack prep isn't just about deleting, but also replacing. In this case, the OEM steering wheel has been replaced with a combination Works Bell flappy-paddle hub and Sparco suede-lined steering wheel. Do the buttons provide that Fast-and-Furious, 1500-shot of nitrous that would make even Vin Diesel stick to his seat? We don't know, we're not about to start causing danger to the manifold. (There's actually no nitrous on here, if you're wondering.) In the interest of safety (and also because passing tech inspection is mandatory if one wants to race), they've installed a custom roll cage with a nice coat of black paint and some aesthetically pleasing gussets. Speed holes, if you're not into fancy terminology.
And of course, there still remains the Weistec supercharger, nestled above the intake runners at the top of the formerly-naturally aspirated M156 V8 motor.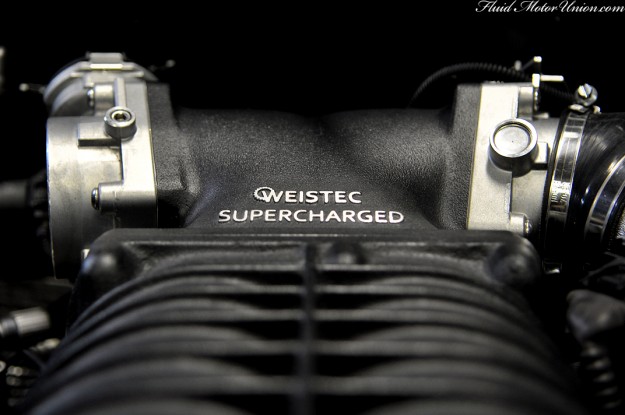 The actual reason it's here shall remain a secret for now. Of course, there's all sorts of maniacal ideas being tossed around, as well, so don't get too far from our blog while the Black Series is in our possession. You never know what's going to happen!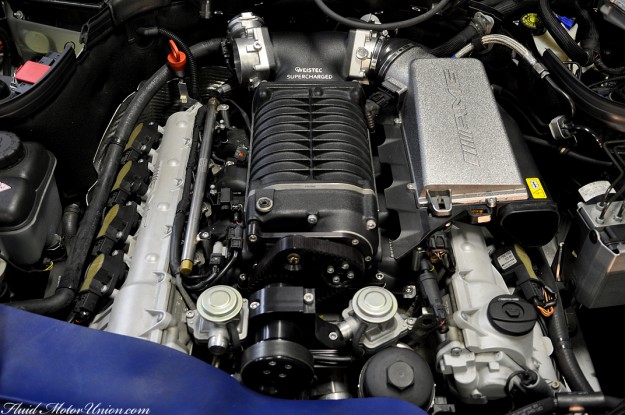 Have an excellent day, and we'll see you back here tomorrow with another FMU daily blog post!