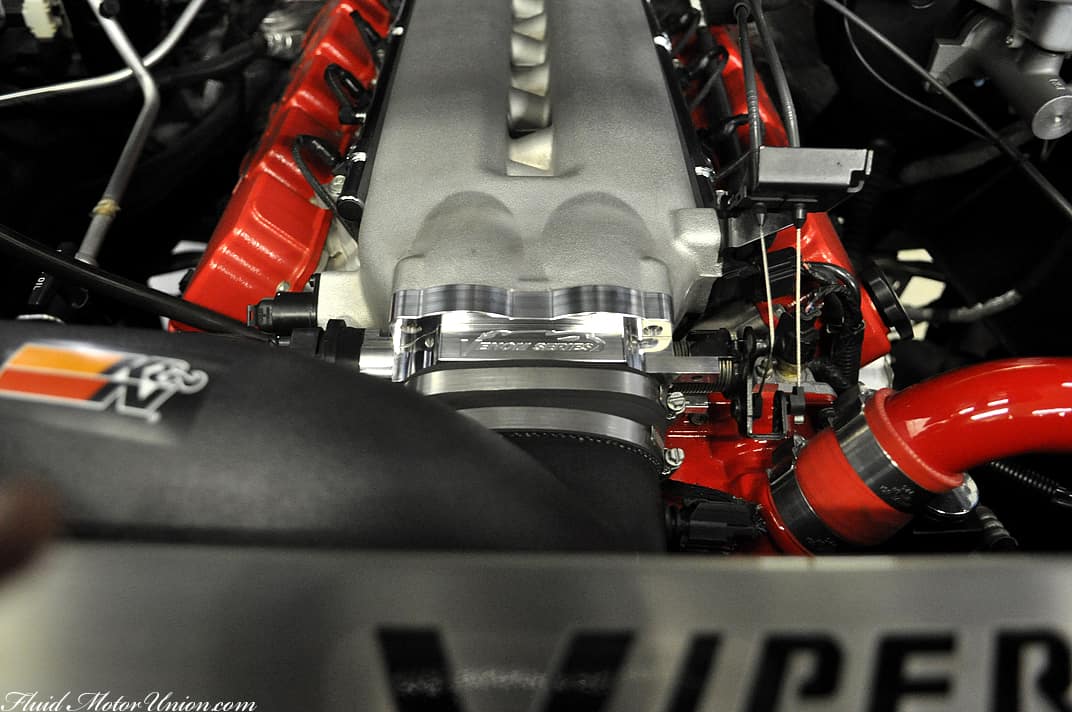 11 Mar

Big Ones

Before your mind even thinks of landing in the gutter, we'll let you know that today's blog is all about vehicles and jobs that are the opposite of small.

First up, we've got a rather large truck in our service bay. As if the dimensions weren't already large enough, they're multiplied by the fact that this particular Dodge Ram has a Viper V10 sandwiched under the hood. Yes, that's right, it's a half-cab SRT-10, complete with manual transmission and enough torque to change daylight savings time with a single burnout. Okay, maybe that's an embellishment, but the truck itself is no joke. They're quick. The first thing you'll notice on the back is a freshly painted tonneau cover; seeing as how our old SRT-10 is off in the Middle East, we sold this owner our old cover after painting it to match.

Even though we said it's quick, we know that the mod bug bites harder with some people than it does with others. This particular owner was looking for just a little bit more power and a little less parasitic draw, so we installed a new throttle body as well as a new pulley to help free up a few more ponies. While it's not necessarily the best weather for driving this truck right now, it's best to get all the work out of the way when it's cold, so that endless amounts of fun can be had once the temperature rises.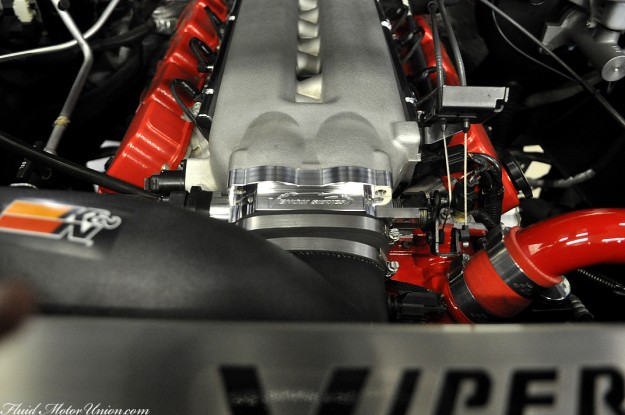 Speaking of large vehicles, the new engine is installed in the Land Rover Range Rover (it sounds so goofy when you say the full name, doesn't it?). When we last looked at this engine swap, the old motor had been removed, and we'd started swapping over the remaining working parts onto the new longblock. From there, we dropped the motor back in through the top, and reinstalled the transmission to make sure everything fit correctly and securely.
However, that's not the whole story. We had to wait for a few small parts to arrive from our parts supplier, so putting the engine back in wasn't the last step. With the arrival of the parts, we began to reassemble the remaining bits on the top end of the motor. After putting everything in place and refilling the fluids, we gave it a crank and she started right up. This isn't the end of the Range Rover's story, though, so stay tuned and see what else might pop up. It won't be what you expect, we'll say that.
This next item isn't necessarily large in terms of physical size, but in terms of importance. As you may remember, we went to the Chicago Auto Show's First Look for Charity earlier in the calendar year. The large majority of the cost of entry is donated to charity through the group of your choice, and our group – Catholic Charities of Joliet – saw it fit to send us a letter thanking them for contributing to the cause. They also sent along a framed picture from our time spent talking with the other attendees. It's a wonderful gesture, and we're glad they enjoyed having us there! It certainly won't be our last time supporting a good cause.
Finally, a clutch swap is not necessarily a small job — oftentimes, labor can top five hours, meaning it's a decent chunk of change to drop. That being said, it's a necessary expenditure if something in your drivetrain happens to fail, as the throwout bearing did on this Subaru. The bearing should typically resemble a ring filled with little ball bearings aligned all nicely. However, as you can see, the bearing has shattered, turning the transmission into a very noisy little bastard. No matter, as the transmission is already dropped (otherwise we couldn't take this picture!) and a new bearing is on the way.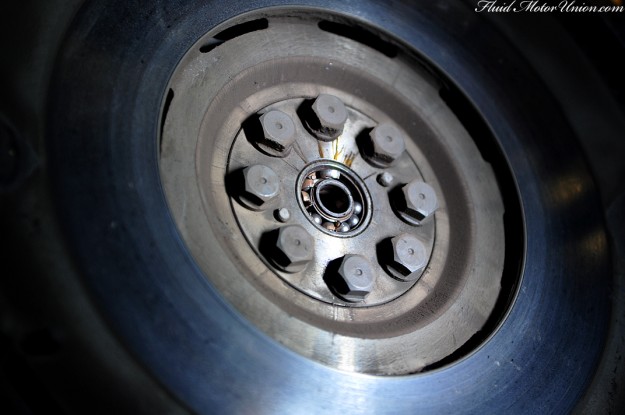 And that's it for our first blog post of the week! Stay tuned for the remainder of the work week while we bring you a level of in-depth coverage that no other shop offers, from both a maintenance and fabrication standpoint. Have a good day!