08 Jan

Bees!!!

Thankfully, we have no real bees to contend with in the winter. Instead, black and yellow the dominant themes of today's Fluid MotorUnion blog post.

Returning to the most yellow object we have in the entire shop, the paint work is complete on the Porsche 914 that we are currently restoring. Well, the application of the paint and clearcoat onto the body is finished. We're currently doing the remaining steps. First, we had to wheel the vehicle out of the paint booth as we've got other things to put in there and paint. Painting a car is not as easy as applying paint, then clearcoat, then letting it be done. Panels must be buffed and treated to post-paint perfection.

With the panels looking much better after the proper treatments, we're now going about reassembling the whole darn thing. As you may remember, we brought this car down to almost complete nakedness, so there's a good deal of work that needs to go into putting everything back. Window seals, windows, the whole shebang must be accounted for. Easy bolt-ons, like the side mirrors and tail lights, are already done, with the bigger parts still remaining. Oh, and we have to shoehorn an engine back into it, too.

Now it's time to move to the other half of our bicolor blog title. With all the attention that we've been paying to the top parts of the 914, hopefully you didn't think we'd forgotten about the bottom half. Nope, we didn't. After making sure everything was in order on the panels lining the bottom of the car, we went ahead and gave the underbody a fresh coat of underbody spray. If we're going through the motions, we may as well make 100% of the car look good, rather than only 90% of it.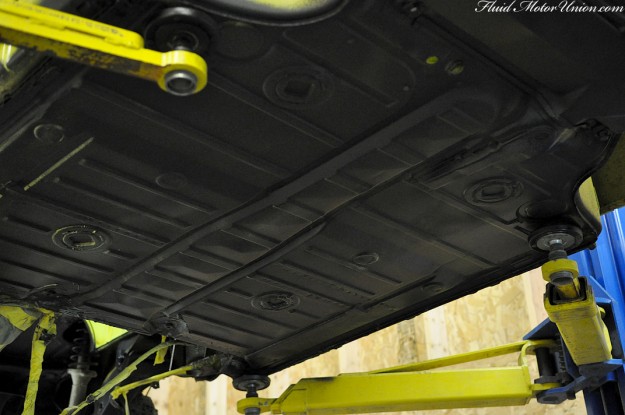 Finally, we've got one more item on the blog that absorbs all wavelengths of visible light. Due to a shipping mishap, we (instead of his shop out-of-state) received a set of Stätus buckets meant for Anthony's C55 AMG. They'll definitely give him a more race-bred aesthetic to help bring the interior up to speed with the exterior. Of course, once the seats arrived we wanted to send Anthony some shots of them, and we figured a repost on the ol' blog wouldn't hurt, either.
With its black alcantara suede, black stitching and matching gloss black shell, these seats won't stray too far from the color scheme already present on the car. We can't wait to see them installed; hopefully Anthony will shoot some interior shots once that happens!
By the way, did you know that book time on a Lamborghini Murcielago clutch job is around 40 hours? Well, now you do. Why does this matter? Keep checking the blog this week to find out! Have a great day!