26 Jan

Back Together

On some days, it seems like everything in the shop has been taken apart. So let's check out what's happening as we put everything back together today.

First up, we have George's 318. As the bumper is off being treated by the body shop for some light cosmetic work, we're working on making sure every single system in George's car is wired up and fully operational, from the A-pillar gauge pods to the hazards to the windshield wiper nozzles. Since he'll be taking it halfway across the country soon, we want to make sure it's in tip-top shape! It's almost back together, just waiting on SPEC to ship the clutch when they feel like it, and it leaves next week so we should have some quality shots up soon!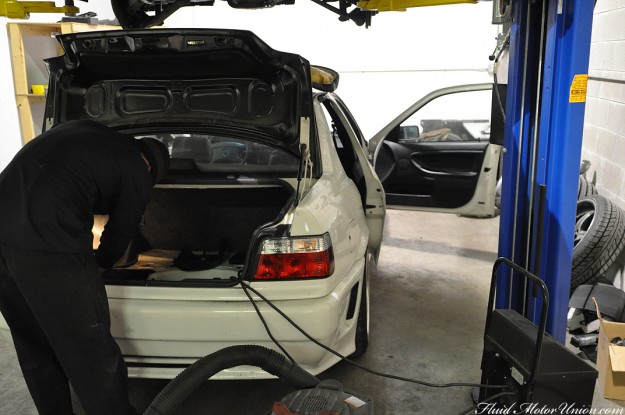 Next, we move to the S54-swapped E36. Last time you saw it, it was up in the air on a rack, with the front end pretty much apart. Now, it's even more apart as we do a little bit of transmission tweaking. The S54 that came with this swap is an SMG model, and the owner wants to convert it to full manual, so there's a bit of work required to do that. In the meantime, though, enjoy a picture we don't get to take too often around here – an exposed transmission.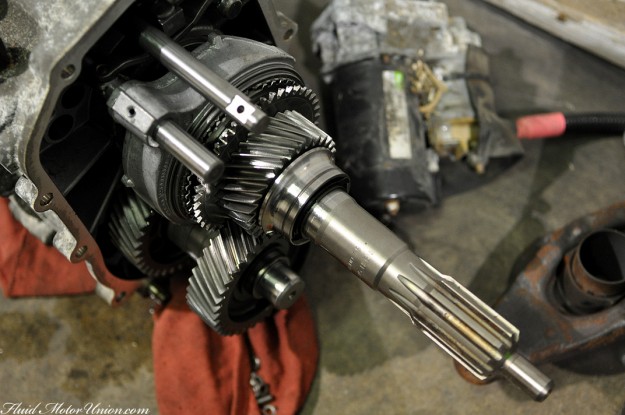 Over on the body side of the shop, in addition to George's bumper, we have two other projects that are getting attention. First, we have an E46 that suffered a rather nasty front-end collision. The frame rails were good, thankfully, so a bit of parts replacement and some use of the straightener has brought everything back to its proper positioning, and now it's busy being put back together.
Directly behind the E46, we have the Genesis. It's receiving what will be its final matte white paint job, as we are perfectionists and wanted to make sure the car was aesthetically perfect before letting it go. It won't be going back together just yet, as it's been primed and sanded, but the final coats of white still need to be applied. We'll keep you up to date on this one as it develops.
Finally, we have one picture from what's been happening over in service. Ever taken a VANOS unit off to inspect it? When you do, you most certainly do not want the bank 2 exhaust piston to look like this: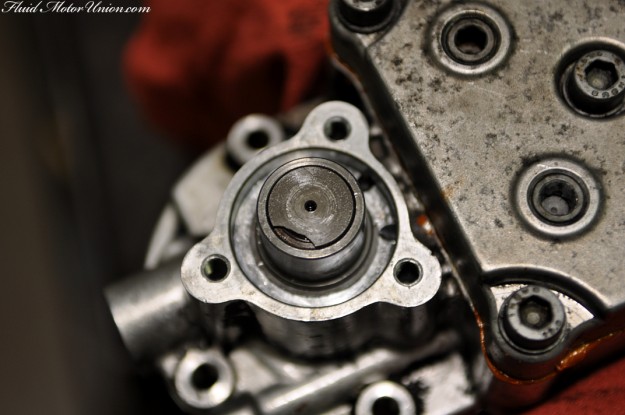 Props to Dr. VANOS for coming through with a replacement piston at the speed of light. And props to all of you loyal readers, as well. Why? Because everybody deserves recognition from time to time, and without you all, we wouldn't have anybody to show this neat stuff to.