16 Apr

Baby Steps

We haven't taken a look at Tom's personal Z32 project in a while, and he's made some serious moves since then. So let's change that.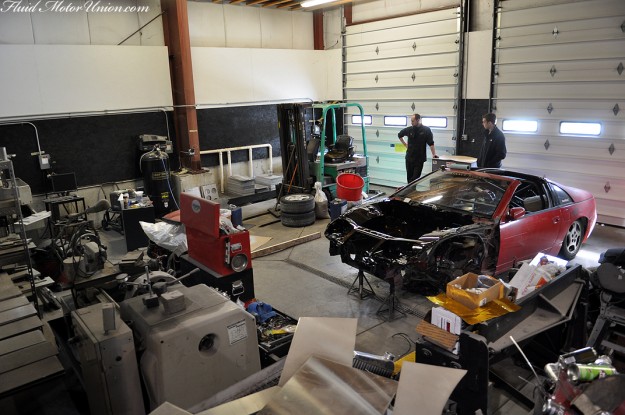 Last time we saw Tom's Z32, it had just been removed from the paint booth after its custom engine bay (complete with tubbing for better wheel clearance) fabrication was completed. Now that the paint has had time to dry, it's time for Tom to move to the next step in completing his engine bay. He set about wrapping both corners of the engine bay on the firewall side in a reflective gold foil, which should help mitigate heat collection in those areas. The passenger side will house the battery, and the driver's side will house the brake booster and master cylinder, two areas you don't want a bunch of heat hanging around.
But the wrapping didn't stop there. Instead, Tom took the whole firewall to task, wrapping the entirety of it in the reflective foil. Not only does this provide for more heat-reflecting capability, but it also looks pretty slick, as well. Each night he worked on it, we'd see more and more progress, even though he worked on it for maybe only an hour or two each night. Baby steps.
Once he had the entire firewall wrapped, Tom set about reinstalling the brake booster and master cylinder (two of only a small handful of pieces that will accompany the engine inside the bay). From there, he masked off the bottom part of the engine bay and transmission tunnel, and once again applied a layer of undercoating spray. Sorry if the picture below is slightly blurry; it's a pain to get any part of this bay in focus with all the light bouncing around.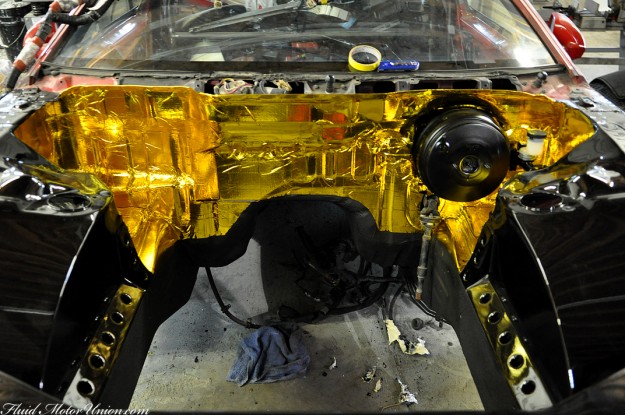 Now that the engine bay is more or less ready to accept the motor, it's time to get that motor ready for installation. Seeing as how it's been through a fair bit, Tom would send out the block to be line-edged and honed. This required a full disassembly of the motor, which seemed to take him no time at all.
After a short time, the block returned from being machined, and Tom set about putting a few pieces back together. He still hadn't received his new ARP head studs by this point, so there wasn't a whole ton to do, but the motor looks much better (and is probably safer from damages) when it's partially assembled, rather than scattered all around his work area. He also placed his turbo manifold into our de-burring finisher for about a week, which brought a nice quasi-polished look to the steel, in sharp contrast to the rest of the darker-painted motor. It's almost ready for insertion…
And with that, another FMU daily blog post is in the book! Get ready for tomorrow, when we come back to one of our favorite pastimes — custom exhaust! Have a great day!