A week has now past since our endeared media director, Andrew has left us, and already FMU feels the immense strain of his absence. Digital Cameras lie on the ground in shambles from feverish button mashes and rapid toggle flips. Customer are fed up with having to wait for 3 rings while the lines are busy with other calls. There is entirely too long of a wait for customers needing to be picked up and dropped off. To top it all off, the computer we use to do all the digital editing and posting has overheated from trying to process all of the spelling mistakes made during this post and has burnt half the shop down.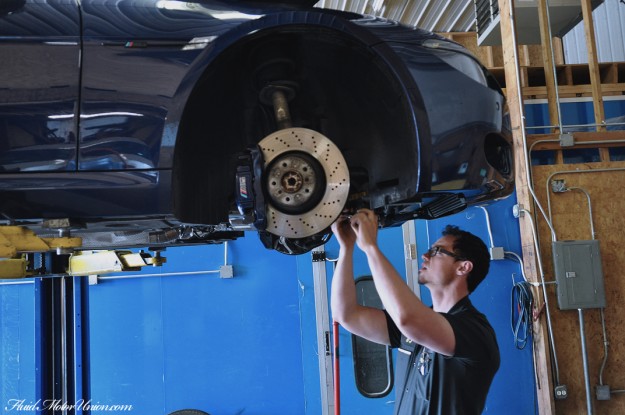 You can either laugh now or let out a collective sigh, as that was my attempt at humor as the new blog writer. While we are still reeling from Andrew's departure, we have not burned down and customers continue to swamp us. As an introduction, my name is Osvaldo J. Lopez, but I go by OJ. I am one of the founding members of this great company whose site you have chosen to visit. I am going to do my best to try to keep everyone updated on the many things that go on here during a given week. I am not a writer; not even close, so please bear with me as I attempt to grab the reigns of this once fierce beast of a blog that Andrew so eloquently tamed during the past 3 years.
As one of the men in charge, I always viewed Andrew's time here as sort of a catch 22. The way i saw it, if he wrote the blog and it became something that neither our public nor I cared existed, his days would be numbered. On the flip side; however, the more his voice and stlye became established in his writing, the more I understood that he couldn't be with us forever. As his confidence and skills grew, I knew that a little automotive shop in Plainfield, IL was just too limited for someone I could undoubtedly see writing for the world's top online automotive blogs or print magazines. I will only attempt to come close to the intelligence, grace, and humor that Andrew consistently brought to not only our blog, but also the shop as a whole. Just so it is in print as well; from everyone here at Fluid MotorUnion, thank you for all your hard work and dedication over the years. You are already missed, Andrew.
Now that I have gotten the proper goodbye out of the way, let me lay some ground rules about the blog from here on out. First off, I am highly opinionated when it comes to matters of automotive taste. Not everyone who reads what I write is going to like what I say, so if I offend or upset anyone, please feel free to write me a nasty email or just stop following us. While the proper thing to say would be that the opinions expressed here are not representative of the company, they probably are; sorry. It's just my opinion, so relax. It really doesn't matter in the grand scheme of things. This company has been built on doing things which many people would not agree with. Running open velocity stacks, lifting an X5, putting a S62 into a 7 series and dropping it as low as the coilovers allow are just some of the things that come quickly to mind. So expect this blog to remain an extension of that mentality.
Secondly, the people that work here at FMU work incredibly hard, day in and day out. We take this job and everything that surrounds it very seriously. For many of us, it is our lives and a symbol of everything that we have worked to become. When we tell you something, whether it is an issue with a car, a potential problem down the road, or the best way we think to fabricate something; we do so with all our experience as well as our hearts. Many times we find ourselves in a situation where we can either either make a quick buck by doing work in which we may not agree or choosing to complete the right job the right way. While we can make the customer happy by falling within their budget, we won't short cut our work, as this can only lead to comebacks and unhappy customers. To maintain the high standards that we set for ourselves, we strive to do the best job possible, regardless of size or profit. While I speak in regards of our Service, Repair and Performance departments, I too will strive to do my best to hold this blog to that same standard.
Thirdly, my background comes from many years of mechanical and heavy diagnostic experience; so please forgive me if i become too descriptive. While I would like to believe that I do have a natural talent for dumbing down complex systems into easy to understand analogies; if at anytime you have trouble understanding something displayed in the blog, leave us a comment. I will do my best to further expand on whatever subjects you may have questions on.
Lastly, I want anyone who is reading this to understand how truly grateful I am for your audience. As someone who has worked many a long night in order to get FMU where it is today, I know that it would not be possible without your support, or may you have it, opposition. Fluid owes a great deal to everyone who has ever walked in the door, emailed, phoned in, Facebook liked, and made Youtube comments (both complementary and scathing). Whether you love us or hate us, I humbly thank you for taking notice and expressing how you feel. While we try our very best not to, we make mistakes. We are not perfect, and while I can't foresee a day where we become without flaw, know everyone here is striving to become the best. If we offended you in the past or you think we didn't try to serve you in the best way possible, let's take today, and try again.
I Have plenty of new exciting projects and world shaking products in store for you. Please be patient and keep checking back with us to stay afloat with what's been going on behind these doors. If you liked what we have been doing up until now, you're going to love what we have in store for the future.