09 Feb

Alpina B5 US Spec Tribute Build – Fluid MotorUnion

When a discerning customer reached out to us about what we would build "if you love the E60, but the M5 was too much" we knew the exact answer. A US Spec Alpina B5.
What Is An Alpina B5? What Makes Alpina Note Worthy?
At Flůid MotorUnion, we have always had a place in our hearts for Alpina. If you are not familiar with Alpina, they are a very rare factory spec BMW tuner just like the well known "M" Motorsport division. Alpina produced about 1,700 cars in 2019 making them even rarer than Ferrari which makes 10,131 cars a year. Or even Rolls Royce which put out 5,152 vehicles in the same year. Out of 1,700 vehicles produced yearly, only ~400 make it to the U.S. Alpina is technically an independent automaker but has had a partnership with BMW for about 5 decades now. BMW trusts Alpina to modify, tune, upgrade, and hand-assemble the cars giving each one the "white glove treatment" before being shipped overseas. 
The European market has an Alpina edition available for just about every chassis designation. However, the American domestic market has only got a few official Alpina US Spec vehicles over the years. The Z8 based Alpina Roadster, the E65 B7, more recently the F06 B6, and the F01 and G11 versions of the 7 series were available for sale. We have been lucky enough to even have a few pass through the doors of our service shop here in Naperville.
Fluid MotorUnion US Spec Alpina B5 Tribute Build
To start we would need a good canvas. The donor car chosen was a 2004 545i manual that came with a 4.4 L N62 V8 engine that made 345 hp in factory trim. This car lived a good long life but due to some unfortunate, but all too common engine issues, had been collecting dust for quite some time.
In the USA the only Alpina available for sale around the same time period as our 545i was not an E60 chassis, but rather the seven series E65 B7. This car came with a very similar 4.4 L 495 HP engine. This +150 HP over the N62 is a result of the 4.4 in the B7 getting force-fed 11.5 PSI of boost via a centrifugal supercharger system and air to air intercooler. In order for this vehicle to be considered an authentic "tribute", We of course wanted the Alpina-specific engine, transmission, and differential to be at the heart of the build.
As you can probably tell, engine and transmission removal is a relatively straightforward job for us. But the rear differential required a bit more care and attention. Since the differential removal grants easier access to the rear subframe components, now is the ideal time for a refresh. Any time you are dealing with a donor car with some miles, things like subframe bushings, suspension components, and brake lines are best replaced with everything out of the way. 
With the rear end taken care of, we turned our attention to the engine. Now the N62 has its fair share of issues so we were planning on taking it apart to deal with some things like carboned secondary air passages and valve stem seals. However, upon disassembly we found another common issue, galling on one of the Alusil coated cylinder walls.
In the past, this sort of damage would've been a death sentence as repairing and re-coating the engine often cost more than the value of the car. This is especially important with the Alpina engine block as it is specific to the supercharged engine. Meaning if we would have needed a new engine block for this build, it most likely wouldn't be happening.
It's difficult to say why this cylinder failed, but this is common enough on N62's that we weren't surprised. It will often manifest itself as a knocking noise, from the piston slapping the cylinder wall. Luckily the BMW aftermarket world has developed some very cost-effective options for fixing engine damage of this nature. We used a reputable company by the name of Millennium Technologies. Aside from the one cylinder with the damage all of the other bearings actually looked pretty good, which is surprising for a BMW. 
Regardless we replaced the damaged piston and got a new set of high performance coated tolerance specific bearings for the engine, and all new piston rings. We increased the piston ring gaps slightly over stock, as we plan to push a little more power than the factory 507 hp.
Now as you can imagine waiting for bearings and Alpina boost specific piston rings from Germany during the coronavirus took an incredible amount of patience. So while we were waiting, we thought we could use the extra time to do a more complete job of paint and bodywork. So we took the liberty of completely disassembling the vehicle so the door jams and engine bay could be sprayed in the chosen color Alpinweiss II Blue. This stunning original Alpina color would further enhance the authenticity of this tribute build. Since the door panels were off for the bodywork, the customer opted to completely sound deaden the interior of the vehicle. The customer was mostly concerned with road noise and sound isolation, but I'm sure it will help boost the audio quality as well. Other Alpina goodies included B5 spec brakes painted in Alpinweiss Blue, as well as an original Alpina B5 instrument cluster and front spoiler sourced from Europe.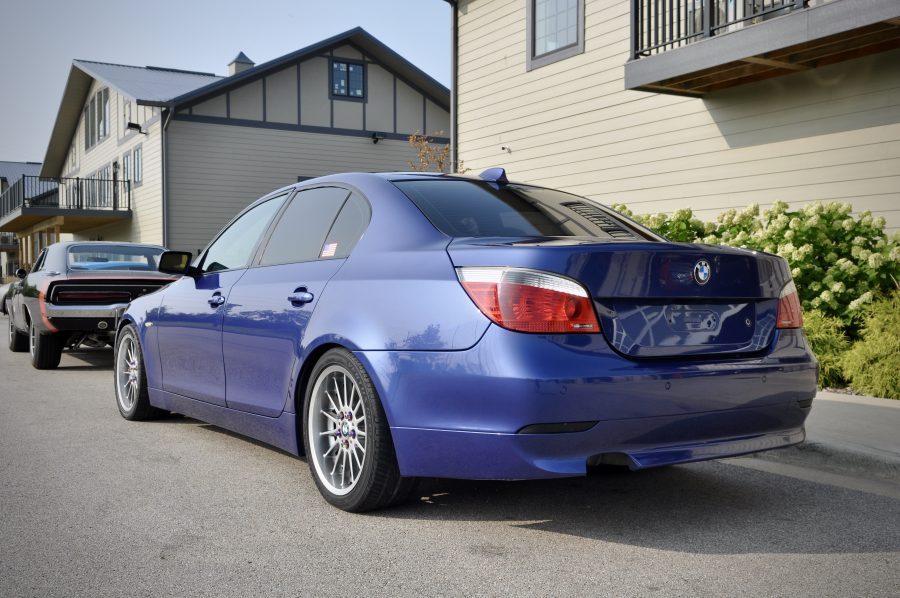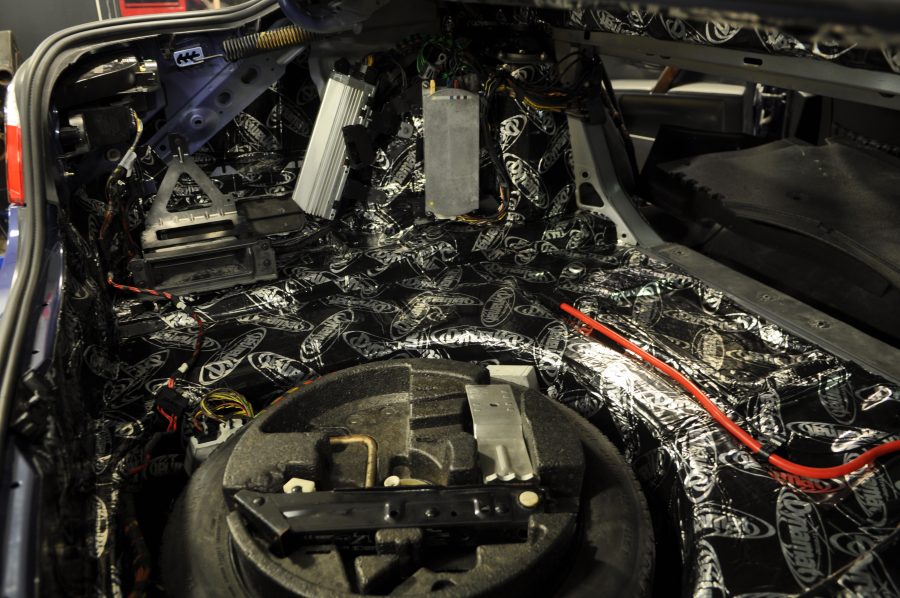 What challenges are next for our Alpina B5 tribute build? With the engine installation out of the way, we now begin the challenging issue of getting the ECU and transmission to communicate with the rest of the vehicle. The last part of the drivetrain swap will be to tackle other components like driveshaft length and supercharger placement. So while it may seem like we're close to wrapping up – there are still some unknown variables that could prove difficult. As you know with any build we've done it wouldn't be a "Fluid MotorUnion" car unless the exhaust was over the top. So expect power upgrades aided by a full length tubular stainless steel headers into a customized system that sounds classy yet aggressive. 
Stay tuned for more updates on our E60 Alpina B5 tribute. If you are looking to build a U.S. spec Alpina of your own, Fluid MotorUnion can answer any questions you might have.
To book an appointment or find out more information, hit up our website or email/call:
🖥 – www.fluidmotorunion.com
📲 – (630) 305 3054
📩 – blog@fluidmotorunion.com
🎦 – Facebook.com/FMU