04 Apr

A Little Fancy

We've got a few smaller stories for today's blog post, but their lack of story size definitely isn't indicative of the quality of these vehicles.

First up is a vehicle that came to us on a rainy day in March. Typically, you won't see Aston Martins rolling around outside until the sun is out and summer temperatures are sticking around. Instead, this owner came to us before the weather improved (if you can call the current weather "improvement") to get a little bit of service work done. His V8 Vantage was in stellar condition, despite being specked with rain drops. Not only do we enjoy working on these, but they make for some quality eye candy, as well.

The eye candy isn't just limited to the Vantage, either. Judging by this key ring, the owner has a good deal of fun no matter which car he chooses from his stable.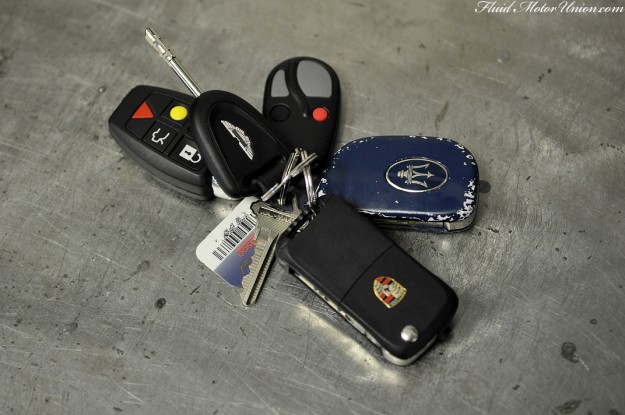 Continuing with the exotic theme, Hugh's Maserati Quattroporte has once again returned to Fluid MotorUnion for some regular maintenance. Hugh's been bringing us his Quattroporte for over a year now, and it's always a good sight to see. After all, it gets driven, and if there's one thing we like, it's an oft-driven piece of machinery as beautiful as this one. We can't thank him enough for his continued patronage of our establishment, but hopefully this mini blog feature will suffice for now!
Finally, we're going to upsize the luxury quotient a little bit. As you may remember, we now have a 2010 Range Rover in the FMU stable, and we started off with some light modification by way of upgraded 2012 tail lights. Well, now it's time to kick things up another notch and add some contrast to the exterior. We removed a large majority of the Range Rover's trim pieces (fender vents, hood vent, grill, door handles, rear badging, etc.) and tossed 'em into the paint booth for a little pre-paint prep.
From there, Vern laid down a nifty layer of matte black paint and set the pieces out to dry. A little while later, we rolled the Range Rover itself into the booth to paint everything above the belt line in that same shade of matte black. Once everything cured, we put the whole car back together, and now it's just a little bit meaner. You didn't think we'd rock a nearly-stock Range Rover for long, did you?
Don't worry, we've got plenty more on the horizon for the Range Rover, as well as our other projects currently under way at Fluid MotorUnion HQ in Plainfield, Illinois. Stick around, check out some of our projects, and head back to the blog tomorrow for more exciting original content! Have a great day!