01 Feb

A Growth Spurt

Today's FMU daily blog post is all about growth in various ways. Let's take a look at how it's working its way into our various builds.

First up is a quick snap of Alex's LS1-swapped blobeye Subaru WRX. This one's a little tenuous as it relates to growth, so we'll skip over the metaphor and get right down to the business portion of it. Since last time, we've removed the old placemarker tips and replaced them with exactly what Alex is looking for — they're still the same size, but now they're angle-cut and highly polished. It won't be too much of a giveaway for your average street spotter, but once that V8 rumble kicks in, they'll know something is up. We should have these all welded into place quite soon, but for now we're making sure the position is perfect before setting it in stone.

Now we'll move on to something that's much easier to relate to the blog post's title. Over on the second of two fabrication shop lifts, we have a car that's getting some custom exhaust work done. To be brief without omitting data, the customer has a 3.5″ single exhaust up until about a foot in front of the rear differential that we will be mating to our archetypal FMU rear section design. Now, as you may now, the FMU system design that we've adapted to several different cars thus far (including the aforementioned LS1-powered WRX) is not designed to mate up with a single 3.5″ exhaust. Therefore, we'll have to create a transition that goes from one pipe to two, and necks down to the 2.5″ diameter of the FMU system at the same time. Before we started with that, we took what we had to work with and positioned the rear section exactly how we wanted it so that we could begin plotting the piping angles.

As you might imagine, the best way to turn a single pipe into two is a Y-pipe. And that's where the growth spurt comes in; typically, we build Y-pipes for the FMU system, which involves going from a single 2.5″ pipe to two 2.5″ pipes. This time, however, the Y-pipe will undergo a growth spurt, starting with a single 3.5″ inlet and simultaneously necking-down and splitting off into two 3″ pipes. There won't be any flow constriction with this Y-pipe, as the combined area of the two pipes is more than the single pipe. Furthermore, we're partially necking down now (rather than doing it all at once) because going directly from 3.5″ to 2.5″ would look horrendously awkward. So we started welding together the halves of the Y-pipe, then welded that together and cut the new Y-pipe to the exact size and shape we need.

After that, we taped the Y-pipe to the current 3.5″ setup to see how everything looks. As we'd hoped, our multiple measurements paid off and the 3.5″ sides mate perfectly. Soon, we'll be tacking that together while we start constructing the final stretches of pipe that will connect this Y-section to our FMU rear setup adapted for this specific project. There's a bit more cutting and repositioning of pipe than a standard FMU rear section addition (which is a simple cut-and-bolt-in-place job), but we're up to the task and should hopefully have everything together soon.

Finally, Tom's engine bay is about to undergo a growth spurt of the aesthetic variety. With the majority of the body filler sanded down and prepared for primer, all that remains is welding in the cross-section of metal that will connect both sides of the engine bay at the front of the car. Tom's already dimple-died the piece; he just needs to weld it in, smooth those welds down and apply filler where necessary. He's already rubberized the lower part of the engine bay, so we're excited to see this personal side project grow in the coming days.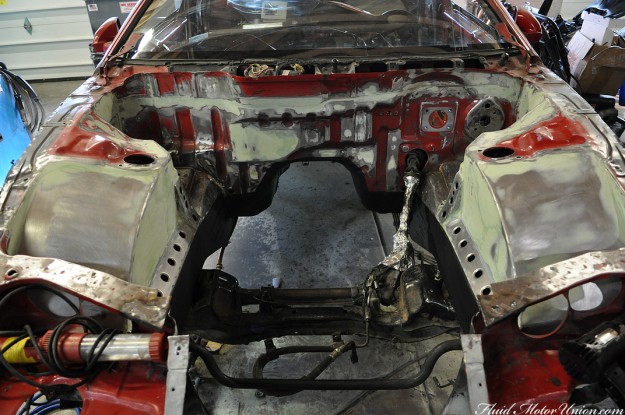 Have an excellent weekend, and we'll see you folks on Monday!