25 Sep

Work-Life Balance

When you're here 11 or 12 or more hours per day, work and life tend to intertwine a bit. So, today, we've got a little bit of work, and a little bit of life.

First off, a customer rolled into the shop today in a shiny new Land Rover Range Rover Evoque. Quite the long name, isn't it? Well, not much else about this car is long or large. Being the smaller offering from Land Rover's upscale division, it's got everything that you've come to love about Range Rovers (mainly overt luxury) mated into a smaller package for those in a more urban environment. It's smaller than you think in person, coming in somewhere around the size of an older X3 or so. The owner didn't come in to get it serviced, though, so we weren't able to shoot it more extensively. Which makes sense, if you think about it; between the facts that it's very new and well under the factory warranty, we may not see them hitting service/maintenance bays for a while yet. But in the meantime, she's certainly a looker.

Next, we've got a bit more work coming your way. Or rather, our way. And we'd say it's pretty damn necessary, too; if your differential bushing ends up looking like this, you may be a bit past due on some maintenance. Now, not all parts are created equal within a vehicle, but you almost always run the risk of causing damage to even more parts by not maintaining others. Before things spiral downward, and before your credit card bill shoots upward into the cosmos, head on down to us.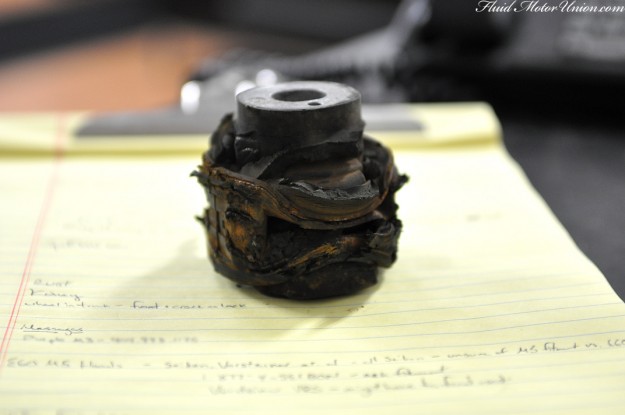 This one is mostly work, we suppose. Either way, in the state of Illinois, if you fail your emissions the first time around, the state will provide you with a booklet of all the certified emissions repair facilities in the state, broken down by city. We were mysteriously taken out of the last edition of the book, but after a few phone calls and several trips to emissions with our name on the repair sheet, we're back! And, with 5 of 5 successful emissions passes since they've decided to take notice of us again, we've got an A grade. Other Plainfield shops were blurred out so you can find our name easier. Have a problem passing emissions? Give us a ring!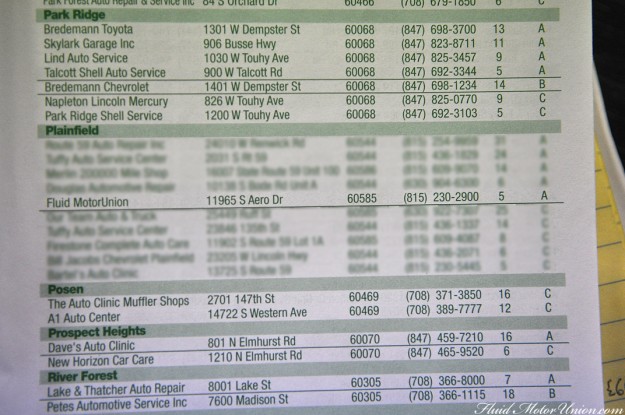 Moving over toward the life side of things, we were presented with something on Monday that we'll never turn down – a home-cooked meal! Marilynn, runner of the front office, shop mom and overseer of the infamous shop pups, cooked us a fantastic meal of porkchops, applesauce (with granola) and mac-and-cheese. To say it was good wouldn't do it justice, so like every other person that owns a digital camera, we took a picture of our meal to share it with everybody.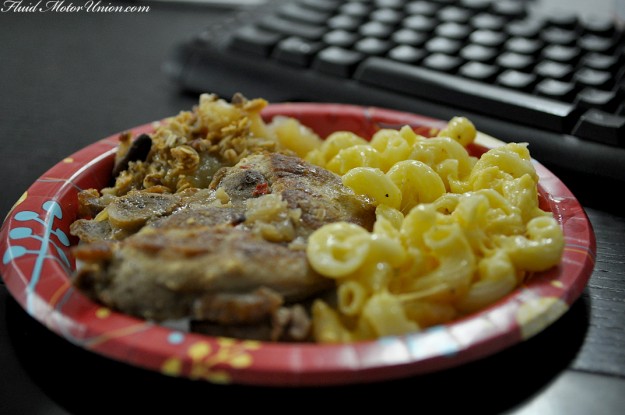 Back in the shop, we had a Mercedes-Benz CDI Sprinter roll into the shop with transmission issues. After diagnosis, it was determined that a replacement transmission was the best and most cost-efficient method of fixing the issue. As the owner hemmed and hawed a bit at the notion of replacing the entire transmission, we managed to source a Sprinter transmission that was freshly rebuilt and came with a 3-year, 100,000-mile warranty, which helped seemed to put the owner's mind at ease regarding future transmission issues. Here's the new unit, freshly painted by the seller and ready for install.
A little while later (literally – Ed flew through this procedure like he built the damn cars himself), we had a new transmission installed and the Sprinter was back to life! We're considering picking one of these up for ourselves for various work purposes, as they're built to take an absolute thrashing and the CDI motor is relatively easy to keep up to date on maintenance.
Finally, we move back to the life side of things. The guys in fabrication are known to stay late from time to time, using those twilight hours to work on some of their own personal projects. We've got one coming up on the blog for Craig, and we've already shown you Tom's Z32 project, as well. For today, though, we're back to focusing on Tom as he recently picked up a new toy, this Honda quad.
It came with a bit of an awkward rattle, so Tom broke into the engine casing and diagnosed the issue last night. Apparently, the counterbalance shaft of the water pump isn't performing exactly as intended, so that will all be replaced soon. In the meantime, we snapped a picture of the most interesting piece of machinery to come off the quad – the clutch. Once he gets his new parts in, it'll be back to life in no time.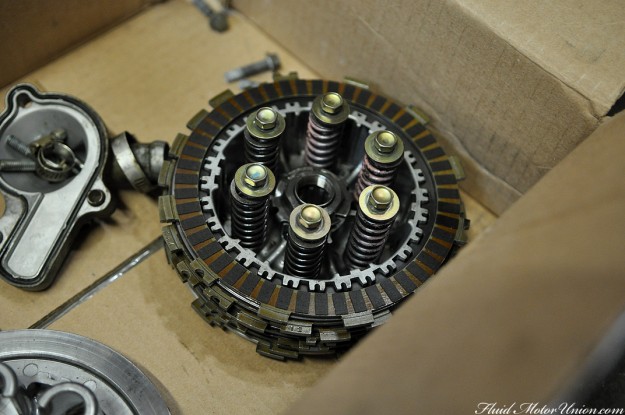 Before he broke it apart last night, your humble narrator requested – nay, demanded – that Tom do a wheelie or two for some action shots. This kid's had more quad experience than some people twice his age, so wheelies and the like are relatively easy for him to pull off. The spry photographer, always on the lookout for an opportunity to mock his most beloved co-worker, added a bit of flair to the picture by Photoshopping out his helmet and replacing it with something more befitting of Tom's age. Not really, but it was still fun to do.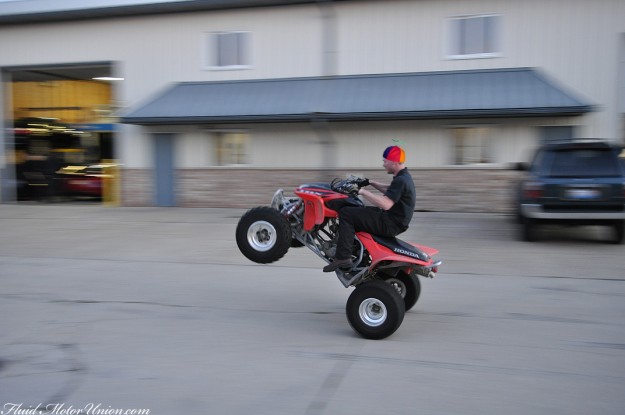 And that about sums it up for today. We're still hard at work on a few different projects over here, both in service and fabrication, so we'll have even more content for you as the week nears the midpoint.