09 Jul

Wire, Frames

No, we haven't moved into eyeglass fabrication. Today's all about wires and frames.

We'll start out with the car that's seen more action this month than most single professional athletes. Kris Boss's M3 had its catch can finished and installed while your narrator was off on vacation. It's in more or less the perfect spot for this application; you only see the can itself and the PCV hose from the top of the valve cover. Everything else is tucked away and out of sight. It's a little tough to see in this picture below: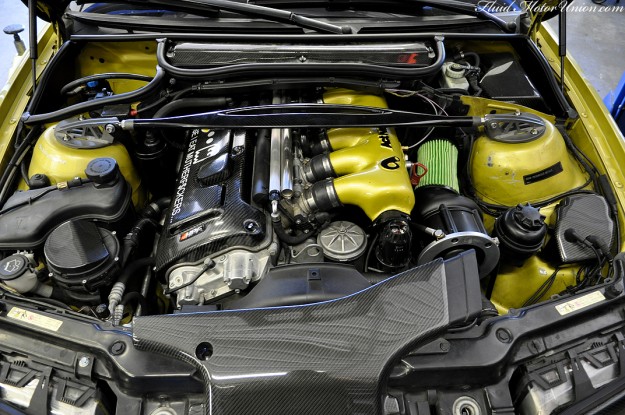 So we zoomed in a bit for a second picture. Much better: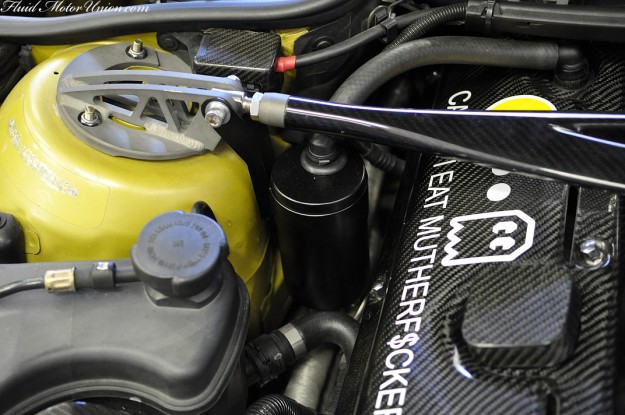 With the catch can out of the way, it's on to the next piece of the project — installing his new Active Autowerke/AEM water-methanol control unit. Not only does it come with a neat replacement switch, but it should also walk all over his old AEM controller, meaning Kris will be more prepared than ever to start tearing up the streets of Illinois and Indiana.
And with this control unit installation comes the first part of the blog post title — wires! Lots, and lots, of wires. Joy! We're currently getting this bad boy all wired in, so we'll be back with what should be the last chapter of the Kris Boss story later this week.
For a quick interim between wires and frames, we've got a question for you. What car does this exhaust go on? We welded the whole thing up, and now we're just finishing the mounts for it. In that time between removing it from the vehicle and taking the pictures, we've completely forgotten which car it goes on. Take a look at these intentionally poorly-framed pictures and let us know what you think it is!
And finally, regarding the Project SL, didn't you think the custom-fabricated fenders were looking a bit lonely without the additional flares from the side skirts and rear bumper? Well, so were we, so again while your humble narrator was on vacation, Roger went ahead and did up the rear bumper to match the fenders, which he then seam-sealed, filled and sanded in the scope of a couple days last week. Now, he's making the side skirt flares to match. It's a bit trickier to do with plastic versus metal, but we have our method down; for now, we're cutting the side skirt end where the fender flares out, and creating a metal frame behind that plastic to help hold its shape. The screws hold the metal frame in place until we can use body filler and seam sealant to start to create the shape of the flare. From there, we'll remove the screws and metal backing, then finish filling and sanding to shape. We'll keep you updated on this as it progresses!
We've got a lot on our plate this week, so stay tuned for plenty more on the blog!