11 Apr

We Hate To See You Go…

…But we love to watch you leave. Because then we know our job is complete, and cars aren't as much fun when they sit in the parking lot.

I suppose the irony to that lead-in is that both of the cars featured in the blog today had their pictures taken in, you guessed it, the parking lot. But let's get down to the action. First up is Kyle's Evo. After coming through the shop for some fender rolling and also some fender fixing (the previous owner encountered some wheel thieves who busted up one of the front fenders), it's finally out of paint, and ready to hit the road. Kyle stopped by with our good friend Alex (from the Zero Clearance car club, also one of the organizers of the Stretch Your Legs meets in Chicago) and we snapped a couple pictures before it left. Kyle will be driving it as-is for now, but intends to drop it soon and set the camber up to his specific preferences. We can't wait to see it in its final form, but for now, here's the car in our lot, ready to head home. That white on white just looks fantastic against the polished lips of the CCW wheels.

Next up is Alec's E53 X5. The car originally came to us with stock wheels and a set of KW coilovers that were a bit, shall we say, past their prime. Instead of losing the car for upwards of a week while the suspension was sent out for re-valving, Alec chose another setup. He replaced the coilovers with Bilstein HD shocks at all four corners, with B&G lowering springs to complement the shock travel with a slight drop. He should have near-stock ride quality with a bit of extra aggressiveness on turn-in and cornering. We also sent his wheels out for a gunmetal powdercoat, after a few e-mails of back-and-forth with Photoshopped ideas of what they'd look like. Once the wheels came back, they were pretty much spot on with the Photoshop job, and they work with the X5's paint and flat black trim quite well. They're a bit lighter in the direct sunlight outside, but they still look amazing.

And for reference's sake, here's a shot of the gunmetal powdercoat under the fluorescent lighting of our service bay. Lighting is everything when it comes to photographing a finish like this.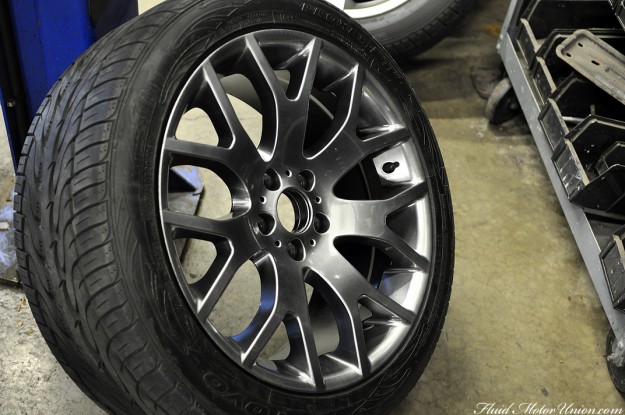 Finally, we certainly won't be seeing this E46 M3 leave our lot anytime soon. He originally came to us inquiring about the Turner Motorsports subframe reinforcement, as he thought his subframe mounting points were starting to weaken, based upon how the car was driving. Once we took it for a test drive, we knew something was very wrong, so we put it up in the air, dropped the rear subframe and found that the subframe mounting points had cracked through and almost broken free from the car itself. Along with that, just above the mounting points, more cracks were found in the body. Thankfully he brought it in before it completely failed on him, so now it's taking up residence in the shop while we wait for the bevy of replacement parts to arrive, along with the aforementioned Turner kit. If you happen to notice an issue with your E46 M3's rear subframe, get it looked at posthaste. The job to install the reinforcement kit isn't necessarily fast or easy, but it will save you from this:
Week's more than half over! Get ready for Friday night!