05 Oct

Tyin' Knots

This blog title is dedicated to Tom, a.k.a. Captain Tyin' Knots.

But on a non-meme-related level, we've got plenty of loose ends sitting around from yesterday's blog post, so let's take those loose ends and tie them up into knots to complete 'em. We'll start with the black-on-black Mazda3 that's receiving a slew of new engine parts, including the block itself. Why would we replace the block, do you ask? Well, one quick look at it should give you that answer.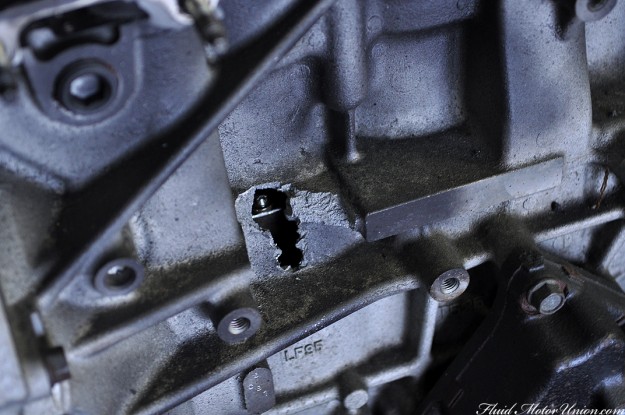 Yeah. JB Weld won't be patchin' that hole. So, in the interim, we've removed all the parts from the new block and we're sending it out for some honing and a couple other things. When it comes back, it'll be in perfect condition to swap into Eric's Mazda3 and he'll be back tearin' up the roads in no time flat.
This really isn't a knot tying, but rather something we just feel like sharing. We've got Geoff's E60 M5, Sucio, currently chilling on the dyno for some tune tweaking. We know there's a bit of power still on the table, so we've got him strapped to the rollers to get him the best possible bang for his tuning buck. Nothing sounds better than a violent S85 with cams and headers climbing up and down the revs. Music to our ears.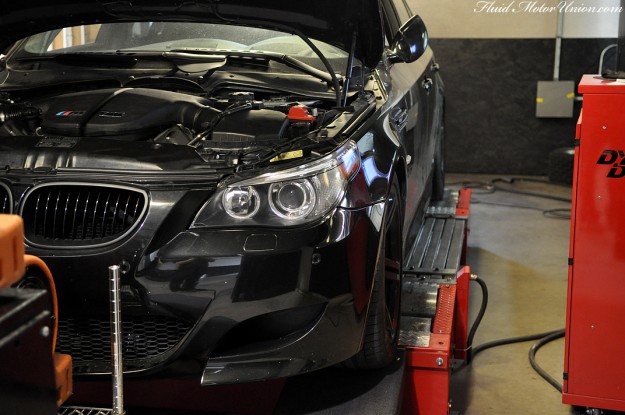 Moving back toward that mysterious build we mentioned earlier, we're now taking this V-banded single 3″ pipe and making an exhaust off it. We'll be utilizing the 3″ piping up until right in front of the differential, at which point voodoo will take place and something else will take the place of a single 3″ pipe. What it is, we're not entirely sure. But seeing as how we're nowhere near that point yet, we're just making the single pipe for now. Fitting, tacking, welding, it's all going down today.
Did we say welding in the last paragraph? Of course we did. We didn't want to interrupt the workflow of Captain Tyin' Knots over here, so we just snapped a couple quick pictures of the welds that have been laid down thus far. We're only at three, but more keep popping up every time we walk over to fabrication, so more pictures will be gracing this page soon enough. But we still won't tell you what it is.
Back to the LS-swapped WRX, we've made some headway to the CMC up at the firewall, and we're also working on the fuel cell at the same time. In order to make it so that the owner doesn't have to pop his trunk and move stuff out of the way to fill his cell up, we're running piping from the fuel cell mount, through the trunk's side and up to the actual fuel filler door. We just cut the metal today and put it in place, so it's nowhere near done, but we want to make sure this car remains as viable for everyday use as possible. And despite how the angle may look the way it was shot, there's a downward angle from the fuel filler door to the fuel cell, so gas won't get stuck in the pipe.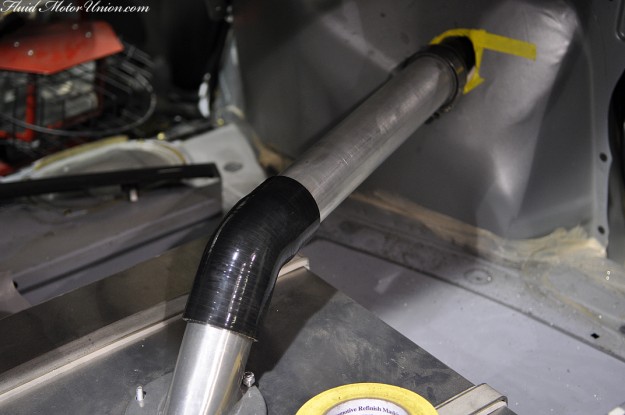 Over in the body shop, that Q5's bumper is all finished up. After this picture was taken, we washed the entire car, reattached the tow hook covers and are preparing it to be picked up by its owner. Painting went well despite a marked decrease in outside temperature between yesterday and today, and once everything's clean it'll look fantastic. In the meantime, there's other body work to be done, so it's on to the next job!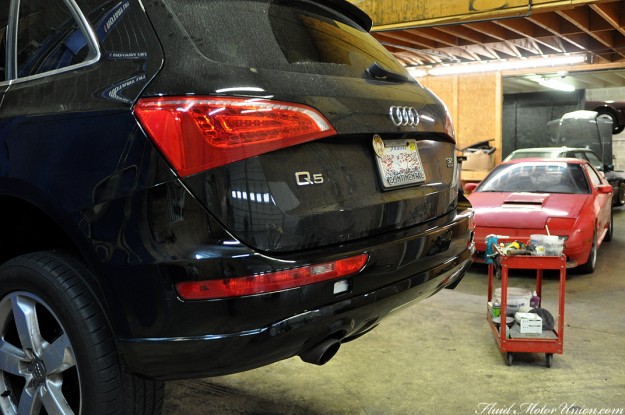 Finally, we'll end this week of blog posts on a good note — or series of notes, that is. One of the greatest collections of a series of notes of all time. Just like we did with Wild Wild West, we're once again showing off the wide musical appreciation of fabrication with a quick look at what's playing on their Pandora station at the moment. Today's offering is an oldie but a goodie. Can you beat Hall & Oates? We don't think so, except maybe with more Will Smith.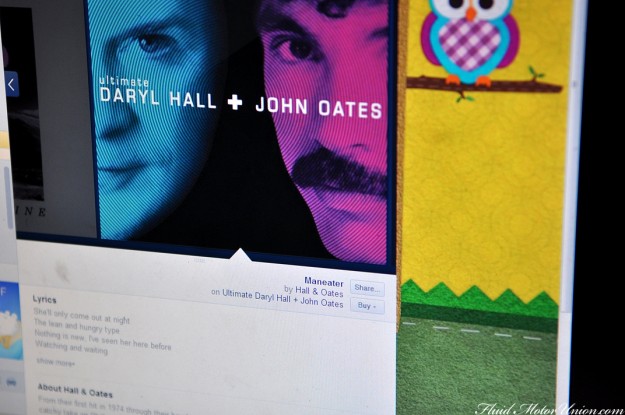 Have a great weekend and stay warm — temps are dropping like crazy in Chicago!