22 May

This and That

Posts are much better when they're little and quick, than when they're simply not there at all. It's all about how you use it.

Today, we'll be taking a quick look at some of the jobs we haven't really covered on the blog yet, a couple of which were relatively quick, and a couple of which were not. First is a virtually brand new 2011 Indy 500 Pace Camaro Convertible. While there's nothing adding special power into the V8, there are a number of aesthetic changes that reference the historic race, from seatbacks to the dashboard to the door sill badges. Either way, the owner of this specific Camaro is heading down to Indy for the 500, but before he left he wanted us to install his very trick, James Bond-like plate hiding mechanism. We've shown you one of these before on Dave's S5, and this is basically the same model, powered by a remote on your keychain. There was one rule when installing it — no drilling to the bumper. None. Well, it took a little ingenuity, but we found the perfect spot for it that neither required drilling nor excessively contacted the plastic of the bumper (which could scratch it over time). Here she is, in all her exposed-plate glory:

Over in the service bays, a Chevy Malibu is getting its subframe replaced. Why, do you ask? Well, something's been eating away at it, causing structural issues. What could possibly enjoy eating metal, you ask? Well, aside from goats and those delicious tin cans, it's everybody's favorite type of oxide — rust!

Over in fabrication, somebody's welding. We'll have a full and proper blog post for this a little later on, we just couldn't go another day without a picture of welding.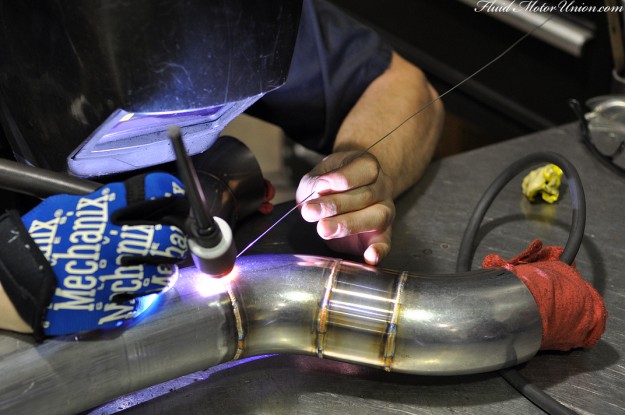 Also taking place in service, we're swapping a 13B short block into an FC-series RX-7. The car had been left to sit for quite some time, and as you can imagine, there were many ramifications from that lack of action. Some rusted parts have been salvaged via sandblasting, and others will need replacing, but we've swapped over almost everything we can on the short block for now, and then it's a matter of slapping on all the shiny new bits.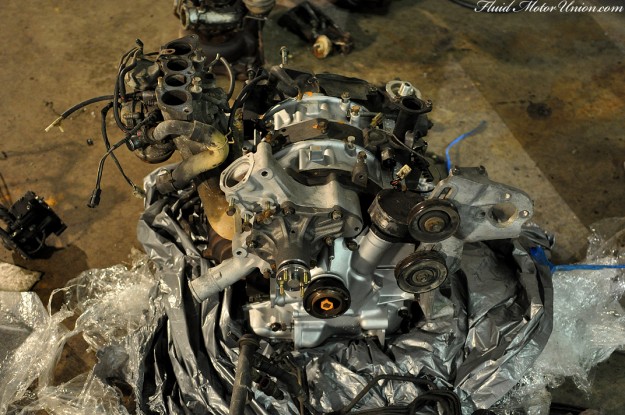 See you tomorrow!