25 Jun

The Boss Is Back

Not just any boss, either. The man with the most recognized Phoenix Yellow M3 in the Chicagoland area, Kris Boss.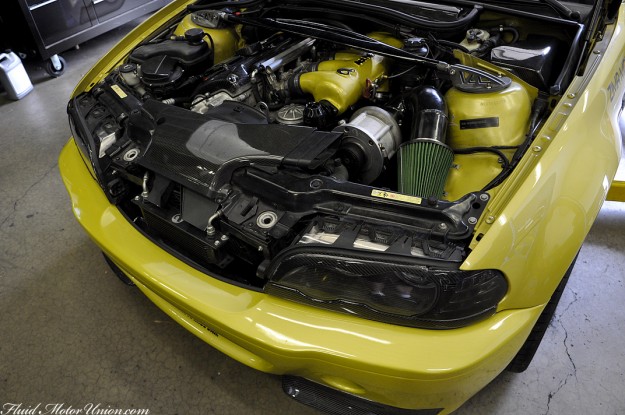 Kris's car has returned once again to FMU headquarters in Plainfield for a slew of upgrades. We'll be installing a new Active Autowerke blower for him, along with a new filter that will allow us to relocate the HID ballast back to its stock location. Along with that and a smidge of paint work, we're also installing his new Brembo calipers, which were sourced from a Porsche. You may remember these from when we showcased them being painted Phoenix Yellow to match the car. Let's get down to it, shall we? First, let's take a look at his stock calipers, which don't really match the yellow-and-carbon-fiber theme of the vehicle. Plus, they're kinda small, especially with the extra power that he'll soon be putting down.
Here are the new calipers, laid out awaiting installation. First, we have to reassemble the floating calipers, brake pads and all. With all the hardware already here, it made it quite easy, so we set to task installing the new parts.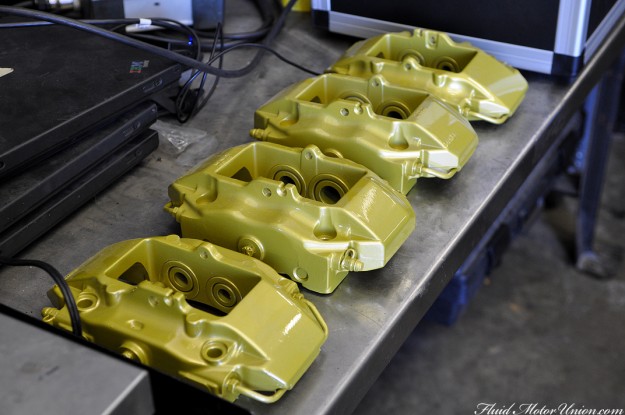 With a bit of dust shield adjustment, the back calipers went on without a hitch.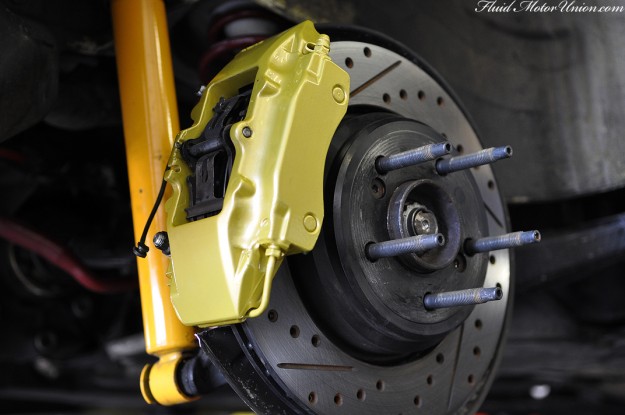 That hitch wouldn't show up until we installed the front calipers. The calipers and pads themselves installed with ease, but upon taking a look at them post-install, we noticed the front rotors were improperly sized for the calipers. This can cause improper braking forces up front, as the whole pad isn't being used against the whole rotor. Instead, only part of the pad would contact the front rotor, which would cause a step to be worn into the pads, requiring both pads and rotors to be replaced later on, when replacing them with the proper sized equivalents.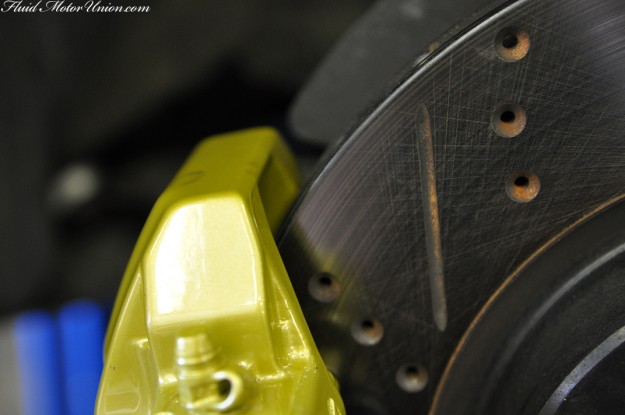 So we quickly sourced some same-day rotors in the correct size, and boy do they look nice. But will they fit?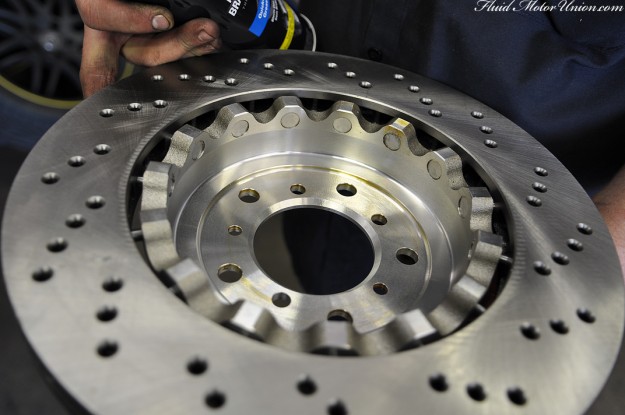 The answer is a resounding yes. And perfectly so, at that. Now the pad will be able to contact the rotor entirely, allowing for the maximum possible braking power.
When we pick up the adventure of Kris's car tomorrow, we'll move further back in the car as we do a bit of exhaust retooling.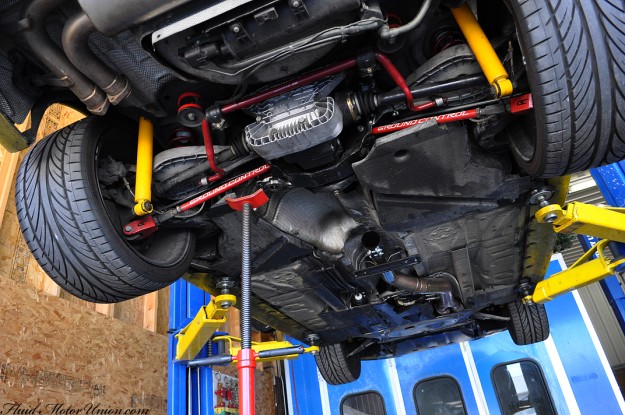 Before we go, though, check out the video below. Remember when we shipped off a box of our E39 M5 axle-back exhaust system to the United Kingdom? Well, the owner received and installed everything, and he's sent us this video to let us know how it sounds in conjunction with his Supersprint X-pipe. In a word? Fantastic. Hats off to Philip for being cool enough to send us this video, which we've deemed way more than worthy enough to grace the blog.