29 Mar

Sights And Sounds

Today we'll be focusing on two specific senses. If you aren't sure which two by now, that means you're not reading our post titles.

Let's start with sound. Last time we featured Bob's 550ix GT, we showed you the full mid-and-rear section, along with the video. Since then, Bob's in love with it, but feels it may still be a bit too loud for his wife. So we went about a little more welding.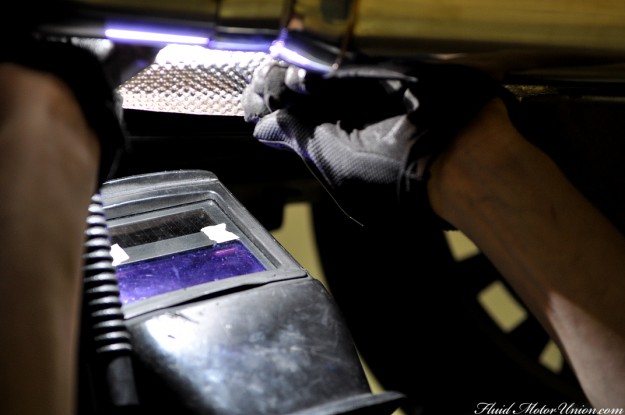 And then some lens flares showed up to join in the action.
We added a Magnaflow muffler in the heart of the midsection, which we've positioned in one of the few places capable of fitting it. We also added two more bottle resonators directly downstream to combat the little bit of drone that still exists.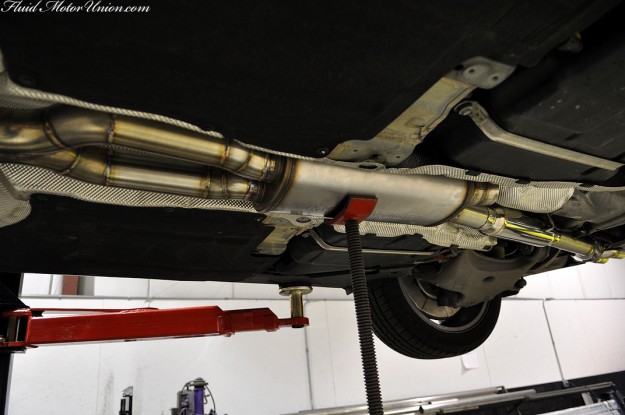 After the muffler was positioned, we tacked everything together, triple-checked tip placement and pipe fitment, and then went about welding on the new hangers, and putting the final welds around the rest of the piping.
And there we have it, all done! Sound is much less noticeable at higher speeds and warm idle now, but the cold start still has a bit of nice raspy bite to it, as all V8 cold starts should. Apparently somebody doesn't know that if you're looking weirdly at the camera, but the rest of the shot is on point, we'll still run it in the blog. Sorry Tom; it was either this one, or the one with you mid-yawn.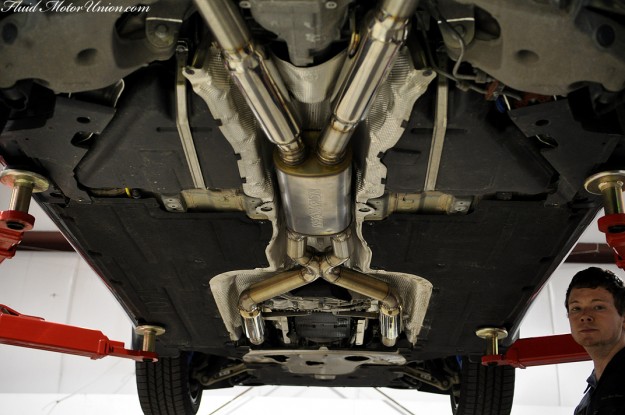 Now let's move over to the other sensory region we'll be tackling today — sight. Seeing is important, especially when you're on the track. On top of that, you don't want to be seen in any old outfit; you want your racing setup to define you just as much as your car defines you. If you remember Anthony's C55 from yesterday, we painted his calipers and tire markings a nice shade of yellow. In order to keep that theme going, we decided to add the same shade to something that will be very important for Anthony's sight on the track — his helmet. Here it is being prepped for paint: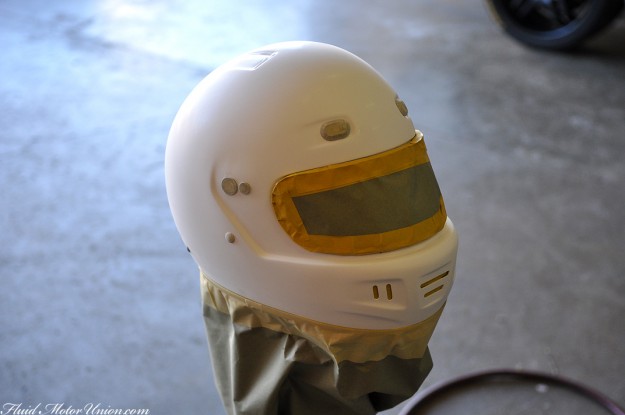 And here's the final result. After holding up the two, despite what Photoshop's results may have you thinking, the color is spot on with the calipers. In real life, it has a bit more darkness to it, almost like a goldenrod. But either way, it worked out fantastically, and we even added a bit of flair on the backside for him. You would be surprised how hard it is to line up linking vinyl letters on a rounded surface.
Look forward to some fantastic photos on the blog tomorrow!