25 Jan

Shorty's Got Moves

The shorties are all finished up on Ken's E60 M5, and we've got some video for you, as well!

If you weren't around to see the first part of our coverage, what we built here is essentially a super-small, super-light set of exhaust pipes for a customer's E60 M5. In the interest of keeping unnecessary labor down, we decided to utilize the same clamping method (flanges) as was already on the car — to switch everything to V-band clamps would require quite a few more hours as we chop off the flanges for the ceramic-coated headers and his current full exhaust, etc. etc. That said, we tacked everything together before our final welds, ensuring that the tips weren't pointing directly at the underbody; instead, they're focused at a mostly-down-and-sort-of-outward angle.

A handful of welds later, and we're done! …Or are we?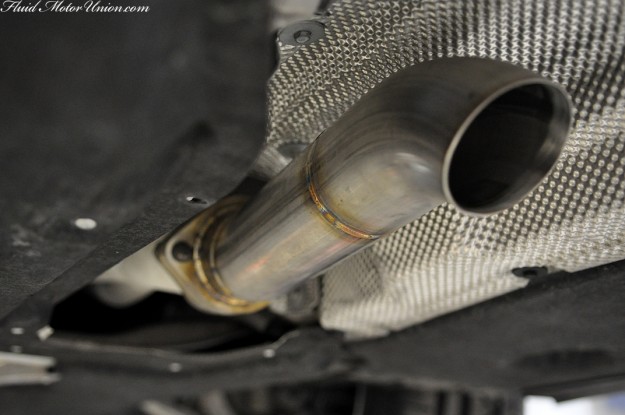 Not yet we're not! In order to ensure the shorties were secure and immovable, we added a single bracket that holds both pieces of the exhaust together. The two steel rods welded to each shorty are joined in the middle by a steel bracket that's held in place by an existing bolt. Okay, now we're done.
Okay, we lied, we're not done. As always, our inert-gas-backpurged TIG welding came out looking spectacular, so we'll pique your interest with a couple quick shots of weld porn, then it's time for the main event.
And here is your video upon request! To sum this exhaust up in one word, it would be thus: Loud. Very, very loud. We took the camera to a couple different distances from the exhaust to showcase exactly how much that distance will change the sound in the microphone. Enjoy!
Have a fantastic weekend, and we'll see you right back here on Monday!