06 Jun

Requiem For A Headgasket

Since we liked the pictures from the Roadster's engine work so much, we figured we'd bring you some more today.

Yesterday, the motor was still in the car when we ended the blog post. Today, it's progressed a bit. The motor made its way out through the top via crane, which we rested briefly on a tire while we prepped it for mounting to a proper engine stand.

And here it is, all nicely mounted up with the valvetrain fully exposed.

Removing the head was the next step. Oh, since we forgot to mention the main 'nefarious purpose' for pulling the motor — we ran some compression tests a couple weeks ago, and Cylinder 6 was showing numbers well under spec. Since the motor is actually relatively low mileage, with very few put on since the last major round of modification, we had a couple ideas as to what it could be. Removing the head would tell us this. With the head removed, you can get a sliver of a view of our custom ITB transition, which allows us to mount the S54 ITBs horizontally; otherwise, they'd be pointed towards the hood, which would make our specific length of velocity stack impossible to fit. We'll probably clean up the top half of the combustion chamber while it's open, as well.

With the head off, our diagnosis was confirmed — a bad head gasket was the root cause of the low compression in Cylinder 6. Time for a beefier replacement! And it's also time to clean up the block a little bit.

With the engine this far apart already, we figured we may as well get seriously nefarious and actually do a bit of modding while it's all apart. So we began the process of removing the oil pan and all the chains, pumps and trays associated with it.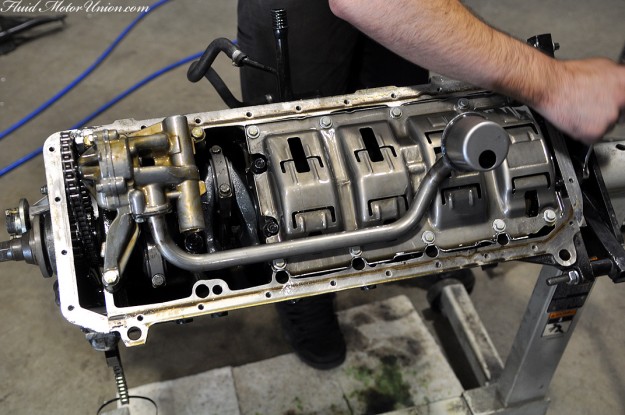 Here's a quick shot of VAC Motorsports' oil filter housing block. No specific reason; but we can't thank them enough for putting out a serious amount of parts catered to the BMW enthusiast that wants to step their game up a few notches.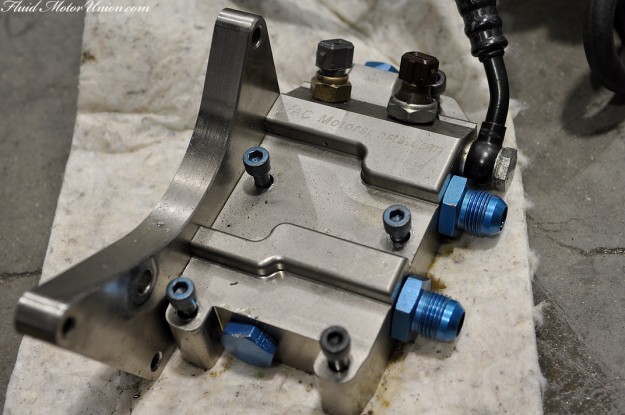 We also checked the condition of the clutch and pressure plate while we had these pieces hanging around in fabrication.
As we mentioned previously, there's not too many miles on this motor (at least in its current form). Which means that cleaning is much easier — a quick spray of cleaner and one rag is all it took to get the pistons nice and shiny once again.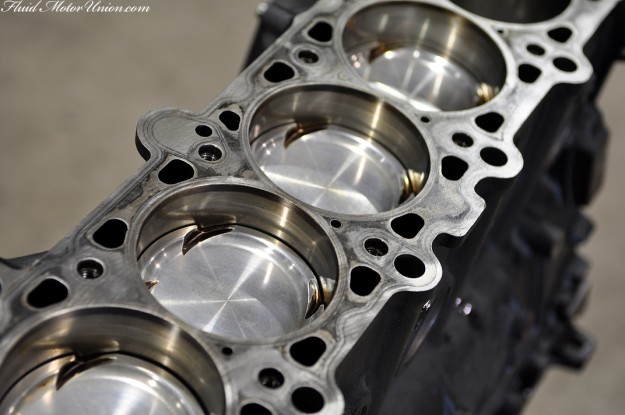 And here's the exposed crankshaft. You may remember this crankshaft from when we did the rod bearings a few months back.
What fate lies in store for the Roadster next? Stay tuned to find out!