17 Nov

Random Smatterings

Yes, smatterings is a real word, meaning "a small amount of something." Here are some random smatterings of what's currently happening in the shop.

First up is Dave's Audi S5 Cabriolet. He's moving to New Jersey at the end of this week, so he brought his S5 back in one more time for a height adjustment, minute fender roll and a couple other smaller jobs. We wish him well on his trip to New Jersey, and everything thereafter! It's a shame that he'll be leaving the FMU family for the time being, but since he's moving two blocks from the ocean, we can't say we blame him one bit! If we expand eastward, we'll know who to look up!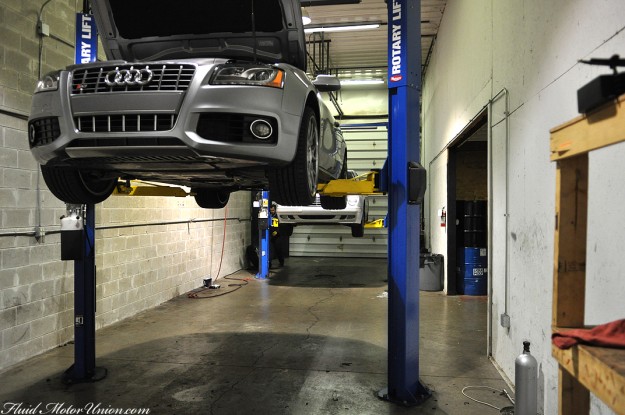 Bouncing to the other side of the Fluid MotorUnion campus, we have the FMU E90, still being stripped of its modifications in preparation for its sale. If you're interested in picking it up, give us a shout-out through any channel preferred, and we'll get you all the proper information. The OEM exhaust is currently going back on. But first we'll need to weld the cats back in. Since we didn't plan on modding it after we originally bought it, we just cut out the cats for a modest power gain. Now that it's going back to stock, we're making sure everything fits up just like OEM. While it won't have the Dymags on it for sale, it will still have the H&R coilovers and Vorsteiner front lip molded into the front bumper.
In the body shop, we're currently undertaking a rebuild of somewhat massive proportions. An E90 325xi suffered one seriously nasty rear-end collision; while the well-being of the driver speaks leagues about the crash ratings of the E90 BMWs, the vehicle really sacrificed itself to save its owner. The insurance company didn't deem it totaled, so now it's up to us to bring it back to right where it was before the accident. It's not going to be a short process by any means, but we're getting there.
Moving exactly zero feet, we go from the body shop to the paint shop. We recently finished some trim and wheel upgrades to a CLS55 AMG, and we think the satin black accents mesh incredibly well with the Carneolrot Pearl paint on the CLS55's body.
And finally, we move back into the warmest place on FMU's campus — the office. Your humble narrator certainly won't complain about the heat. Adding to that hotness is our finally-assembled chip reading station. Not every chip can be read off the board; sometimes, you'll have to desolder it to attach it to a separate chip reader. Once that's done, you'll have to resolder it to the board in the exact same position. It's a tricky job, but for somebody with plenty of experience, it's just another day at the office.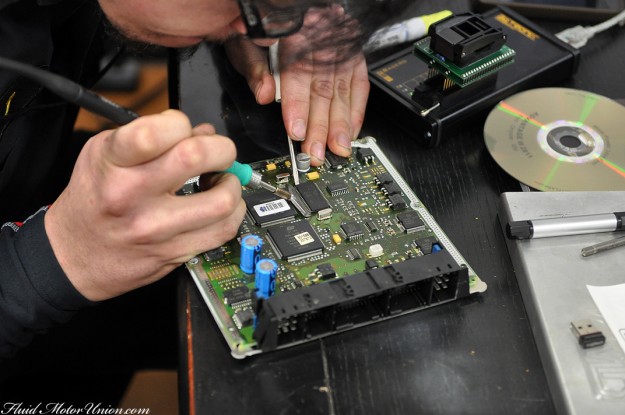 All in a day's work, folks. Speaking of which, how is it almost Friday again?! Where did this week run off to?