11 Jan

Put A (Bigger) Lid On It

We've all been told at one point or another to "put a lid on it." Today, we'll show you what happens when we decide to do exactly that to the Z4M.

Perhaps we're using some liberties when we use the word 'lid,' but we'll explain. In the course of working to find the best possible method to incorporate the Bimmerworld carbon-fiber airbox into Eric's Z4M engine bay, there's been a good amount of R&D and custom fabrication involved. From smurf pants to the cowbell, we've been through a few renditions of what will work best in the constraints that don't match an E46 M3's at all (meaning the engine bay isn't suited to accomodate this airbox with perfect fitment, like it is with the M3). However, we believe we've found the best way to finish the air intake path once and for all, and we're already well into the work. The routing for the intake will go as such: Air enters the engine bay through the front bumper, where it's routed first through the RPi intake scoop, then through the "cowbell" and directly into the bottom of the OEM airbox. In the airbox, the air will pass through the filter (easily the biggest hurdle in getting this intake to work in any previous rendition), where it will then hit our newest piece — an improved airbox top half — before entering the Bimmerworld piece and subsequently the motor. We started with the piece that connects to the bottom half of the OEM airbox: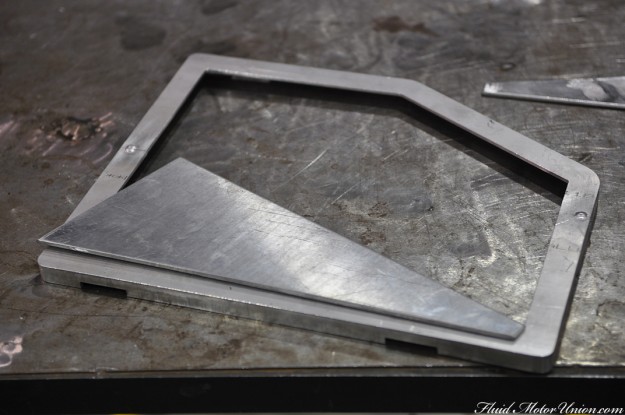 And from there, we began building the new top half of the airbox. From our theorizing and mapping-out in Solidworks, the flow is greatly improved over the stock top half. From here, all that remained was constructing the darn thing:
A preliminary test-fit in the engine bay yielded great results, so we set about putting some more tacks in place:
Here's a quick upskirt shot. Totally SFW, though: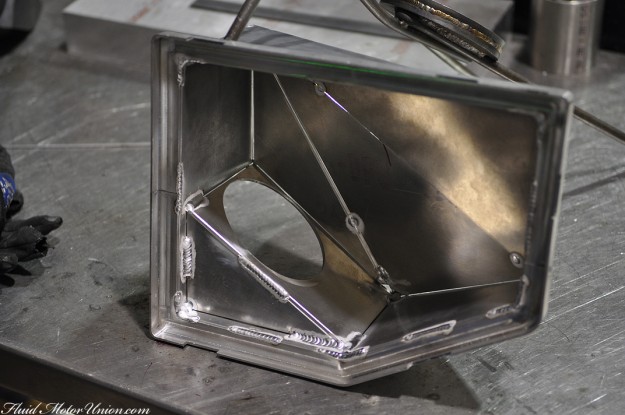 Obviously, keeping the airflow as smooth as possible is the goal. That's why we're including a bell-mouth inside the airbox, which will keep the air flowing smoothly over the MAF and on into the Bimmerworld piece, where internal velocity stacks will funnel the air into the Dinan throttle bodies:
Currently, the box is almost complete. The MAF plate and the bell-mouth are connected to the piping, which is about to undergo tacking to the rest of the airbox. Here's where we're at at this very moment:
Keep your eyes on the blog, as the 318 is just about ready for its moving-picture debut!