23 May

Protip(s)

Protip: If your exhaust tips' inlets are not the same OD (outer diameter) as your muffler's outlet, and you don't have a ton of space, you can still get 'em to fit.

Such is the case with the S65 AMG that we made two exhausts for. With the second one all but complete, we figured we'd give you a little weld porn. This time, it'll be interspersed with good ol'-fashioned discussion of the welds and the exhaust in general. Here's a quick shot of the exhaust tip assembly to give you an idea of what we're discussing.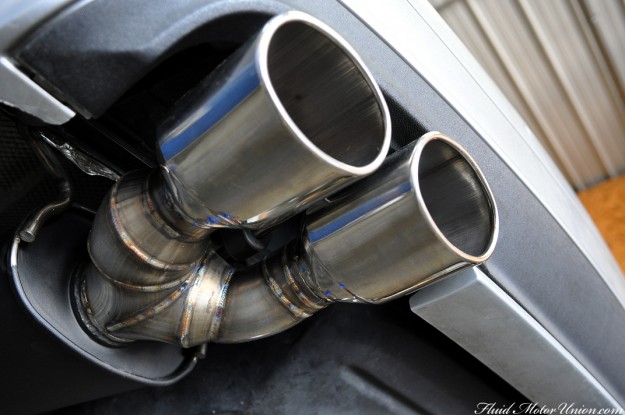 These oval tips with a rounded edge are about as close as you can get to the factory AMG tips without marching down to AMG's tip manufacturer and demanding four tips be sold to you. Which won't happen, seeing as how they're licensed (and paid…handsomely) to distribute those tips directly to MB/AMG.
These tips carry with them one issue, however. The OD of the muffler is a bit larger than the OD of the tips' inlets. This would require some necking-down, obviously — you don't want the tips to be swallowed into the exhaust pipe, after all. Since there wasn't a whole ton of room for excess navigation or excessively-sized pipes (remember, car manufacturers build cars to their specifications, not to what they think the aftermarket will want to utilize), we had to place the neck-downs in two spots on each side after the Y-pipe.
Necking down right off the muffler would require a Y-pipe of impossibly short length directly thereafter, along with some crazy pie cuts more in line with a titanium build, so we instead opted to put the neck-downs after the Y-pipe. Sure, it's a bit of a weird look, but A) it's not a part of the exhaust that's seen on a daily basis, or even sporadically, and B) it allowed us to use the preferred tips while still maintaining the sound we wanted based on our choice of mufflers and resonators. The best of both worlds, if you will.
And how did they turn out? Once the alignment was on, we committed to the final welds and there you have it — one more complete S65 AMG exhaust. We'll try to grab some video before the exhaust leaves, and of course it'll be up on our YouTube page before you know it.
In other news, Kris and his highly modified E46 M3 rolled back into the shop yesterday for a quick precursor to some serious upgrades heading his way. What, exactly, are these upgrades? Well, we'll be covering them in upcoming blog posts, so once all his parts arrive and everything's in order, get ready for some coverage of the best kind.