12 Feb

Poppin' Bottles

While this status may have held true over the weekend at First Look for Charity, it's a different kind of bottle we'll be popping today.

You might be wondering how bottles and the act of popping them will relate to the pictures you see below. After all, it's just a fully custom E85 BMW Z4M exhaust, handcrafted by the fabrication wizards at Fluid MotorUnion, removed from the vehicle for some nefarious purpose. What could it have to do with bottles?!

Everything. It has everything to do with bottles. As a matter of fact, we forgot to mention that we're straying slightly from the typical definition of bottle. Instead of one that says Moët on it, the "bottles" we're referring to are Vibrant-branded pass-through resonators. Thanks to their shape, they're nicknamed bottle resonators. This Z4M exhaust has two of them next to each other directly after the header flanges and catch-can vacuum venturi line. So we popped the bottles — popped them out, that is.

Now, there's a reason that we're doing this. The owner of this vehicle might be moving to Europe for work at some point in the future, and seeing as how they have limitations as to what vehicles can and cannot be imported, he wanted us to make sure that there wouldn't be an emissions-related issue as it pertains to the exhaust. Therefore, we've removed the bottle resonators in order to replace them with something a bit more…catalytic.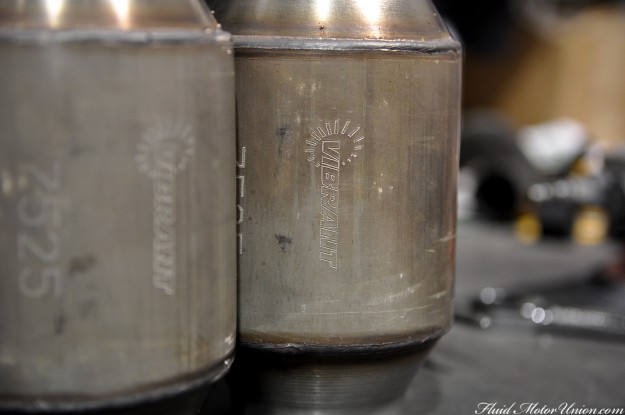 From one Vibrant piece to another, we're choosing to install their high-flow catalytic converter system in lieu of the resonators. Not only is the substrate held firmly in place by the smaller endcaps (part of their signature design), but the substrate itself is engineered from a special mix to keep noxious emissions low while still providing for a higher rate of flow than the stock setup. It should provide ample catalysis for subsequent travel to any European country.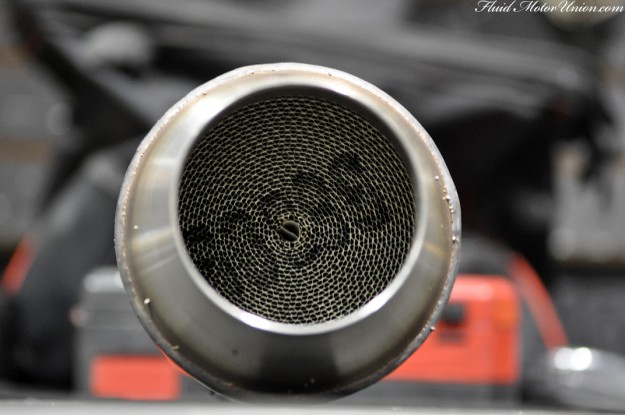 Putting them in the exhaust system, as we mentioned, consists of removing the bottle resonators (which we did), attaching the new cats and fabricating any additional pipe as necessary. Below, you'll see that they're in a staggered design, much like the bottle resonators were; this is to allow for a straight shot of pipe from one end to the other without any additional bends that can constrict the flow and cut down on power. As soon as the welds are laid down, you know we'll be bringing you the fruits of that labor right here on the blog.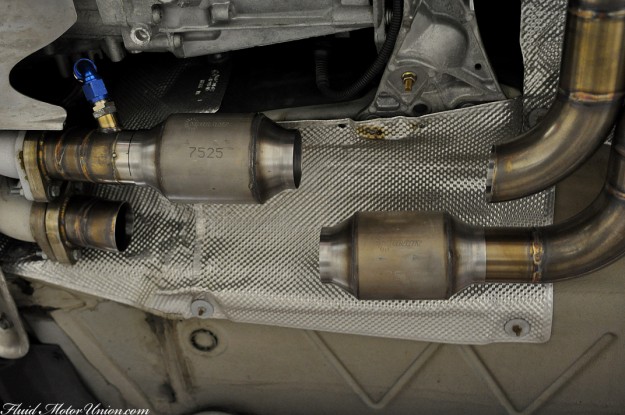 Finally, if you couldn't tell from our recap yesterday, we had an absolute blast at the Chicago Auto Show's First Look for Charity, where we went to support Catholic Charities of Joliet and take in some mighty fine vehicular sights. Well, with every good recap there's always a little bit of B-roll. Whether we were too occupied in conversation, drinks or otherwise, a few pictures left us scratching our heads when reviewing them the following day. Do you think you know what cars the following shots are from? If so, leave a comment on our Facebook page (on the status where we link to this blog post) and let us know your guesses! The last one is probably the easiest. Maybe.
Have a great day!