07 Sep

Pipe Dreams

It's too hard to get away from our custom metal fabrication for too long, so let's see what fab is currently up to, shall we?

We've got two exhaust projects taking place simultaneously, one of which is a replacement rear section for an E39 BMW 540i M-sport. He bought an off-the-shelf axle back, which after a few years of driving managed to succumb to the elements in a most spectacular fashion. Do you see a muffler below? Exactly.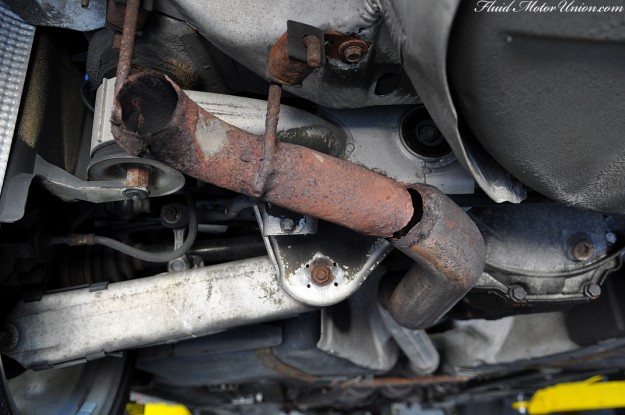 Yeesh. Thankfully, FMU has come to the rescue. Due to the orientation of the exhaust underneath the car, we knew we had a solution ready available that, barring a few tweaks, would work perfectly as a rear section replacement (both in terms of sound and not falling off the car). And thus, we've once again broken out the FMU E39 M5 Rear Section jig and started polishing up some stainless.
As always, the process is mostly the same — we cut out the pieces to fashion the tips and the Y-pipe, and then we start tacking and putting everything together on that end of the exhaust first. Obviously, we've been measuring as we've gone along to make sure this rear section will adapt to a 540i M-sport, and it will, so it's off to the welding table for one of our favorite sets of pictures, weld porn! Not much for now, as it's still in the early stages, but that means we'll have even more next week!
On the other side of fab, we've welcomed a new vehicle into its midst. Well, kinda new — it's an S65 AMG. While it's not our first one in the shop, this is one of the first that's coming here only for the exhaust — according to the badges on every side of this car ('cept the front), this one has had a few upgrades already from our friends at RENNTech. However, his stock exhaust lacks the grunt and escape velocity desired in a car of this size and power level. For that reason, he came to us. When we built the S65 AMG exhaust earlier in the year for a basketball player who calls Virginia home, we made a second one as well. And now it's found a home on this lovely specimen, which is approximately as long as a football field but only half the weight of one.
Naturally, the first step is removing the old exhaust. Which, well, we did. Not too much excitation can be pumped into that sentence. We just took the thing out.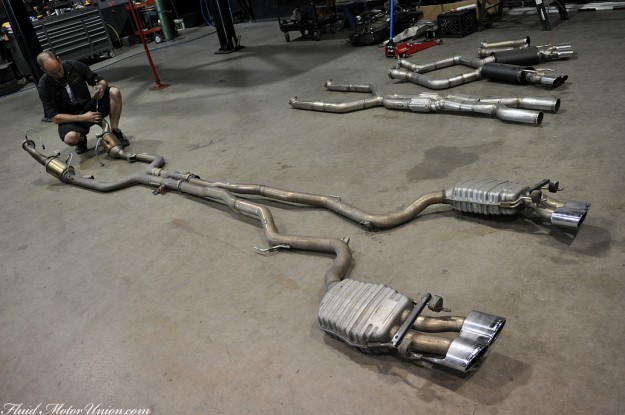 This job started just earlier today, so not much has taken place by the time the photos were shot and editing began, so there's only one quick shot of a downpipe installed at the moment. Exciting! However, we already did the preliminary dyno runs for the "Before" half of the upcoming video, and we'll be shooting the "After" portion next week. So fear not, we will have even more video content available for you soon!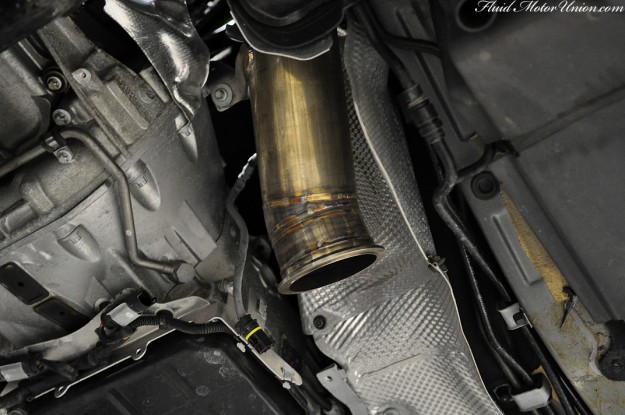 Until then, have a safe and happy weekend!