19 Oct

Picking Up The Pace

With the introduction of a new member of the FMU team, we've picked up an incredible amount of steam this week.

At the beginning of this week, we picked up Andy (yes, that makes two of us now), a former Mercedes Benz technician. Ever since he's arrived, he's brought with him an unbridled enthusiasm for getting the job done, no matter what job that is. And he's been an absolute beast in service thus far. So much so, in fact, that it's given Keller and OJ a little extra time each day to devote to building an extra engine we had laying around. Let's take a look at how all this is going, starting with that new motor. It's a Volkswagen 1.8T inline four motor, which we'll be dropping into an old Passat that we've had around the shop for some time. The head is blown on the old motor, so we have to swap that off and replace a few other parts before even thinking of putting this motor in a car. So, let's take that head off.

The new head is of the "hi flow head" variety, meaning the intake runners are ever so slightly different, providing for a higher flow rate up to the valve faces. So we're actually doing more than just replacing the head on this motor, we're improving it a slight bit. Sadly, this car isn't designated to receive a turbo the size of a person's head or anything, but it should add a little pep in everyday putting around. After a bit of cleaning and making sure everything is still functional, we dropped the head in place on the block. We're going about reassembling everything at the moment, so unless we get inundated with 50 cars, we should be finishing this motor up sometime in the near future.

Two bays over, Ed's working on putting together the 993 Carrera motor for transplantation into the 911. Aside from a few obvious changes (such as having to delete the power steering on the 993 motor to match the 911), we got in contact with a company that specializes in 993-to-911 motor swaps, so they sent over a kit with a few pieces that have proven very helpful in putting everything together thus far. There's still plenty of work for us to do, but every little bit of time saved allows us to get the job done faster. Yesterday, we realized exactly how dirty the 993 motor was, so we power washed the hell out of it in an effort to give this car a motor that not only performs better, but looks nicer as well.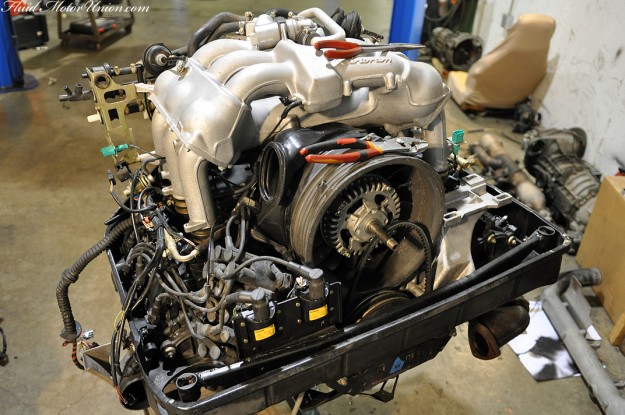 Ed also took the liberty of painting the pulleys black and using some adhesion promoter + red paint on both the engine fan and the 'Varioram' text on the adjustable-runner intake manifold. It looks much nicer than how they did previously. Old, yellowing plastic just isn't very nice to look at. And we're thinking Tim will be poring over this vehicle in delight once he gets it back.
Even though Andy works in the service department, our newfound frenetic pace has moved into fabrication's garage, as well. Yesterday, Zak cut out the aluminum rear firewall for the LS1-swapped WRX. He started by creating and modifying a template out of two pieces of cardboard, then once he got the rough shape down, he went to cut it out and bend it to the correct specs.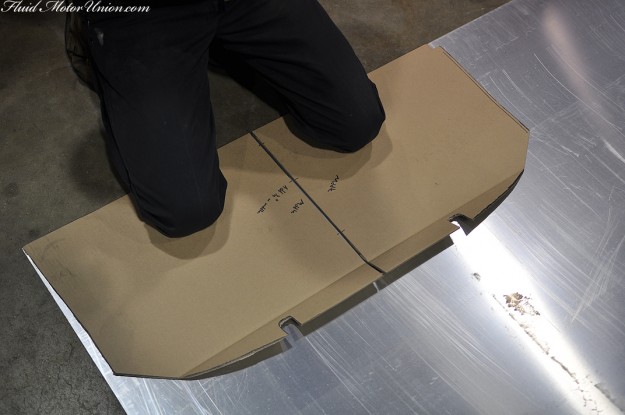 Once the main shape was cut and bent to its proper shape, we took it back to the WRX and tested fitment. With a little bit of shaving around the edges, we got it to fit how we wanted it.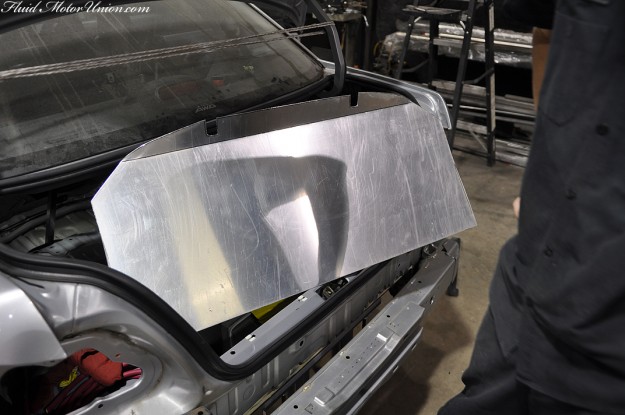 Now, we're on the step of holding that firewall in place. It's going to be held in place through two methods — rivets and seam sealer. Sadly, the incorporation of this firewall means we'll have to remove the backseat pass-through common in most cars. It's all for safety — now that the fuel cell is in the trunk, there's no metal between something that can explode (the fuel cell) and something that could be hurt from an explosion (the driver). For that reason, the firewall needs to exist in this spot. It's not meant to contain the fire, so much as it is to allow the driver a few extra (and necessary) seconds to escape the vehicle in the event something bad happens. Safety first!
Finally, here's another random picture we managed to capture this week. We received our custom Kawasaki Vulcan seat back from the upholsterer, and it looks fantastic! In order to make sure it felt as comfortable as it looked, and to make sure the seat is strong enough for its intended use, we needed two people to test it out. OJ and Mike were nearby, so they hopped on. They probably don't even know that your humble narrator took this picture, nonetheless edited it and put it on the blog. Oh well, they'll see it soon enough.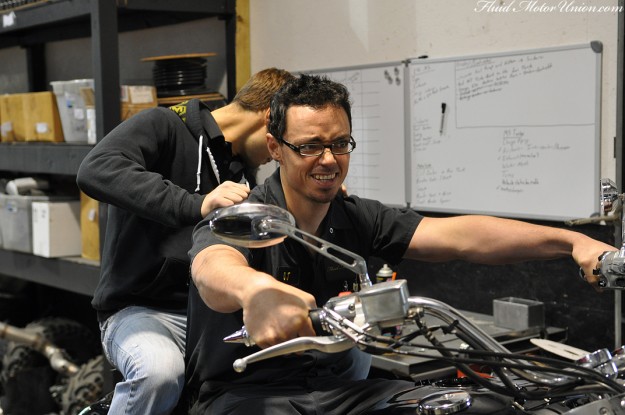 Have a great weekend!