09 Dec

Open And Closed

There are two kinds of cases — open and closed. Let's take a look at a couple of each currently happening at FMU, shall we?

Let's start with the closed cases. Remember that almost-totaled E90 328i we covered earlier this week? Well, it's come back from the dead. Having pulled a Lazarus in the body shop, the E90 came out of the paint booth not too long ago, and after a post-paint buffing session, the car is back to its original glory:

The second closed case is this Range Rover, non-supercharged. While it was in for service, the owner decided to have an ECU tune applied, as well. The tune application was a painless endeavor, and the results speak for themselves. Not only is the power raised by over 10 all-wheel horsepower, but also the drivability and response have improved in leaps and bounds:

Now let's move onto the open cases. First and foremost, the Explorer is undergoing a rearrangement of the charge piping to eliminate the last little gremlin from the car's system before it's released back into Scott's hands. Over last weekend, we tuned it up to about 95% of its full potential, but a mechanical bug is stopping us from getting to that last 5%. We'll fill you in on the details in a more fully-fleshed out blog post next week, but until then, fear not, we're still hammering away at 'er, she's almost ready to destroy those Chicago winter roads.

Finally, we've started putting our hands back into our own project cars with what little spare time we have lying around (that spare time is what most people would commonly call 'time for sleep'). As with the Explorer, we'll have a bigger blog post on it next week. For now, though, rest assured that Gold Wheels and the M Roadster will be alive and kicking just in time for some serious snow drifting. All in due time…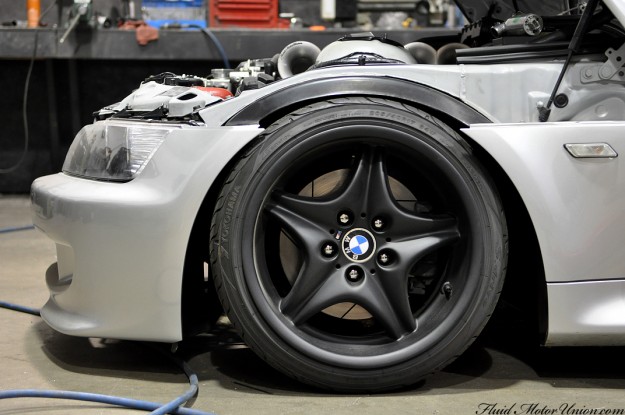 Have a great weekend! Now that it's starting to get snowy and icy on the roads, make sure to increase your intervals and brake earlier. And please, please, please, brush ALL the snow off your car, not just the windows and windshields. That two-inch thick sheet of snow on your car's roof can become dislodged at speed, which has the potential to seriously injure both the car driving behind you, and the person in that car. We're all in this together, folks.