14 Feb

One Busy Valentine's Day

Today, not only is it a busy day at Fluid MotorUnion, but we have quite the random selection of vehicles in for various jobs, as well. Let's take a look.

First up, we've got one Lamborghini (the Murciélago) on its way back to its dealer-owner for subsequent sale following our maintenance. However, it didn't leave a very large Lamborghini gap, as a Gallardo rolled into the shop while we were cleaning up the Murciélago for transport. It's got a rather nasty flat tire that needs attention, as well as some ultra-nefarious plans that we won't explain in detail just yet — you'll have to come back to the blog in the coming days to find out about that!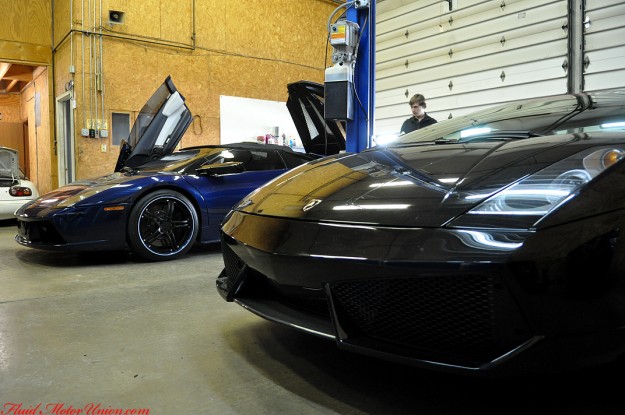 Moving from the Italian job to a more Bavarian affair, we have this E92 M3 on the lift for an oil change and some small maintenance work. Nothing out of the ordinary, but if there's one thing you want to make sure of, it's that your S65 V8 is purring to perfection, and that's exactly what we're here to do!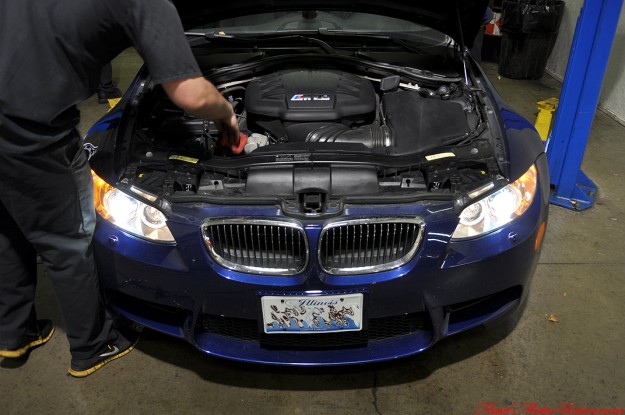 If the last one wasn't out of the ordinary, this next one will be. A number of our lifts are rated for limousines, and as a result we'll have the occasional limo drop in for some service. You may have seen the Board Room H1 stretch on our blog before, and while this Cadillac isn't that large, it's still big enough to require an aerial shot to show the entire vehicle. It also makes for an interesting juxtaposition in the parking lot next to a Lamborghini.
We'll shuffle back to German vehicles for the remainder of this blog post, but that doesn't mean the variety won't keep showing up. We currently have an E60 5-series on the lift for a heart transplant, as its old powerplant decided to give up the ghost. No worries, though, because we're ready and equipped to tackle the subsequent work. After giving it its own corner of the shop (a necessity when half the car needs to be removed), we started prepping the body for heart removal, the new version of which is below, hanging out on a pallet shortly after delivery.
After disconnecting all the lines from the motor, draining various fluids and unplugging wiring harnesses…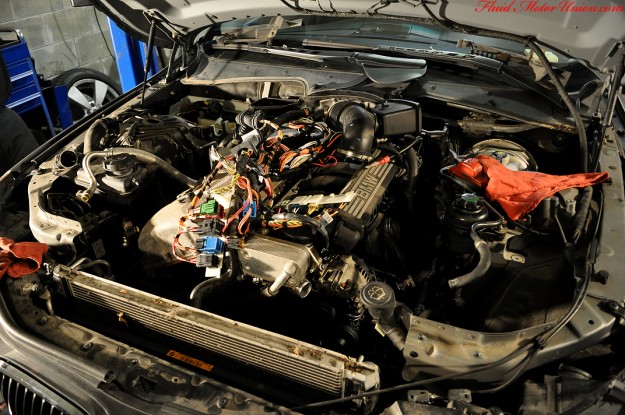 …We set some jack stands on the floor, positioned the motor and undid the subframe bolts…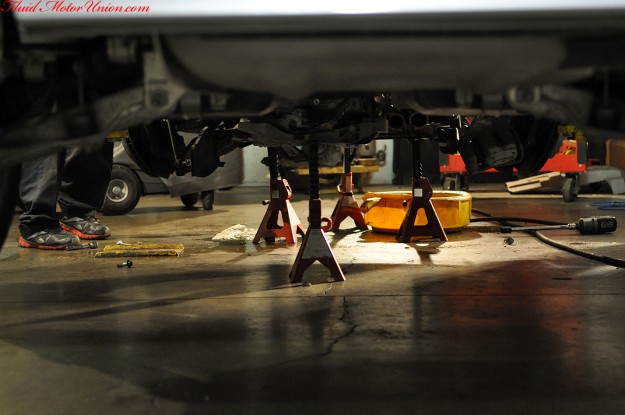 …And there we have it, one motor on the stands, ready to be taken off the subframe. From here, we'll have to swap over all the parts that didn't come with the new motor, then place the new motor atop the subframe and reverse the entire process to get it back in the car. Don't worry, we'll be taking photos as it happens, so odds are you'll see the fruits of our labor in a subsequent blog post.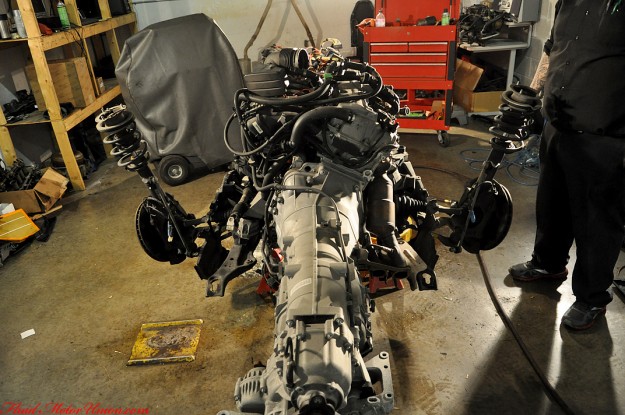 Finally, just to keep the variety going, here's a shot of the Raging Bull Marketing CLK63 AMG Black Series hanging out on the dyno. Every time it starts, our hearts start shaking a little bit, it sounds THAT nice. What a dreamboat. We'd ask it to be our valentine, but we're shy.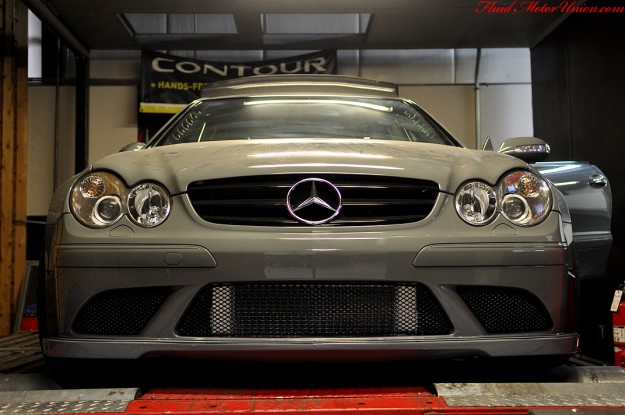 Have a Happy Valentine's Day (if you're into that sort of thing), and we'll see you back here on the blog tomorrow!