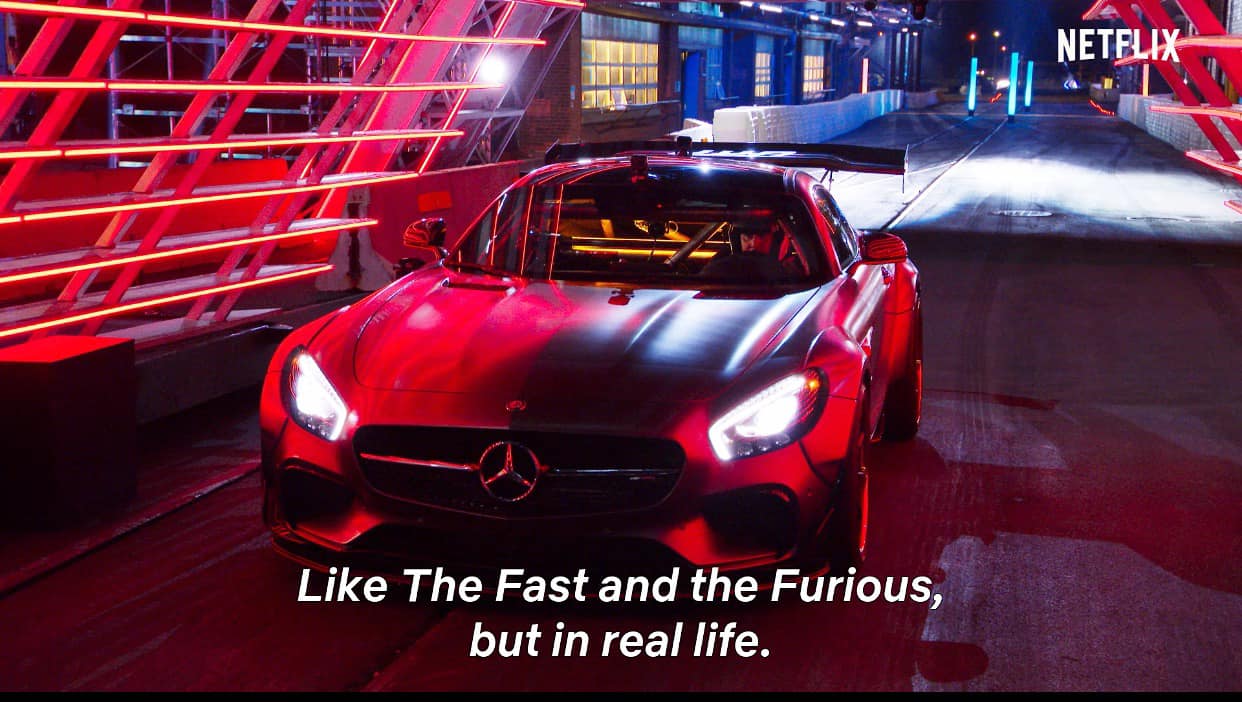 22 Aug

Netflix Hyperdrive featuring Fluid MotorUnion of Naperville!

The new series, Netflix Hyperdrive featuring Fluid MotorUnion of Naperville is officially out! After months of secrecy, FMU is proud to announce that Netflix's newest automotive reality show Hyperdrive, will be featuring a build we did with Ultimate Road Rally. Almost a year after the build the show premiere 8/21 as a 10-episode series. Described as a "Ninja Warrior for cars" driver's from all backgrounds compete on an obstacle course that spans over 100 acres. Contestants drive and drift across a rail slide, up a massive see-saw, and through a narrow shipping container. The drivers span from all walks of life and feature none other than our good friend and client Omar Salaymeh, Founder of Ultimate Road Rally and Chicago Motor Cars Salesman extraordinaire.


The car chosen by Omar for the competition was a 2016 AMG GTS. Mercedes current flagship sports car is a rear-wheel-drive layout with the drivetrain centered within the vehicle's wheelbase—the engine positioned ahead of the cabin and transmission behind. Powered by the M178 4.0-liter dry-sump lubricated V8 "twin-turbocharged engine with exhaust manifolds inside the cylinder banks. Known as a "Hot V", this configuration reduces turbo lag and increases efficiency. Power is transferred to the rear tires through the seven-speed dual-clutch transmission featuring an electronically controlled limited-slip differential. The body and spaceframe chassis are made from aluminum alloys, while the hood is formed from magnesium. All this adds up to just over 500hp and a 0-60 time of 3.0 seconds and a quarter-mile in 11.2 in stock GT-S trim. But Omar needed something more substantial than stock for this over the top competition.

Featuring a raucous prior design widebody kit, Renntech's suspension offerings, and downpipes from our friends at Weistec, Omar's AMG was on the right track to having the vehicle ready to perform, but this wasn't just any course, this was the biggest, baddest automotive obstacle course ever built. The car needed to be built to a professional level of racing safety compliant for the shows various stunts that would test the limits of the drivers and vehicles. That's where Fluid MotorUnion comes in!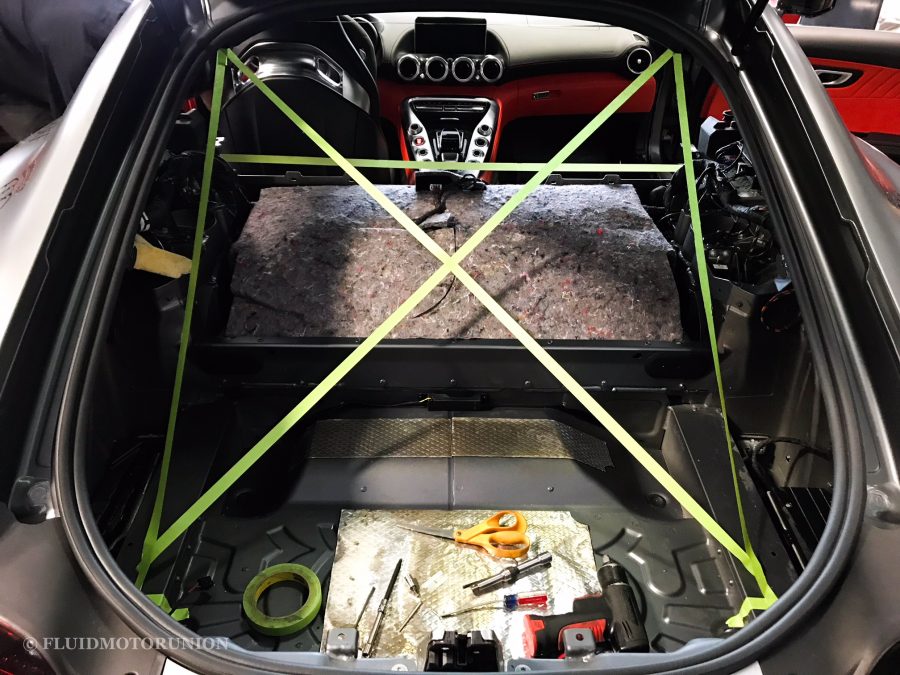 Full safety compliance was required so that meant a roll cage that would pass inspection for a racing series such as Formula D. This would also have to be done on a time crunch—two weeks, and whatever time leftover we could use in making the car faster while looking meaner and sounding louder. This was a tall order, but we were no strangers to short deadline builds!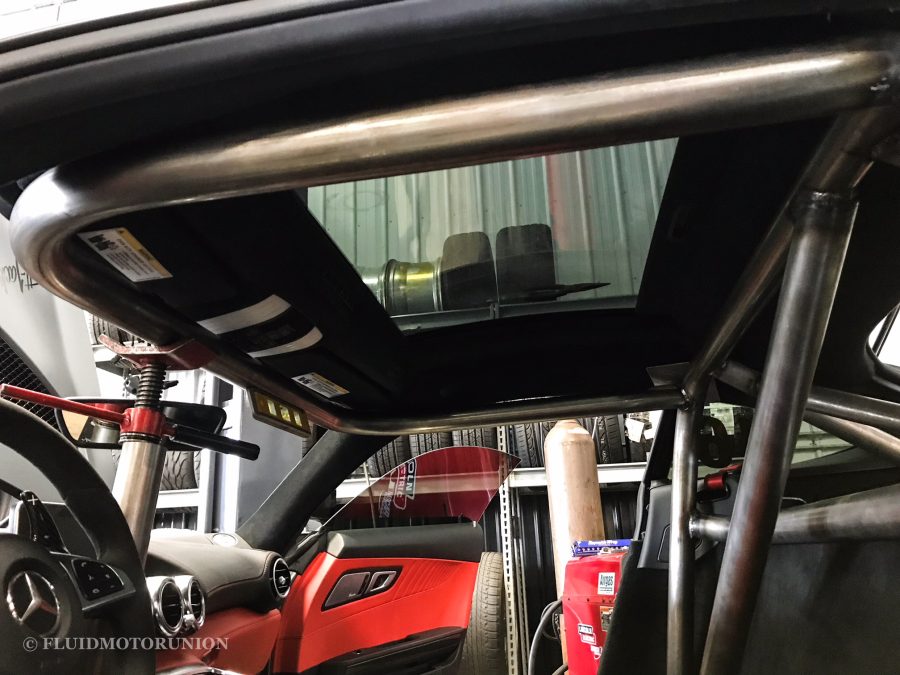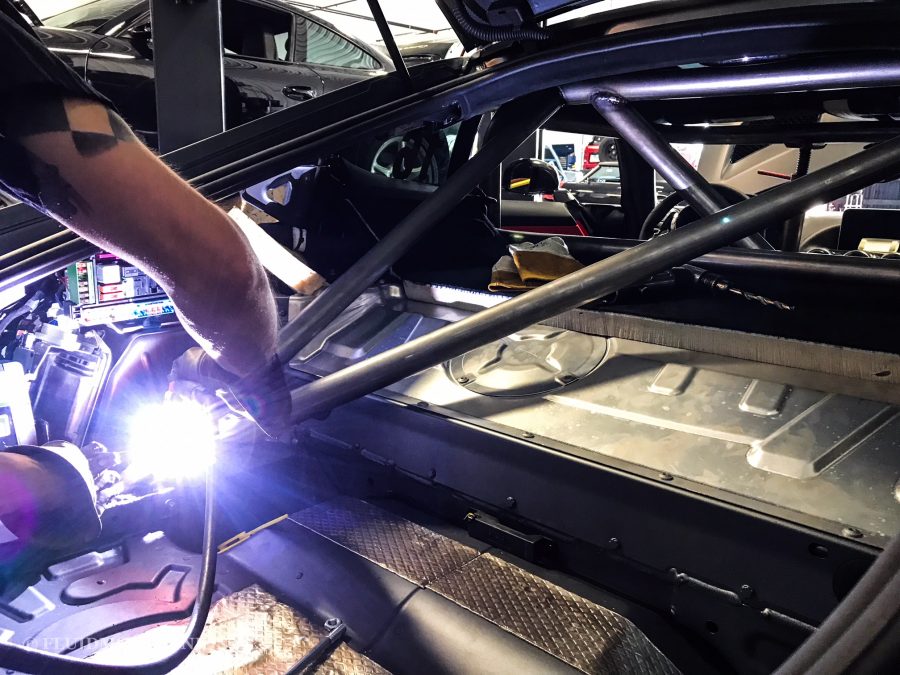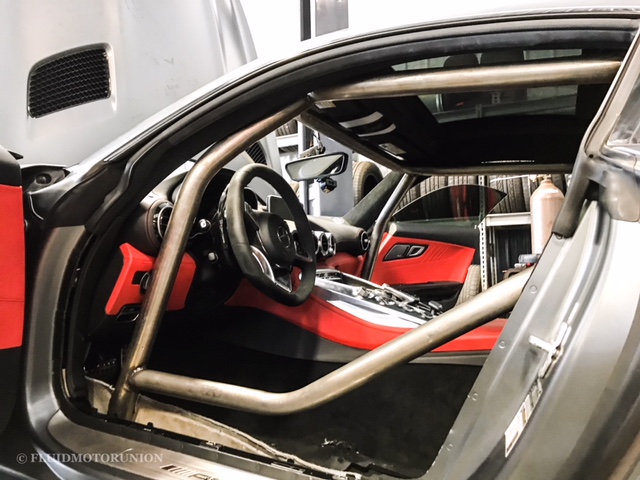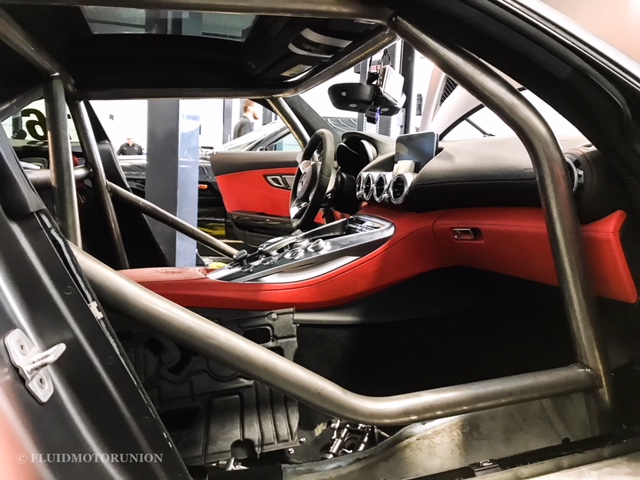 The biggest challenge of the cage wasn't the cage itself, it was making a cage for someone that frequently bought and sold cars. Anyone can make a cage compliant if they don't have to worry about the interior trim pieces. The goal was to make a cage that was easily reversible, without damaging the interior and hurting the resale value of the vehicle, within a 2-week time span. This was a challenge. Long nights turned into long days and getting everything to fit was tricky. But as the cage came together with 3 days to spare, we turned our attention to the rear wing and getting some more power from the vehicle.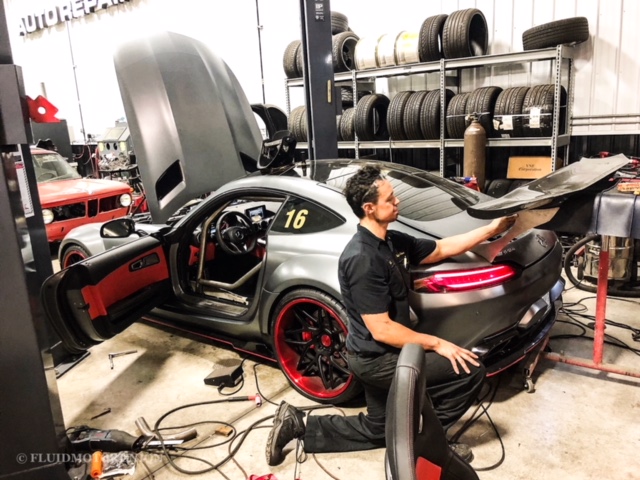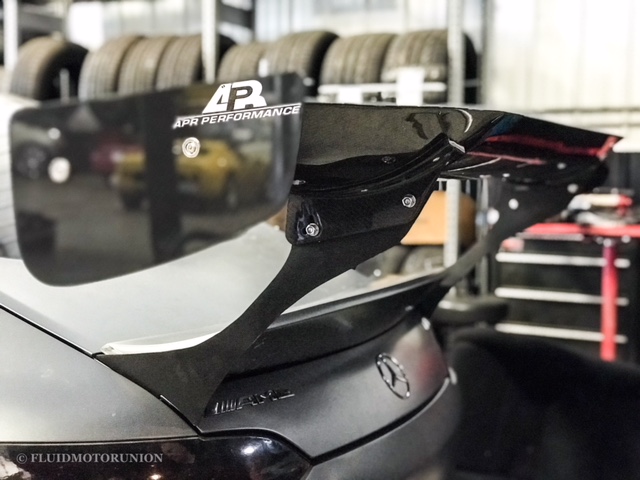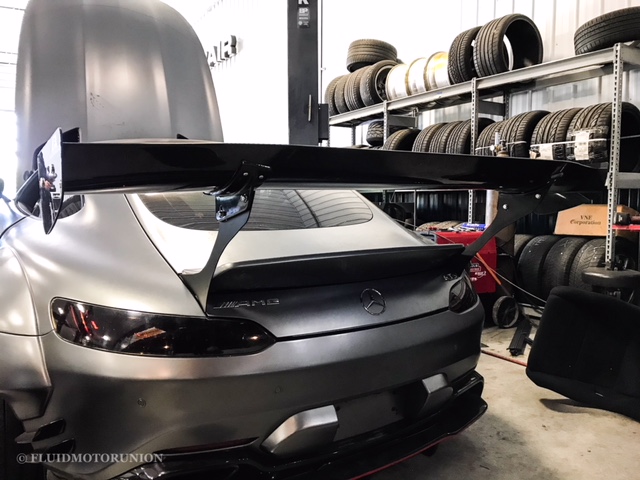 The courses would be shorter and tight so that meant traction and grip would be crucial, so using downforce from a gigantic wing would not only provide additional traction but also add a bit more of Omar's signature aesthetic to the build. Spoiler Uprights were custom cut from ⅜ inch aluminum stock in order to achieve a wide and far back mounting position. Adjustable stabilizer bars crossed from both sides to add opposing rigidity to the support bracketry and allowed the force to be translated into the rear bumper mount support. This kept the wing light, while still allowing the force to be translated into the frame of the vehicle, and thus the rear tires for added traction. While downforce is a good thing for traction, the added drag means that the vehicles Horsepower now has to contend with more resistance. So that meant we needed to bump the power to compensate.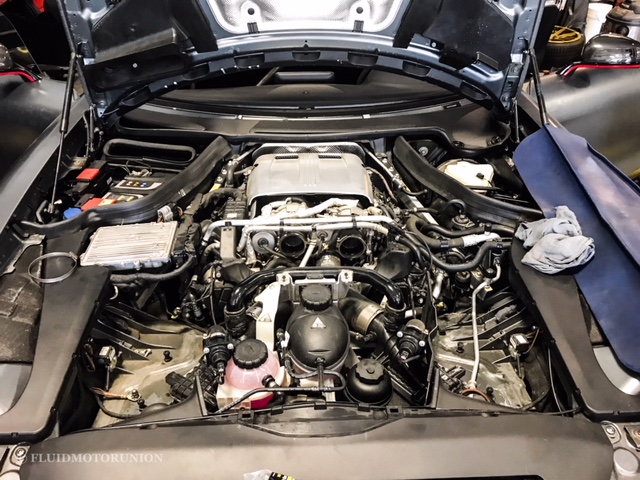 Pushing the AMG for more power has to be done safely and smartly. Tuning the car to its limits may get more power short term, we wanted to make sure the car lasted the entirety of the competition. So our Friends from HD Tuning whipped up a special program for just this type of occasion. With power from more boost, fuel, and timing we looked to lower intake temps with a thermal reflective gold foil wrap of the airboxes. This would ensure that our intake temps remained in control as possible when the demands of this extreme event were placed on the vehicle.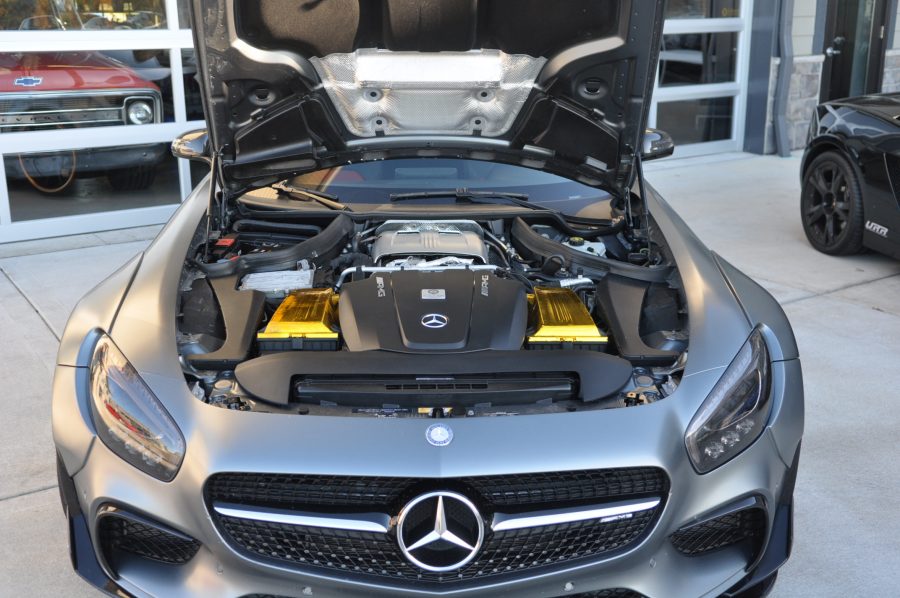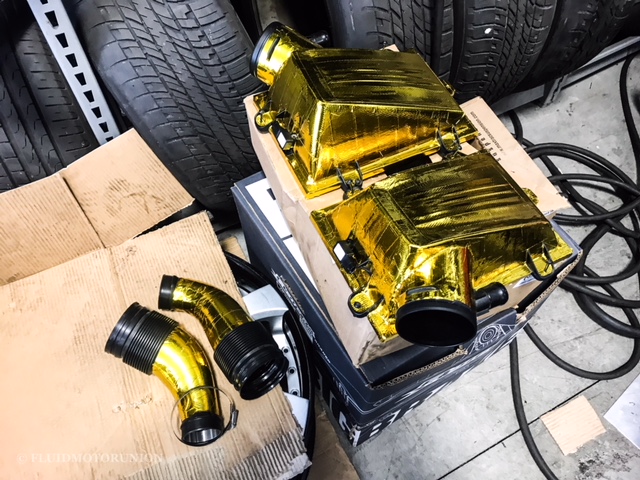 Even though we were pushed to our physical and mental limits during the timeline of this build, we couldn't have been more pleased to have been part of it. Fluid MotorUnion is a strong supporter of Ultimate Road Rally, and being Omar's Choice for his AMG is something we take great pride in. We live for projects like this and Netflix Hyperdrive featuring Fluid MotorUnion of Naperville is something that we will always be thankful to have been part of!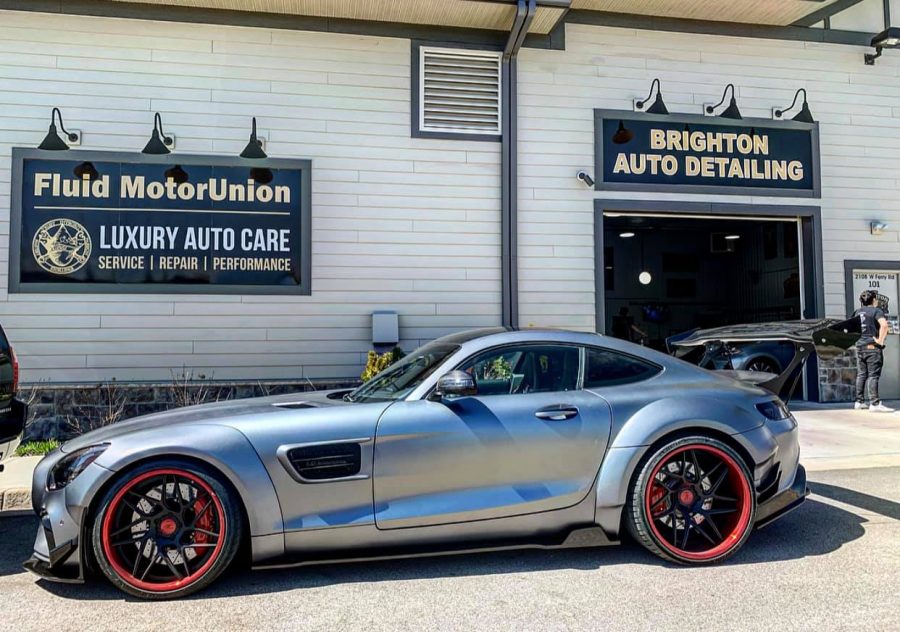 Are you looking to prep a vehicle for a racing event, or want to take your car to the next level? Fluid MotorUnion can help you get there. If you have any questions or would like to schedule a quote today, you can get in contact via email at blog@fluidmotorunion.com, social media or by telephone (630) 305-3054. We are located in Naperville Illinois, at the car culture capital of the midwest iron gate motor plaza. Just off the route 59 exit of I88, next to Top Golf.