10 Apr

Midweek Midsection

It's the start of the middle of the week, so let's discuss starting the middle of an exhaust!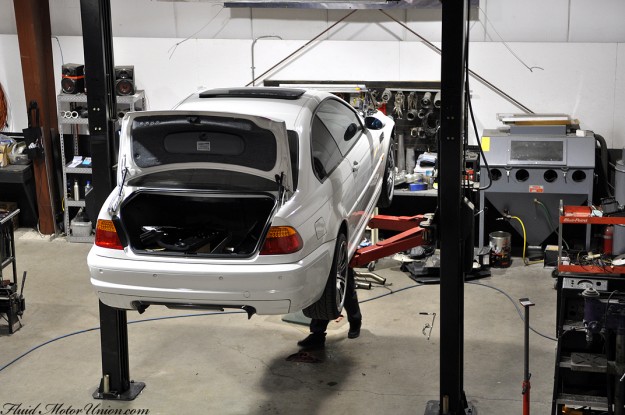 We introduced Nick Piper's M3 to our readers last week, as it was on the dyno getting a baseline run before work commenced. Well, work has now commenced, so let's clue you in on the action. Of course, the first part of any new exhaust work is removing the old stuff. At the same time as the midsection, he's having a set of Supersprint headers installed, so we'll be removing both the OEM headers and OEM midsection before doing anything else.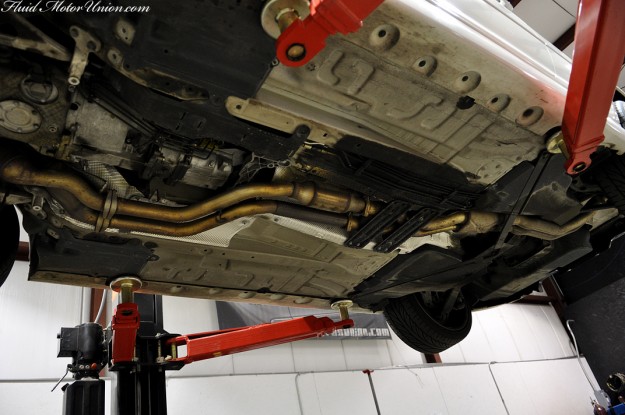 And here are the headers. You can see the obvious areas of improvement that Supersprint has touched upon, namely a smoother manifold layout with no catalytic converters. Once you look up into the motor from there, it just looks so lonely without anything attached to it.
The first step in the right direction is installing the headers, obviously, because without them there wouldn't be a starting point for the midsection. Nobody likes guessing where to start an exhaust, only to be wrong once they get all the way finished with it. And the Supersprint headers already came with our favorite method of sealing exhaust pipes — v-band clamps! Even though they're the most expensive of all clamp types, they work the best and hold up to all sorts of abuse.
Here's a picture of the midsection as it hangs out on the ground underneath Nick's M3. In terms of improving exhaust flow and sound characteristics, we'll be moving to our preferred E46 M3 exhaust arrangement, which is a single 3″ pipe from the headers all the way back to the muffler.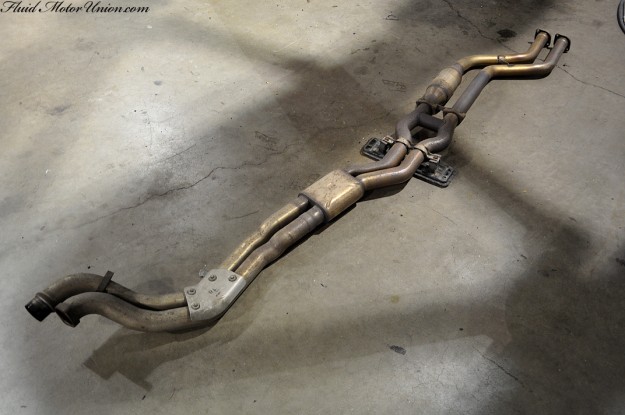 As we said a little while ago, the first step is building off the headers, since they're in a fixed position once installed. Obviously if we're going from two headers to one midsection pipe, we'll have to merge the two banks of the S54 together. And what better way to do that than with our own hand-built Y-pipe! We've also positioned the first resonator so we know where to build to. But this isn't our first rodeo with the E46 M3, and it won't be the last either. We might be able to build one of these blindfolded. Perhaps we'll make a video for it. But probably not, since welding blind is probably a very, very bad idea.
We'll have more pics up this week as we sort through and start editing them. In the meantime, enjoy a little bit of weld porn, a taste of things to come!