22 Feb

Midweek Happenings

Despite what the title may lead you to think, this blog post is going to be about what's happening at FMU during the middle of this workweek.

First up is the mysterious turbo build. Let's finally uncover exactly what vehicle this is and show you the motor…..wait…….OHGODNOWHERE'STHEMOTOR?!?!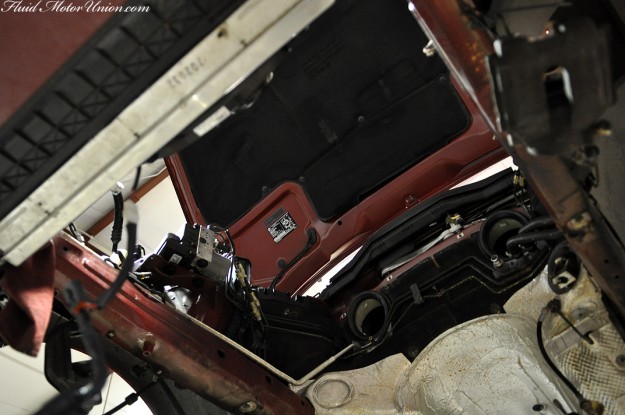 Just kidding. The motor's out of the car, because we are not five-year-olds and therefore cannot build a custom manifold that's never been done before, in the incredibly tight constraints of the mysterious turbo build's engine bay. The other, older V8 was out to develop that weird metal thing we showed you last week, but the manifolds have to be built on the motor we're using, which requires us to drop it. Not literally, we removed it gently, as gently as one would plant the kiss of death on a mortal enemy's forehead. From what we see in the movies, that's pretty gentle.
Anyway, the S54 swap is seeing the blog once again, as we take the SMG transmission setup that came with the car and begin to convert it to work as a regular ol' manual transmission. That involves holding down the trans case and modifying a couple small parts, such as the area we've zoomed to in the second picture. While the manual and SMG transmissions can be reverse engineered to work as the other, there's more work to it than just installing a few pieces here and there.
Moving back to the office, we're awaiting a set of spacers to finish off this E53 X5 lift kit that's heading all the way out to Alan in Mongolia. As always, we're excited to see our product reach out into another country, and we're stoked to get some pictures back from other lift kit owners once they've installed the pieces.
Lastly, we're excited to receive a new HKS supercharger for Jay's E46 M3 'vert. His old one kicked the bucket when the s/c pulley sheared off the bolt, so while Active Autowerke figures out the cause of the issue, they've replaced his HKS unit (including the belt and the $400 can oil) under warranty in the meantime. We can't wait to get this unit on the car so Jay can get back to enjoying some RWD winter action. If you could call this winter, which you can, but only barely.
Oh, and if you haven't seen them yet, click this sentence to check out the newest offering from StanceWorks's in-house design studio, Lowly Gentlemen. These iPhone covers are both incredibly well-made and incredibly exciting to look at.