14 Jan

Middle-Aged Mercedes Monday

They're not super-old, but they're certainly not the newest models, either. These…are middle-aged Mercs.

First up, we have a pair of very similar Mercs in our service bay for various maintenance-related jobs. Upon first glance, your humble narrator thought he was seeing double, but no, these are two totally different models.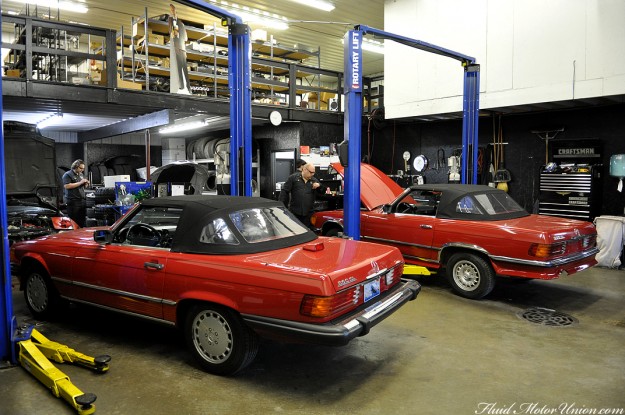 The first of the two red R107s in Service is this 560 SL. Built for extra-European markets, including the USA, it features a rather hefty 5.6L V8 rated at 227 hp and 287 lb-ft of torque. It was the biggest engine available for the R107 chassis in the United States, and while it seems a bit paltry by today's power standards, it was quite the machine back in the day, and it's still a gorgeous model nonetheless.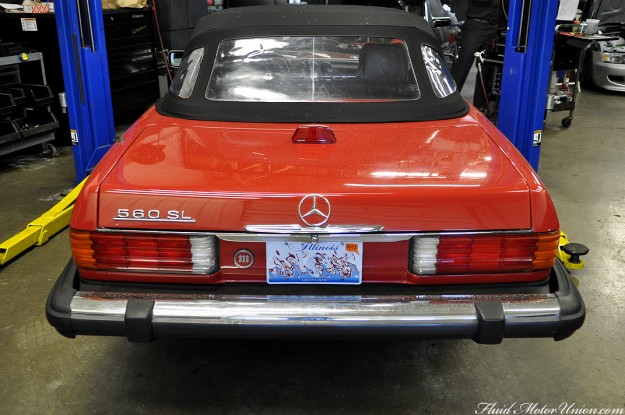 The second, despite its 500 SL badging, is actually a 280 SL — the 500 SL was not an available R107 model in the United States, although it was grey-marketed over before the 560 SL hit the market. This one, too, is a grey-market Mercedes; it comes from overseas with a 2.7L inline-six capable of 182 bhp and 176 lb-ft of torque. Again, not necessarily spry in the 21st century (your humble narrator's four-pot Honda motor has more bhp), but that doesn't make it any less of an upmarket car. While both of them contain the soft convertible top, only the rebadged 280 SL comes with the often-desired Euro bumpers. US crash standards really ruined a lot of cars back in the day.
Over in fabrication, we have a much more familiar old Mercedes hanging out — Germaine's (actual) 500 SL!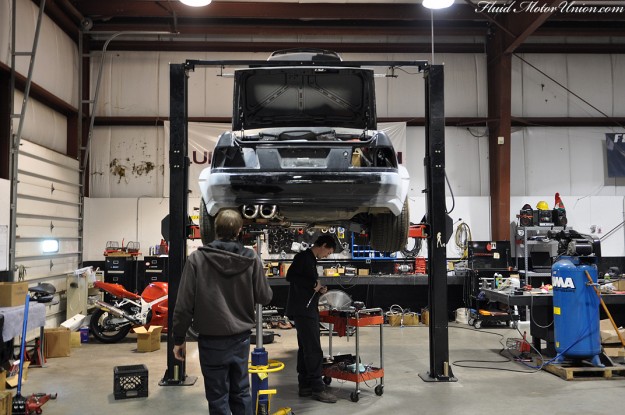 While looking at existing projects during a bit of downtime, we realized that the tips for the SL's exhaust aren't close enough to the bumper to look coherent. As you may remember, the exhaust was done prior to the custom widening of the wheel arches and rear bumper, so with the new fitment in place we had a bit of extra leeway. Seeing as how we'd prefer a more cohesive look between the exhaust and the bumper, we went about extending the tips a bit. Some quick cuts followed by tacks, fitment checks and finally welding, and we have ourselves tips that line up much better with the new rear bumper dimensions.
And here's one more quick shot of the full exhaust and underbody of the SL. We could stare at that rear wheel/tire setup all day. It's certainly something you haven't seen on this platform before, and once it's done it should be breaking necks like nobody's business.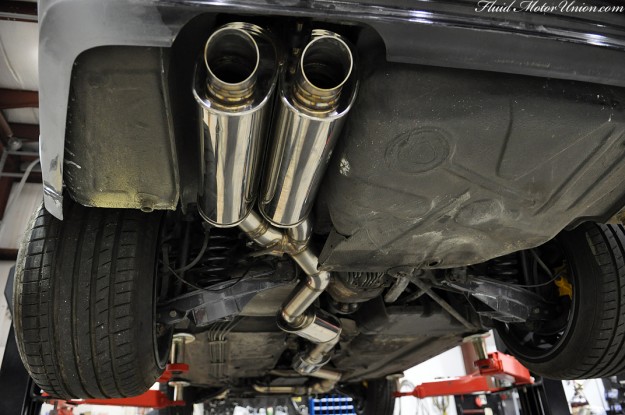 Have a great start to your week, and we'll see you back here tomorrow!