28 Mar

Mellow Yellow

Yellow's a color that's always held a consistent level of aesthetic value in automotive modification. Today continues that trend.

Before we get to the accent color, though, we need to zoom out and discuss what's being done to Anthony's C55 this time around. Currently, he's in the shop for installation of a new rear bumper, which we'll be looking at in a little bit here. But first, while the car was in the lot, OJ came up with an idea that would both spice up the C55's current aesthetics without taking away any of what the car stands for — as both his daily and his track beast, Anthony's always kept his car that perfect medium between full track-readiness and full road-readiness. All four corners of the car were rather, well, standard, with the OEM C55 wheels covering up the OEM brake system. While both of those OEM parts do look good on their own, OJ wanted to take it one more step towards the track. So, we started by painting Anthony's C55 wheels in a satin black finish.

To complement the satin black, we painted all four brake calipers in a pretty slick shade of gloss yellow.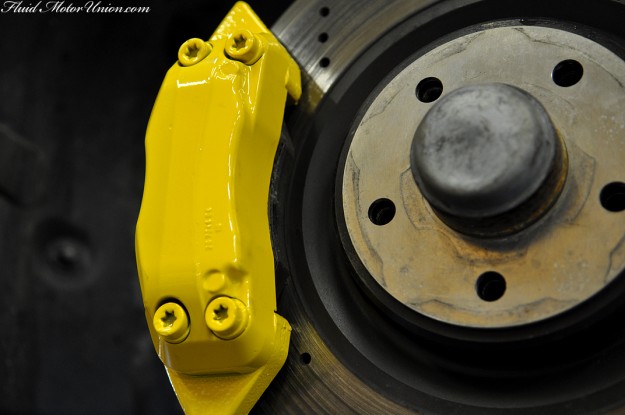 But, knowing us, that wasn't enough. OJ himself sat down with a (very nearly) matching yellow paint pen and filled in wherever necessary.
How does it all turn out, you ask? Well, we're not going to show you. Yet. Instead, here's a quick shuffle over to the body shop as we check out what's going on with the bumper we mentioned earlier. Obviously fiberglass bumpers don't come to us pre-painted in a myriad of OEM shades; instead, it's up to us to add the fun stuff. So, as with all pieces, it first had to be prepped. Since the center is a carbon fiber portion, that wasn't going to be painted over, but instead cleared, sanded and buffed to a nice shine. Here's the bumper as we prepped it for paint:
A quick round of primer…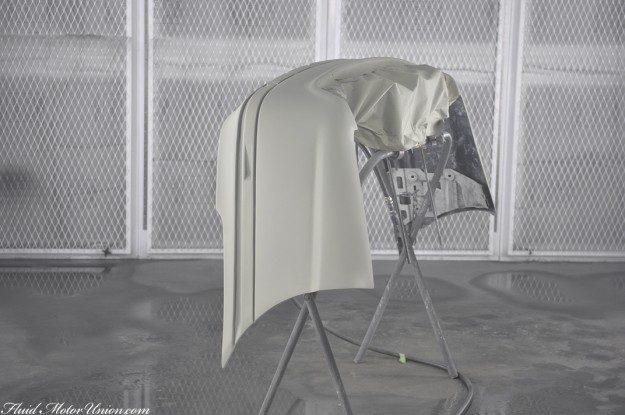 …And then some paint, and then we have a bumper! Well, almost; we'll need to reattach the bumper to the car after a generous amount of sanding and buffing in order to bring about a proper luster. Plus, we have to reattach all the center trim pieces, as well. So, here's a mostly-prepped bumper, which is as much as you'll get until the car's ready for a proper post-work photo sesh.
Look forward to both some serious C55 pictures and a fully-fleshed-out RS6 photoshoot in the coming days!