29 May

It's Got A Hemi

You know it's been a hard road to recovery from the weekend when this is the best title we can come up with for this car.

First, we hope everybody had a safe and prosperous Memorial Day Weekend. Now that we've dispensed with the pleasantries, let's get down to business. Last Friday, we released a car that had come through the shop for a number of modifications, both aesthetic and function-driven. That car? A black-on-black-on-chrome-on-black Chrysler 300 SRT-8. Yep, with the Hemi motor. Title makes sense now, eh?

Starting with one of the more obvious aesthetic refreshments, Reggie decided to tone down the color scheme a bit by opting for a gloss black front grille, which definitely sets the car off in a much meaner manner than previously. It almost looks like it should have some red and blue light bars hidden right behind that grille — we can't imagine anybody that wouldn't freak out just a little bit when they saw this thing tearing up your sideview mirror.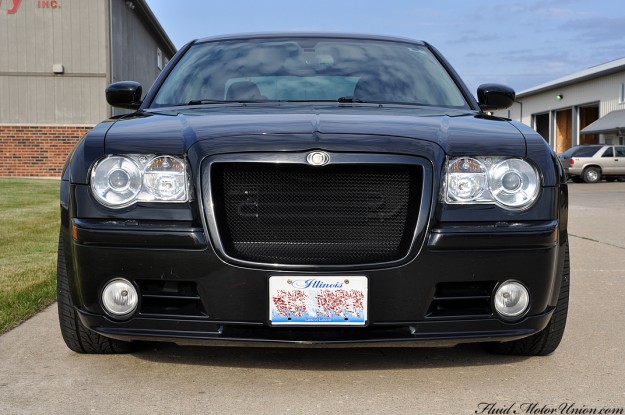 All of the power-based additions are based in the exhaust. Featuring a set of aftermarket long-tube headers sans catalytic converters (for off-road use only, duh), the exhaust continues into custom mid- and rear sections, made from our favorite 309 stainless. It ends with a serious set of tips protruding ever so slightly from the rear diffuser. We didn't happen to grab video, but just imagine a loud Hemi with a signature Fluid note to it. Music to your ears, right? Ours too.
Even though we didn't capture video, we did make sure to shoot the entire exhaust as it sits underneath the car.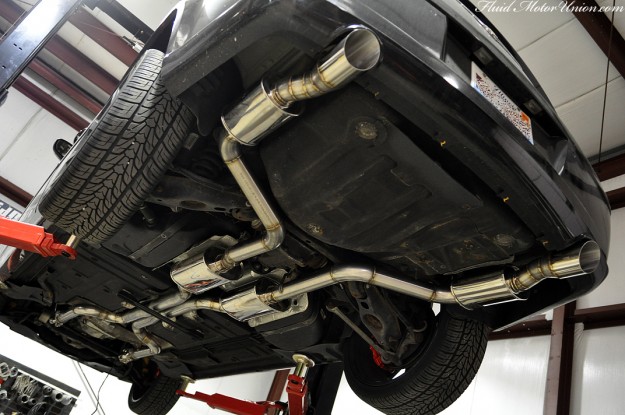 Keeping the SRT-8 badge out back not only serves to educate tailgaters as to why the car is so loud, but it actually completes the car's color scheme, as well — black, chrome and red.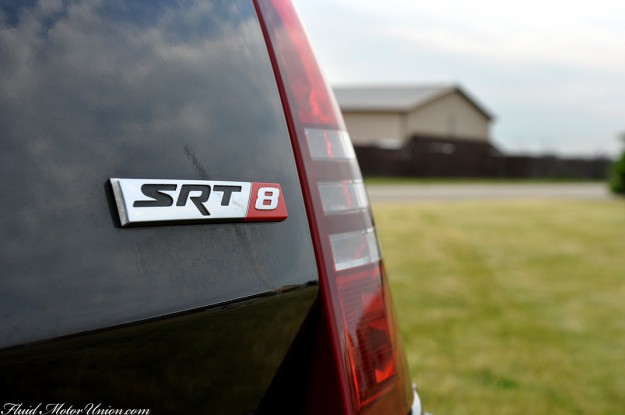 And where is the red, you may ask? Aside from the tail lights, Reggie also chose to have his Brembo brake calipers removed and painted red. At the same time, we painted his wheels black to match the rest of the car. You can't really get a good idea for how mean the wheels look from the next two photos, but you can in the more zoomed-out pictures. We just wanted to get a close-up of the calipers for ya.
All in all, the car's undergone a serious case of character adjustment since it entered the doors. It hasn't gotten any lower, but it's completed the other two parts of the Fluid trifecta — it's definitely louder, and it's definitely looking angrier. If you find yourself driving along, only to be overcome by some sort of sudden-onset fear, check in your rearview — Reggie might be there.