02 Nov

It Was Silent, Now It's Violent: The Black Series Feature Video

Oh yes, that's right. The feature video has arrived.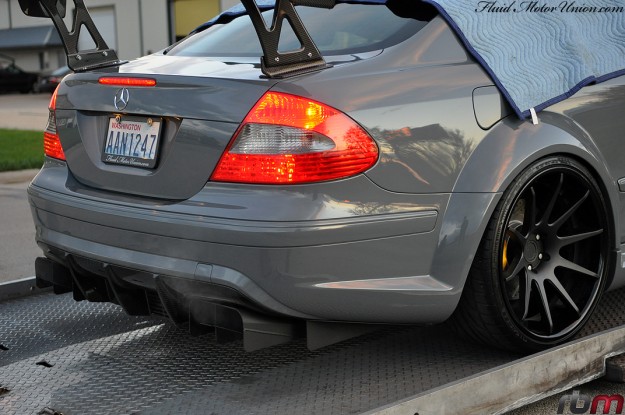 The following video is a showcase of Fluid MotorUnion's work on the Raging Bull Marketing Mercedes CLK63 AMG Black Series. The car is currently at the SEMA conference in Las Vegas, and will be hitting the track for the Global Time Attack race series in 2012.
The vehicle entered our shop with the wheels (ADV.1) and paint (BASF/JMI Motoring) already applied. We started with a full custom exhaust setup for the car, starting with brand-new custom long-tube headers and a resonated midsection. The rear section has electric cutouts, which go between muffled and unmuffled modes. The exhaust pipes dump into a custom diffuser assembly, taking a stylistic (and functional) key from Formula 1 cars and their exhaust-blown diffusers. The rest of the work includes a Varis carbon-fiber GT wing, Weistec Stage 1+ M156 supercharger kit, Aquamist/Howerton Engineering HFS3 water-methanol system, custom-mounted switches for the WOT Box and electric exhaust cutouts, and a new viewing window in the trunk to help showcase the exhaust system at SEMA.
The video doesn't capture the dyno sounds as well as we'd like it to, but that's only because the deep bass notes in the exhaust were too much for the Bode microphone on our HD camera. The interior and exterior/fireball shots are the most accurate representations of the Black Series' exhaust note. No matter where it's being driven, you can hear the overrun, which we feel is one of the best characteristics of an exhaust system such as this.
Enjoy!