28 May

High Contrast

All done! Thats right, the GSX-R 600 is all finished. For those who don't know, the GSX-R 600 is Suzuki's entry level sport bike. Putting out 98hp @ 11800rpm, this bike can deliver an exhilarating ride when pushed.
This customer decided that his bike needed a visual and aural refresh, and with good reason too. This particular example arrived a little worse for wear. Many of the fiberglass fairings were wavy and the bodywork seemed mediocre at best. This customer's main concern seemed to stem from the noise his off the shelf Yoshimura RS-3 exhaust made. Now, we are not saying that the exhaust on this bike was of subpar quality or performance. Quite the contrary; Yoshimura is known throughout the world as having one of the best performing, best sounding, high quality kits you can buy for the price. For a true exhaust connoisseur; however, off the shelf just won't do.
The bike was quickly stripped of it's fairings and exhaust. While the panels received their much needed sanding and leveling, testing began on an optimal muffler design. The muffler gave the bike a rather loud, angry, and raspy voice, but loud doesn't always equate to a good sound when dealing with exhaust. While not completely certain, this customer had an idea it could be improved upon.
Here at FMU, we hate exhaust rasp with a passion. To us, the high pitched, tingy, ripping noise is the sign of a design that is not optimal. During our years of fabricating, we have done a lot of exhaust testing on all manner of vehicles. We have seen countless exhaust designs, using all sorts of cited science and laboratory testing. There has never been an instance where we have seen a baffle, crossover pipe, or noise cancelling chamber that can best the performance and sound of a straight through, resonated stainless steel exhaust system. Again, we are not saying there aren't great kits out there that use these marketing bells and whistles mentioned, because there are, and plenty of them. Rather, if price isn't the first concern and you need the absolute best sound, performance, looks, and quality, you need to have your exhaust done by an experienced exhaust fabricator. You can also choose to be like this customer and leave the decision making completely up to us.
In order to cancel out the rasp, we knew that the baffled design of the RS-3 exhaust had to go. We wanted depth; however, with "normal" muffler designs it is hard to achieve depth without removing pitch from the high end. In our opinion, you certainly don't want to remove any of the drama that happen past 10,000 rpm, so we knew there was only one option; a megaphone. Those of you who follow us regularly know we use megaphones on only our best known exhaust projects. We find with incorporating a megaphone design, not only do we optimise exhaust gas flow, but we also unleash the symphony that can only occur with high RPM.
Now that we knew how we were going to achieve supreme sound, we had to figure out how to get this thing to also look the part. How about polished, mandrel bent tubing leading from the header to the megaphone? While that would be the route to go if this customer was mainly concerned with absolute performance, this customer wanted everything; so the looks had to be as wild as the sound and performance.
The solution? Miter cut, or pie cut, stainless steel. Used originally as a solution to place a bend in tubing when pre-bending wasn't feasible. This was either due to cost of the bending equipment or the properties of the material needing to be bent. For instance, titanium, unlike stainless steel, does not like to be bent after it has been cooled from its molten state. This is the reason you see so many fabricators place many angle cut pieces next to each other in order to make something curve in titanium.
Maybe you will ask why we decided on pie cutting this particular piece? After all, we were only using stainless steel. We could have made it simpler and cheaper by using mandrel bent tubing. Maybe it adds to the performance? Nope, we just wanted it to look like someone who knew what they were doing, took their time on this piece. So we cut a straight pipe up, put in a miter exhaust chicane, and polished the whole thing up.
Only the most astute of our followers may notice that the welding on this piece looks a bit different than what we normally put out. That is because this piece marks the debut of Zak Turner as a bonafide welding apprentice. Zak has been a fabricator apprentice for some time now, but up until this piece, wasn't allowed to weld on any customer projects. You see, a few years ago, when Fluid was just starting out, we had a lot of talent, but not a lot of experience. We put a few pictures of our welding on a local forum and the response was far from positive. While they weren't nearly as poor as some of the work that has made its way into our facility from time to time, the Internet can be a harsh place. Instead of calling everyone haters and giving excuses for why the work wasn't beautiful, we got angry. Filled with the need for retribution, our head fabricator, Craig Hegland, set off to improve his abilities. You see, Craig didn't just want to master welding; he wanted to become one of the world's best. Craig devised a stringent routine of steps, techniques, and drills in order to increase his skills as fast as possible. Craig also wanted to make sure that not only could he benefit from his grueling practice, but also anyone with some natural welding talent can quickly hop on the path to potential welding greatness. Craig's tips and tricks worked so well that he quickly took our other resident Fabricator, Tom Maloy, from great to godly in no time flat. Zak has been making extra effort to put in torch time off hours and make sure that, like any great championship team, he can back us up when the heat turns up. And while Zak's technique still has a ways to go, he can't be too displeased with his first professional piece.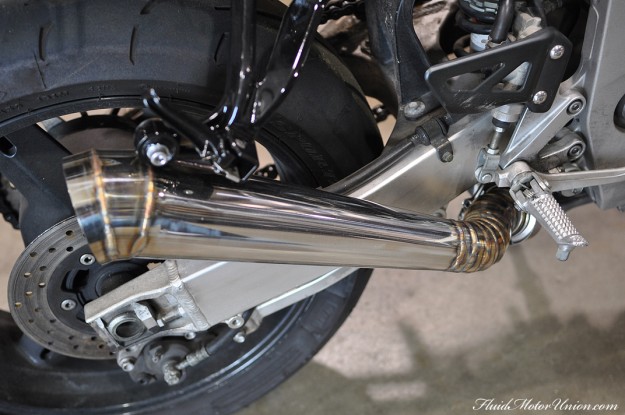 On the next blog, I will cover the body, paint, and extra little touches that went into finishing this bike, so stay tuned until then.