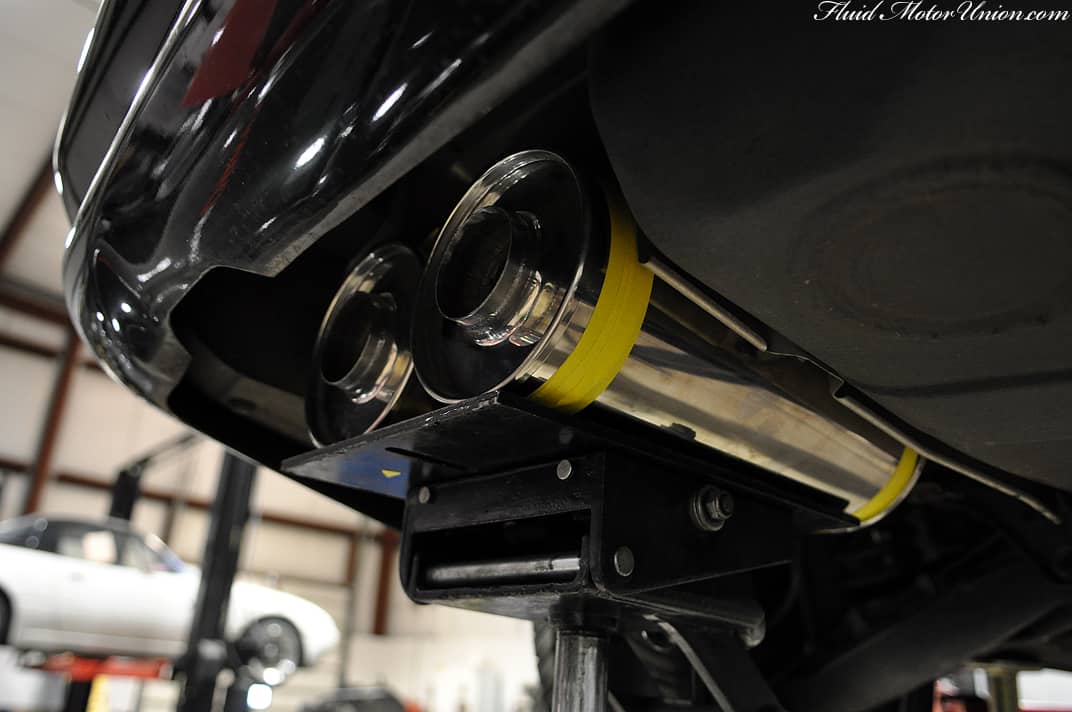 17 Apr

Hang-Ups

Let's return to our favorite pastime — custom exhaust — in today's FMU daily blog post.

As we mentioned in our last post on Tom's V12 SL600 build, we'd finished the custom exhaust up until the resonators, which are right about smack dab in the middle of the underbody. As usual, we'll be utilizing our stock of pass-through bottle resonators for their impressive ability to mitigate drone while still providing a tone that's not neutered in any way. We have the resonators right where we want them, so now it'll be a matter of creating everything behind it.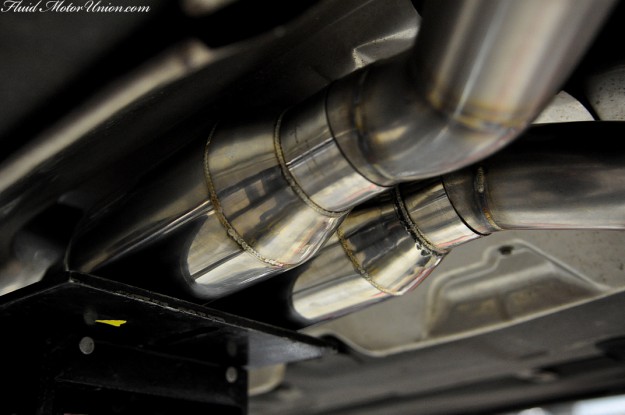 Since we will be merging the two banks into a single pipe for the remainder of the midsection (as that provides the correct balance between civility and quality sound), we have a Y-pipe coming off those two bottle resonators. Since you cannot cut the Y-pipe in a fashion that allows you to weld a circular piece of pipe to it, we have to use our oval-shaped piping instead. This doesn't change the sound or flow, as the surface area inside the oval pipe is the same as it would be in a circular pipe. It's just a little flatter.
With the exhaust tacked together up to the Y-pipe, we decided to position the final two mufflers in the set, just behind the cutout in the rear bumper. We'll be using a slightly larger muffler for this job, as the customer has requested a good deal of civility in his exhaust. As with our E39 M5 axle-back systems, we'll be running each of the two tailpipes through its own muffler, which we find provides for a unique sound. Since we'll be going from one main pipe to two just before the tips, we've made yet another Y-pipe coming off the back of the mufflers. When we say this exhaust is one of the more complicated ones we've made in years, we mean it.
As you may imagine, we did stop to take some close-up weld shots for you. It wouldn't be an exhaust post without some quality weld porn! As always, our exhausts are TIG welded by hand, using inert gas backpurging to eliminate any oxidization in the pipe that will cut into power and sound.
Now, it's time to worry about getting the double muffler setup properly hung in place. The OEM exhaust mount at the rear bumper is a single bolt, which isn't much to our liking in terms of a solid connection between exhaust and body. Therefore, we purchased two new polyurethane exhaust mounts, and set about welding together a solution that will turn the single-bolt hanger into a style of mount that will connect to both of the mufflers.
Okay, okay, you talked us into it. One more close-up of our TIG welding.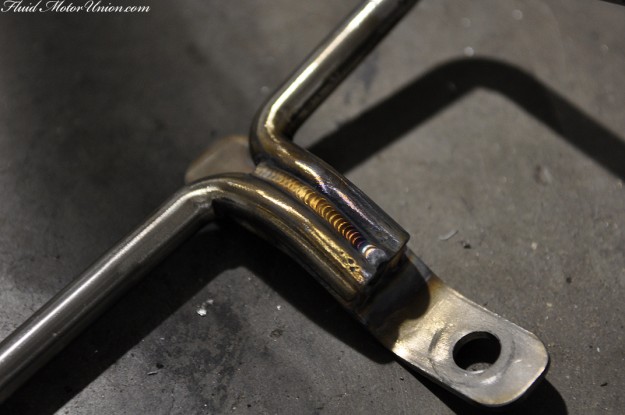 With that, we have our next two dots to connect in the exhaust system. When we return to this build on the blog, we'll be taking a look at exactly what's required to connect points A and B. Have a great day!