14 Dec

Gold Wheels, Live And In Stereo

You know we're in the midst of a dyno frenzy at Fluid MotorUnion when the blog has back-to-back videos!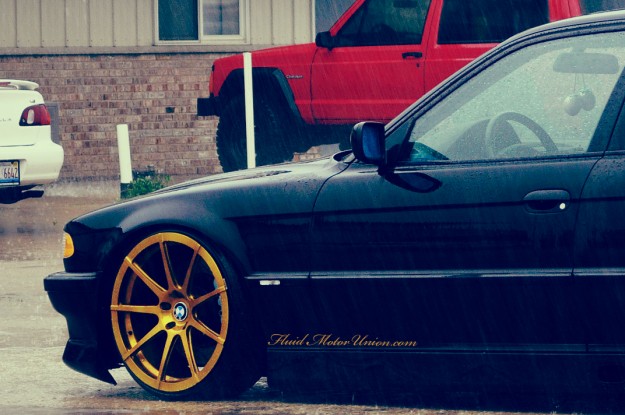 The following video showcases our first project car to hit the front page of a magazine. This is Gold Wheels. What looks like a mild-mannered BMW E38 7-series is a completely different beast once the key is turned. The secret lies under the hood, where Fluid MotorUnion has shoehorned the S62 5.0L V8 motor from an E39 M5.
In terms of engine modifications, the main power-adders are Fluid MotorUnion custom headers and full exhaust, a FMU custom velocity stack setup and our custom dyno tune. Here's the full modification list for the whole vehicle:
-S62 (E39 M5) Engine + Transmission Swap
-FMU Custom Dyno Tune
-FMU Custom Headers + Full Exhaust + Electric-Operated Cutouts
-FMU Custom Velocity Stack Setup
-Savini Forged SM-4 Wheels + Custom Gold Paint
-Rotora Big Brake Kit
-Stätus Racing Front Seats + Harnesses
-FMU Custom Harness Bar
-Dynavin Headunit
-Dangleberries
-KW Coilovers
-Upgraded Front Sway Bar
-Installed Rear Sway Bar
-Upgraded Transmission Bearings + Gears
-AC Schnitzer Front Lip
-Okada Projects Ignition Coils
-Vacuum Venturi Crankcase System
-FMU Custom Matte Black Paint
-E39 M5 M-Sport Rear Differential
-Powerflex Polyurethane Bushings
-X5 Rear Ball Joints
-X5 Trailing Arms
-FMU Custom Differential Cover + Bracket
-Upgraded Rear Axles
-E39 M5 Shock Tower Mounts
It made 411 hp at the rear wheels, which when translated to crank horsepower in the Dyno Dynamics dyno computer, becomes a smidge more than 500 bhp. That means this big ol' V8 is putting out 100 horsepower per naturally aspirated liter. Enjoy the video, and Like our Facebook page if you'd like to see more from us! Otherwise, get set for another video tomorrow! What a week.