08 Feb

From The Ground Up

Sometimes you need to work a bit harder than you'd expect. But it's always better to start from the ground up and get 100% of what you want.

The majority of the time, body work is where this idea comes into play. For some jobs, you're stuck with a trade-off between a quick, cheaper fix and a longer, more expensive fix. Depending on the affected body panel and a few other factors, the quick fix may only hold for so long. But taking the longer route to begin with will most often go a long way in keeping you from having to fix the same thing twice. The E39 5-series below is a good example; did you know that the rocker panels are actually built into the body? Therefore, if your rocker panel takes a beating, you'll have to cut part of it out and replace it. Thankfully, this isn't our body shop's first rodeo, so naturally the rocker panel is looking smooth as silk after being worked on. More to come on this car later.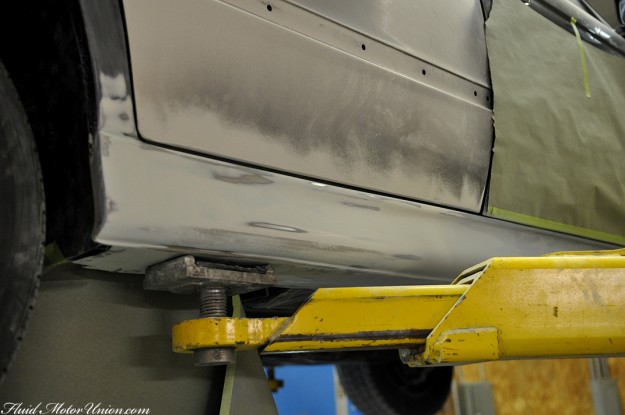 Last time we covered body work, we mentioned the silver E46 that received a partial panel respray. Well, it's all done now, and it's looking great. Silver is oftentimes one of the toughest colors when it comes to partial resprays of a car. It's just a very difficult shade to blend against the other panels, and while the light in these pictures may not do it justice, it's as well-blended as Al's Cayenne Turbo from weeks past, which is to say it's pretty damn spot on.
And now we get to one of the biggest ground-up quasi-body-related jobs we've had in a while — the Ford Escape Hybrid. Last time you saw it, it was in quite a state, having suffered a rather nasty front-end collision. Thankfully, all the parts of the hybrid drivetrain are safe and intact, and the frame barely escaped damage, so a large majority of it is parts replacement. So, after the insurance company came, we started ordering parts. And then they all showed up.
So now the task begins; we must replace all the damaged components with the shiny new OEM bits. But first, we must remove all the old garbage. And trust us, there's enough of it to go around. Probably the same amount of parts as we're putting on it.
No matter what, this Escape will be looking hundreds (if not thousands) of times better in a couple days' time. We're also still chugging along on the mysterious turbo build, so we'll shoot you an update on that soon also!