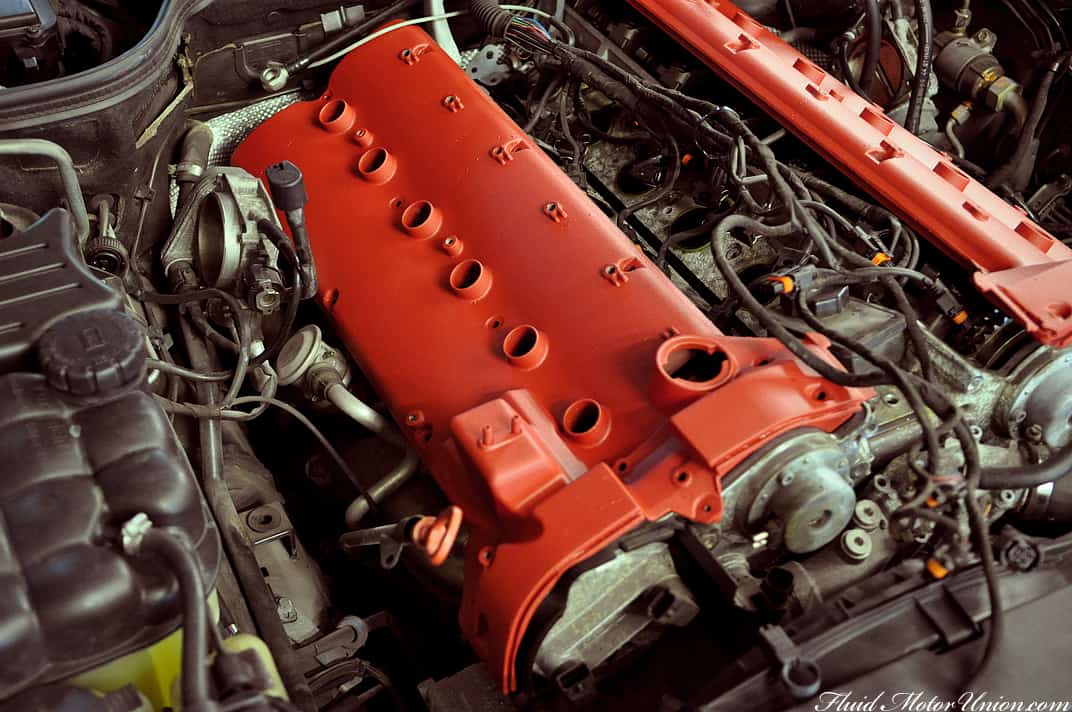 12 Dec

Fresh Powder

There's still not a single snowflake on the ground at the FMU campus, but that's not the kind of powder we're discussing today.

Nope, we're here to talk about the brethren of paint, powdercoating. For those of you unaware, powdercoating is a method of coating a surface using a dry powder. The coating is applied electrostatically, then it's baked to allow the powder to fully coat the surface. Most powdercoats come out stronger and tougher than a paint job, so many will choose to use it in places where heat is involved, or in parts that may go through a little extra wear and tear. Earlier this week, we went to go pick up some parts from our powdercoater, so let's take a look at what we've got. First up, we present to you a set of valve covers powdercoated in a Ferrari-esque red. They're also extremely difficult to photograph, as you can tell by the same valve covers looking 3 completely different shades in the upcoming pictures.

These valve covers belong to a Mercedes SL600, for which we have a few more modifications lined up. This is only the beginning for this car.

Obviously, those weren't the only parts to arrive; that'd be a pretty lame blog post. Along with the Ferrari red valve covers, we also received two smaller valve covers and an intake plenum. They're powdercoated the same green as the paint on the Range Rover that we're installing them into. Originally, they came us to completely green; we took an extra step to add a little bit of flash to them by altering the raised design on top of the parts to a brushed aluminum finish. That way it has a little contrast, and we think it looks a great deal better with the two-tone aesthetic.

Finally, we received a large deal of parts in two different shades of black. These are the parts we've really been excited to receive — the Vulcan parts have returned!

The swing arm and fender mounting brace were powdercoated the same crinkled black that the OEM Vulcan frame is powdercoated, and everything else (brackets, oil cooler housing, sprockets and other various doo-dads) is done in a nice shade of gloss black. The parts came out looking great, so after laying out all the parts on the blanket you see there, the onus was on fabrication to get everything reinstalled and fitted together properly.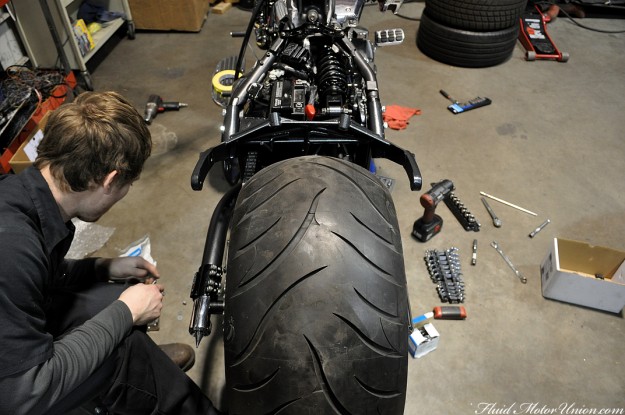 And, as you may assume, the reinstallation of all the parts went rather quickly. We are, after all, super excited to test-ride the bike and iron out any kinks that remain. After that, it's right back to Dana's hands. For now, though, we're just glad to get 'er off the jackstands and back on the open road. Thankfully the temperature will be on our side for the rest of the week.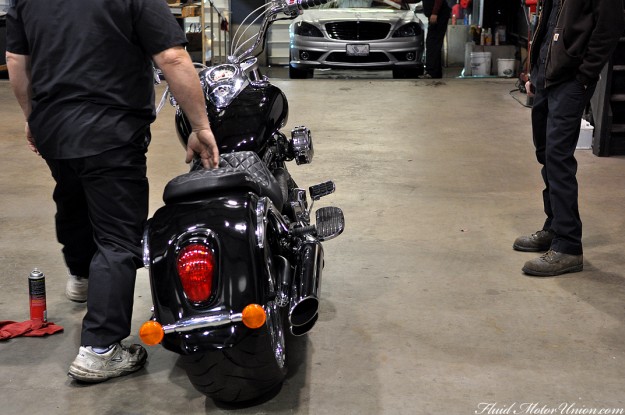 Enjoy the rest of your day, and we'll see you right back here tomorrow!