11 Jun

Four Doors

Quattroporte is Italian for "four doors." Maserati — keeping nomenclature simple.

Yep, you guessed it — we've got a Maserati of the four-doored variety in the shop at the moment. This one carries the Executive GT badge, which is a trim level based on the special Neiman Marcus edition Quattroporte. Not only does that give it an Alcantara headliner, but also special 19″ polished wheels and chrome grilles with a wood-grain steering wheel to finish it off. This does not count the automatic inclusion of the comfort pack, which includes massaging rear seats (that are both heated and cooled), wood rear tables and side window curtains. If there's one thing this car exudes, it's class, at every angle.

But it's not just here for pretty pictures, much to the photog's dismay. It's actually in the FMU HQ for some service and installation work. In terms of the installation part of the job, we'll be installing a collection of Maserati modifications from Formula Dynamics, which includes two separate microcontrollers (one for engine tuning, and one for drive-by-wire and clutch engagement refinement) and one hi-flow BMC air filter. Here they are, artfully arranged in this box.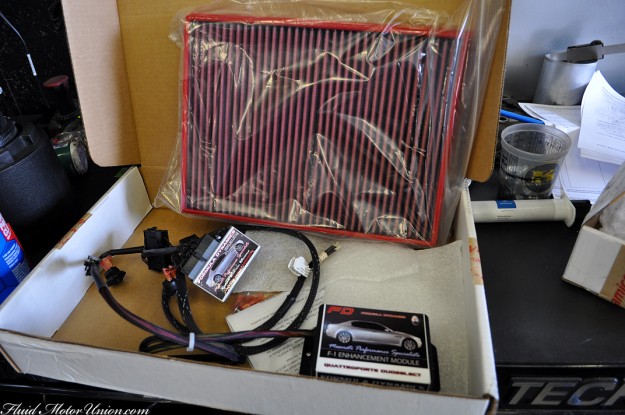 That installation is about to take place, so we haven't photographed it quite yet, but we did manage to catch a bit of the other service work taking place. Almost every single Maserati (and definitely every Quattroporte) that has come through our shop has had some degree of issue with the passenger side front window regulator. This seems to be a very common part failure on the Quattroporte, and one we're definitely familiar with. Seeing as how this isn't our first rodeo, we had everything lined up for the door panel surgery, which we set out to do first. If you know somebody with a Quattroporte and their passenger window seems a little wonky, tell them that it's best to get it replaced before they end up in a rainstorm without a working window.
Ever wondered what the door panel of a $100k car looks like once you start taking pieces of it off? Well, wonder no longer.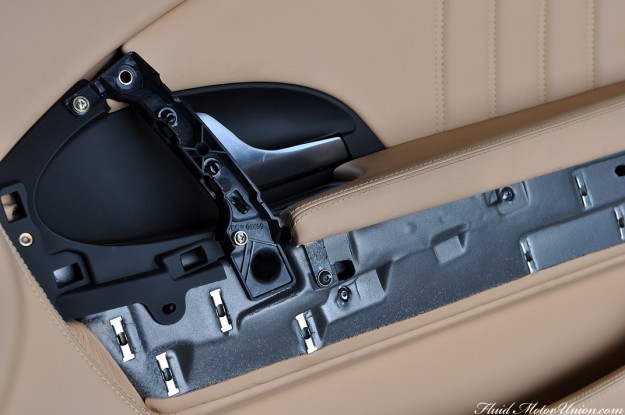 Have a great start to your week! We'll see you tomorrow!