01 Aug

For British Eyes Only

Naperville and Plainfield got into the Olympic spirit yesterday, as FMU welcomed a supremely British Aston Martin into its midst.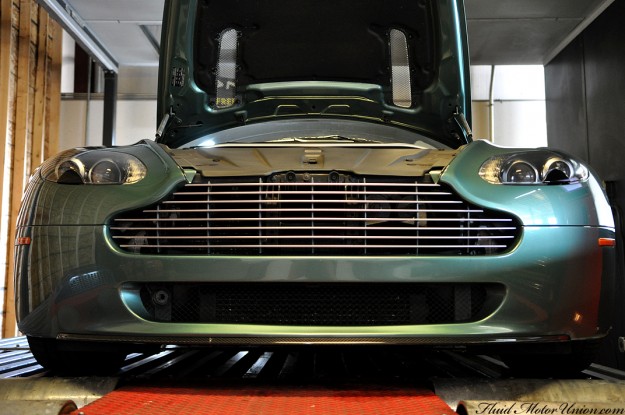 Earlier in the week, we had a customer bring in his V8 Vantage for a few dyno runs and a parts install right in the middle of those runs. First things first, the Vantage needed a benchmark so that we can see just how much power is made after the parts install. No stranger to a dyno run here and there, we loaded up the 4.3L V8-powered Briton onto the dyno, strapped 'er down and did some runs.
This isn't a bone stock Aston, either. It came to us already packing an upgraded cat-back exhaust, along with several carbon fiber (or fibre, if you're being British about it) accoutrements on all sides, including a very mean rear diffuser.
With the benchmark runs showing strong power, we went ahead and moved it over to service, where we promptly lifted up the Brit and begun the installation. We removed the OEM catalytic converters and swapped in a set of shiny hi-flow cats that should free up some additional ponies. And if there's one thing we learned from Googling the words "British horses" to try and find an appropriate pun, it's that the British love their horses.
All in all, the power making its way from the V8 to the shiny rear wheels jumped up by about 20 whp, which is a sizable gain for an hour's worth of parts swapping. We've got the dyno graph below, along with the before-and-after video that we shot as well. Enjoy — we know the owner most certainly is, judging by his display of exhaust note upon exiting the parking lot.
See you tomorrow!