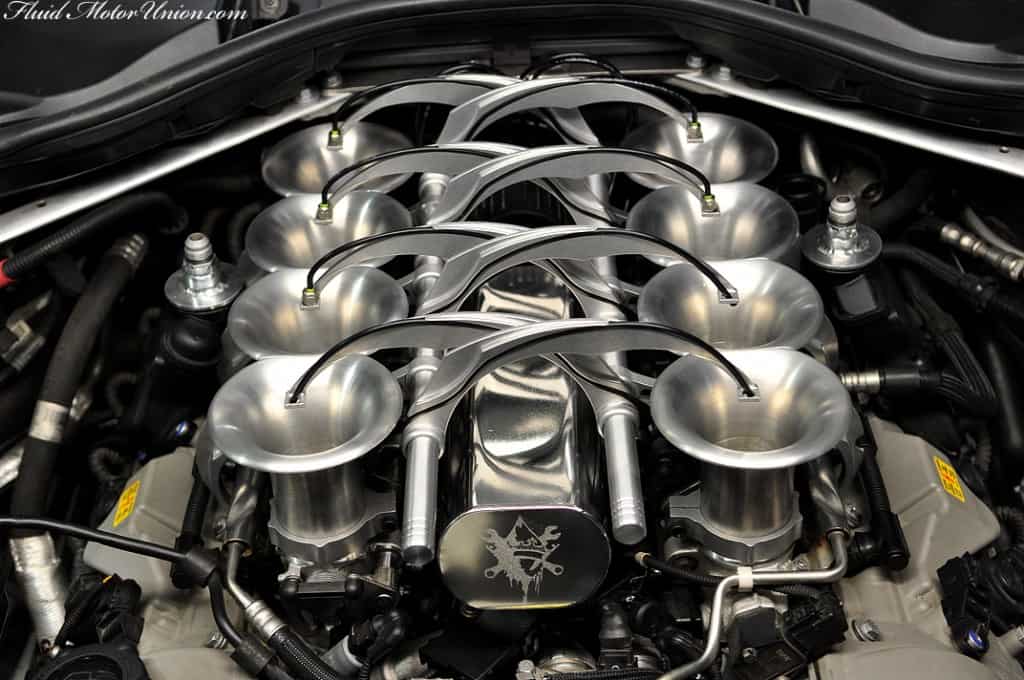 29 Jun

FMU's Wicked E9x Velocity Stacks

So, after a weekend of waiting, we've got a comprehensive photoshoot of our new E90 velocity stack system — and it's wicked.

Quick addendum: Our E90 stacks are now being featured on Top Gear's front page! Check it out at the link embedded into this sentence. And check out our Jalopnik coverage, too!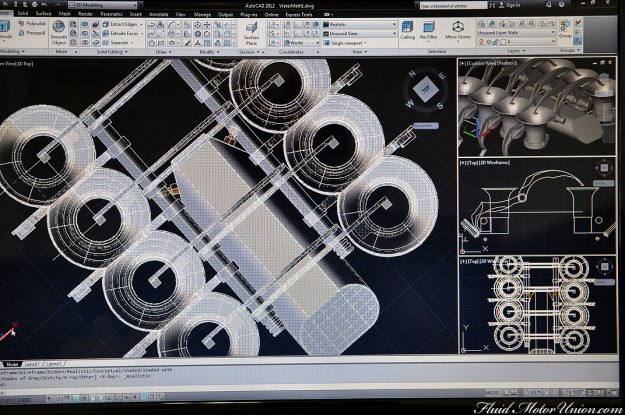 Planning was the name of the game with this stack setup. Just like with Dick Cook's E46 stacks, we knew we wanted something totally trick, something that immediately grabs the eye and makes you wonder more and more about it. After plenty of designs (and plenty of time spent in AutoCAD), we narrowed ourselves down to a few main ideas — we wanted them in aluminum, we wanted a new catch can design, we wanted water-meth injection (as opposed to nitrous), and we wanted them to look mean. And so we accomplished all four of those ideas in one fell swoop. And so, we made these:
Made entirely from 6061-grade aluminum, this new velocity stack set for the E9x M3 was conceived, designed, cut out and assembled in-house at Fluid MotorUnion. Our system incorporates an Aquamist (care of Howerton Engineering) water-methanol injection system, which runs from the tank in the back to a specially-designed manifold that splits up the 6mm inlet to eight 4mm direct-injection nozzles, which are placed at the ends of the arms that stretch over each individual stack. The tubing from the manifold to the nozzles, just like on the DCM3, are fed through specific channels in the arms themselves. When all's said and done, it looks like the grim reaper's put his special touch on this system.
You may notice a couple nozzles are missing. We're getting them ASAP, but we didn't want to delay this entire post (and all the picture-taking behind it) just because of a couple small nozzles. If you'll be at Supercar Saturdays this coming week (and if not, I suggest you come see what it's all about), we'll be displaying the final product there, as well.
We'd like to think it turned out well. Only time will tell, however. We still have to mount the AN fittings to the catch can and finish routing that system, too. After we get the nozzles and remainder of the catch can installed, we're going to try and get some videos of the sound, and perhaps a dyno run or two. It's all on the way. Thanks again to Jeff at Howerton Engineering for helping us get this done in short order!