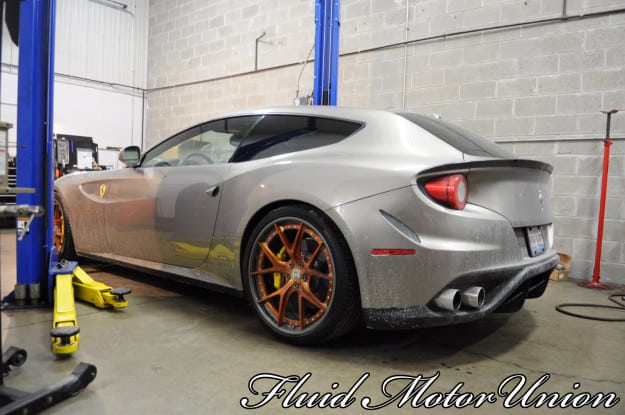 14 Apr

Ferrari FF Neiman Marcus Edition: Novitec Spring Install
When the FF debuted in 2011 it was touted by Ferrari as the world's fastest 4 seat vehicle, with 651 hp it claimed to reach a top speed of 208 mph. Only a measly 800 were sold in the first production year of this multipurpose supercar. You may be asking, can you make a vehicle with such exclusivity even more exclusive? Well Neiman Marcus has answered the question you probably didn't ask by producing a limited edition 2013 Ferrari FF. Made in one color called, "Grigio Caldo" which roughly translates from Italian to thermal gray. Want more exclusivity? Add a metallic burnt orange stripe and a set of matching color HRE S101 wheels, and then the chances of owning something completely unique escalate. Still not enough? Well then you need to call us here at Fluid MotorUnion because its time to turn your focus towards the vehicle's stance and ride quality with a Novitec Suspension kit.
We installed this kit without a hitch in about 6 hours. Removal and installation was painless and the bleed process on the Magneto-rheological Suspension was more straightforward than trying to pronounce its name. Now stanced lower with almost an inch, lowering this Ferrari is as unique as it gets.
If you're looking to lower or add uniqueness to your Ferrari or any other car for that matter, give Fluid MotorUnion a call to discuss your options as we can provide some excellent service that will help get you noticed.
Please feel free to e-mail mmarzano@fluidmotorunion.com with any questions you may have about our services!