04 Apr

Fender Bending

Since rolling the fenders is also kinda sorta technically bending them, we'll stand by the title of today's blog post.

It's not too often when it happens, but we're always glad when it does. There are only a few StanceWorks forum regulars that have been through the shop, some for work and some just to see what's up. Today, we welcome Kyle to the mix. Not only is he Tom's friend from tech school, he's also Kbuss (formerly Haole) on StanceWorks's forum, which has somewhere in the neighborhood of 50,000 accounts these days. Either way, he brought in his Mitsubishi Lancer Evolution into the shop to put on some new wheels, since the fenders would need to be rolled in order to get everything to fit.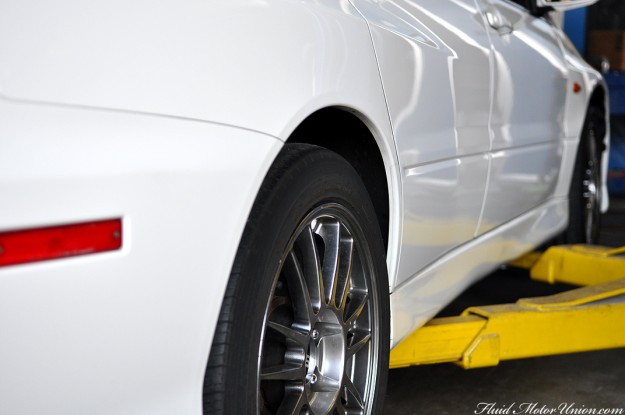 And what sort of wheels will he be fitting, you ask? Well, he'll be putting on some brand-spankin'-new CCW LM5s with an 18×10 square setup (+19 and +32 offsets for front and rear, respectively). These wheels are not your everyday choice for an Evo; as a matter of fact, they're actually the first set of LM5s made specifically in an Evo fitment, according to Kyle. And they're painted in a spectacularly brilliant white with some perfectly polished ARP connecting bolts.
Once we made sure the wheels were pretty enough to get on the car (and they are….there's not really any other prep necessary, since Kyle brought everything in and just needed the rolling), we put Craig to task on getting those fenders pushed a little outward.
How did it turn out? Well, we'll show you pictures once everything for this trip is completed, but for now, rest assured those wheels fit under those fenders without problems now. Thankfully, Kyle is understanding of how a low car should be driven, so he won't have the wheels at full lock with 6 passengers in the backseat, but we did test the car's rubbing with 400 lbs of ballast (plus Craig as driver) just to make sure that he can haul some stuff or some people if he needs to.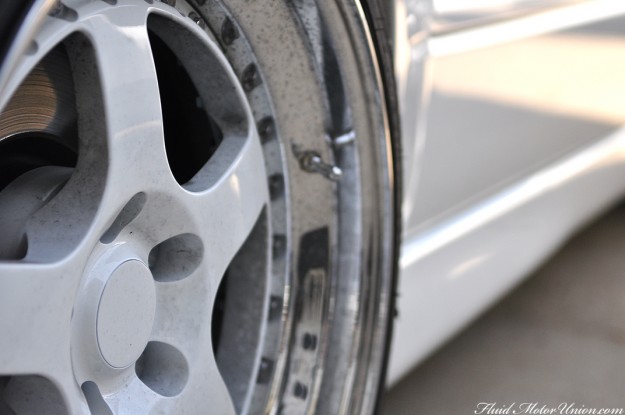 But if we were Kyle, we wouldn't want to put anything in the trunk of that Evo. Why, you may ask? Because of his "upgraded" trunk floor. He hand-cut and laid real wood floor paneling in his trunk, with space for both the subwoofer and the rear-mounted battery. It looks clean enough to eat off, and sturdy enough to dance on, but we wouldn't suggest eating off it after dancing on it.
In the meantime on the blog, get ready for some fresh content coming your way soon!