27 Jun

Exotic Fare

Today, let's take a look at a few of the less-prolific vehicles to roll through Fluid MotorUnion's headquarters.

First, we have rarest new car of the bunch. Our friends Jim and Rich stopped by the other day to show off Jim's newest toy. This is, by far, one of the toughest Mercedes to get your hands on; it's a C63 AMG Black Series. Coming in coupe form only, this 510-hp beast hits 62 mph in 4.2 seconds and is equipped with a whole host of luxuries specific to this model. We won't dive into all of them now, as he'll be back later for some work on the car, but until then we can still stare at it with our jaws on the ground. This has to be one of, if not the best looking AMG currently in existence.

Meanwhile, slightly more inside the garage, the 996 Switzer P700 Turbo is up on the rack after a good compression test but a so-so leak test. There was only one option to chase down all the air leaks we found after we smoked the system. The motor had to be removed. Here it is, still in the car with everything more or less still connected…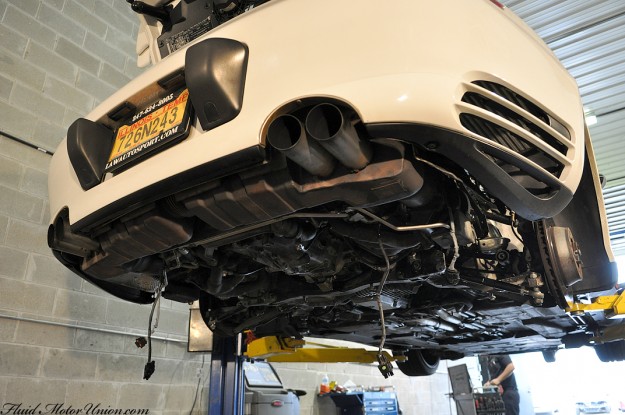 A little closer…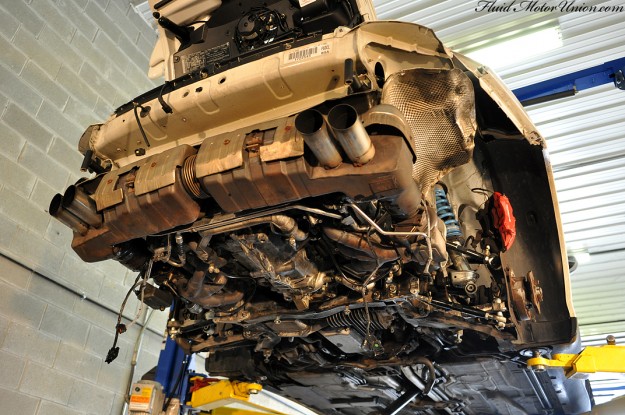 There we go.
While it's out, we'll be going over the entire motor to see any issues that may exist, whether or not they're related to the current issue. After all, this car needs to be at 110% when it hits the road, and it's our job to make sure that happens. In the meantime, the shell of the 996 looks really lonely without a heart.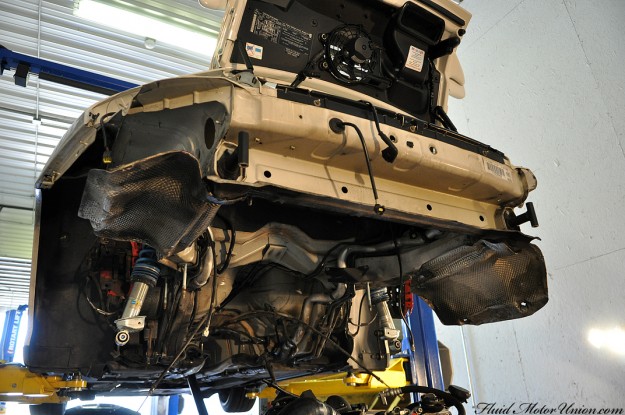 Over in fabrication, while the minds meet to put together an exhaust solution for the Gallardo, we also went ahead and changed the plugs and coils, as they're about due for replacement. Nothing too exciting here, however Lamborghini did decide to make the job slightly more difficult by putting a few boxes in the way of the backmost coil on the passenger side.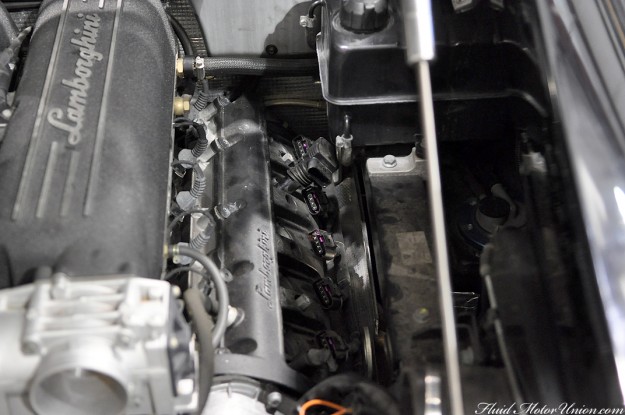 And finally, we have the rarest car ever to land in our parking lot — the ice cream truck. It's rare for two reasons — first, he doesn't normally stop in the lot; however, since he saw one of our intrepid employees on a scooter, he recognized our insatiable need for sweets and stopped in. Second, we're in the middle of a small industrial park. It doesn't exactly scream, "This is an area that is desperately needing an ice cream truck." But either way, he came in and we bought some ice cream. Not a bad way to start off this heat wave that's hitting Chicago starting today.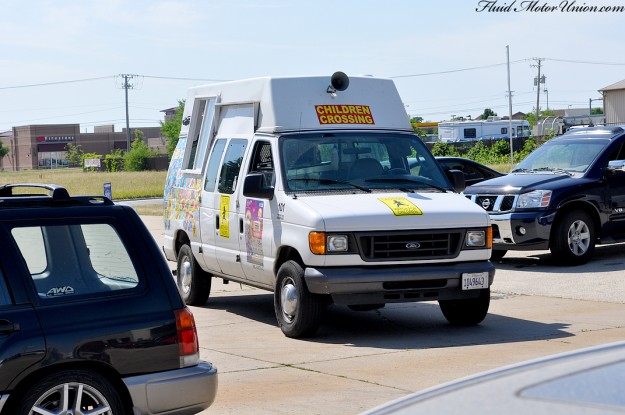 Stay cool, folks. It's going to be in the triple digits for several days. Get your A/C recharged before it's too late!