13 Feb

Decisions And Revisions

Sometimes things will need revisions. From Call of Duty updates to vehicle designs, revisions happen more often than you'd think.

Such is the case with Eric's Z4M exhaust. While the vehicle was up in the air getting its "parking sensors" wired up in the rear bumper, we realized that while the Z4M may have a gorgeous tone that we happen to love, it may not be stealthy enough for its owner. As a result, we decided to take on a little extra work and add a muffler somewhere midship. First, we had to drop the rear end of the exhaust…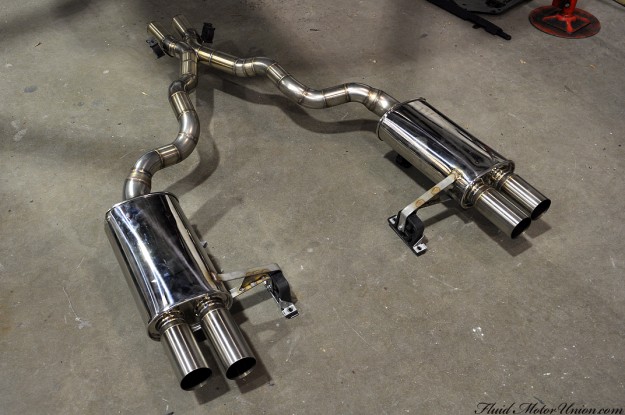 Then we removed the offending pipes. By offending, we mean the only pipes that could be removed and replaced with the bottle resonators (which we had to relocate, since there's literally only one spot that our muffler will work in)…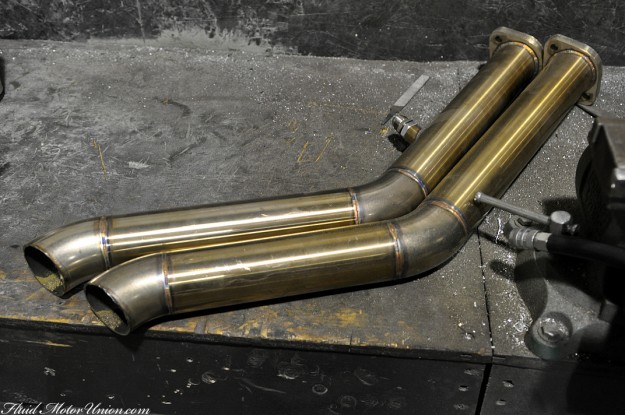 And now we're going about putting everything together. It was tricky to find more space to put more parts into the exhaust system (there's a lot less room under the car than with, say, an E46 M3 with the same motor), but after a fair amount of thinking, we came up with our revision, which you'll see in a later blog post, as the job wasn't done at the "time of print."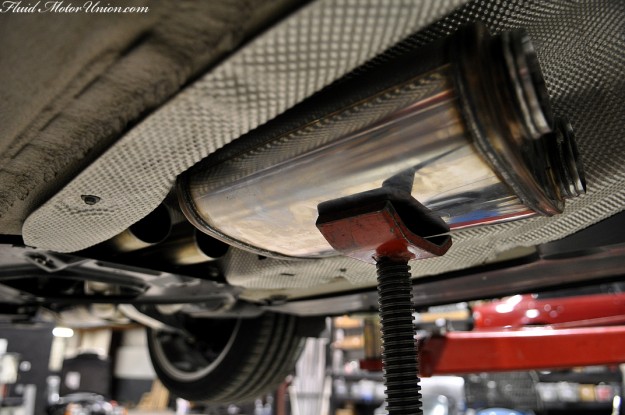 Over in the body shop, the 335i was receiving its final revision — a freshened-up front bumper. A car doesn't need to be low to pick up its fair share of crap from the roadway, and the 335 was no exception. During this paint job, we decided that the Alpina emblem at the bottom of the lip doesn't get enough time in the spotlight, so to speak, so we gave it a bit of an extra pop by painting it white. Between that and the wheels, along with the removal of some modifications to make it easier to sell and more warranty-friendly, it should be out of here in no time flat.
And next, we'll turn our heads a bit to the paint booth, where the final revision to Eric's airbox setup is currently drying from its most recent coat of paint. Once the carbon fiber overlays were done, we masked them off and applied a base black coat to the rest of the structure. After that, it was a matter of treating these parts like any other undergoing paint. Now that the majority of it's finished, they'll prep it for a satin finish and it'll be all set. From there, there's not much left to Eric's car…he recently decided to pull the trigger on a VAC Motorsports upgraded oil pump for a Valentine's Day gift to the Z4M, so there will be more in store in the near future.
And on a final note, if you happen to misshift into a lower gate by accident (say, going 4-5-4 instead of 4-5-6), this is not what you want to see when you pull your plugs: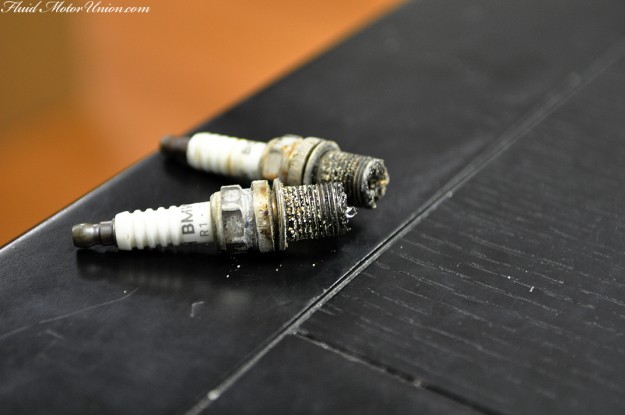 For those of you unsure what you're looking at, these spark plugs are missing a rather large part of themselves. A quick check on the boroscope confirmed it; the engine was misshifted, causing the pistons to come in contact with just about everything they shouldn't, namely the valves and plugs. The result? A whole lot of carnage and a blown motor. Sometimes you can get lucky; there is a certain RPM at which the pistons can contact the valves, so if you misshift with some room to spare – and luck happens to be your middle name – you can walk away relatively or completely unscathed. On that note, be careful with your shifts and have a good week!