26 Jun

Cut It Out

Today, we return to the saga of Kris Boss's Phoenix Yellow M3 with a bit of exhaust work.

When we last looked at the M3, the second section of the exhaust was removed in order to add the cutout. Here's the cutout in question, the same brand we used for Nick's M3, along with almost every other cutout we've done. The first step in the process is to give the exhaust piping a nice ovalesque hole to connect to the cutout. So we drilled the hole in the pipe, which we then smooth out to the intended size (shown by the marker outline). It's then tacked in place.

Then, with the tacks holding the cutout where it should be, we welded it into its permanent resting spot.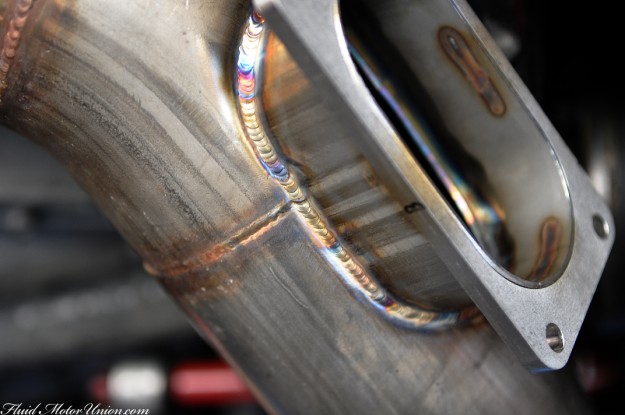 After the welding finished, we put together a small dump tube to angle the exhaust gas away from the differential and towards the ground instead.
At this point, we cut out a chunk of his midsection closer to the middle. There was a slight point of contact between the exhaust piping and the heat shield, so we reengineered the pipe to bypass that issue.
And of course, with all weld jobs at work comes everybody's favorite type of pornography — weld porn!
So here she is, all put back in place with no contact and some extra loudness to boot.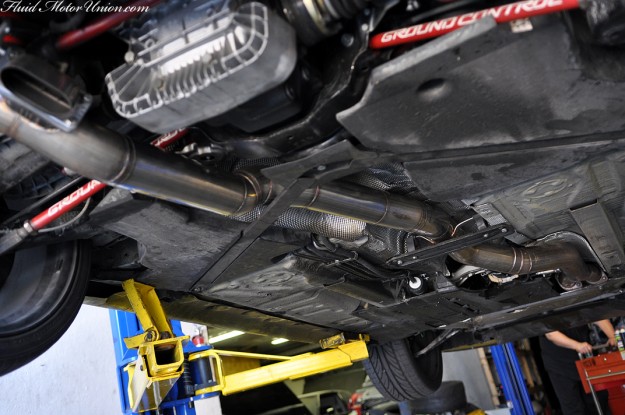 You may find yourself asking, "What's next for this Bavarian beast?" Well, as we all know, power is addicting. Once you get some of it, if you have the means, you'll want more of it. And that's exactly what we're helping Kris to set up right now. Stay tuned for the next round of work to take place!