15 Mar

Body Issues

No, this isn't turning into some sort of health-conscious blog where we discuss self worth and feelings. This is all about body shop issues.

Alright, we'll admit it — this first one is a bit of a stretch for being considered an 'issue,' unless you consider cosmetic upgrades and regular maintenance to be issues. Either way, in the foreground of the first picture is Vytas's Genesis Coupe 2.0T. Its wheels are being swapped off in favor of something larger, darker and wrapped in better tires. At the same time, we're investigating a pesky sensor issue and also replacing his clutch with an FX300 from Clutch Masters. In the background is our own 2.0T Genesis Coupe, with the entire body prepped for the paint booth.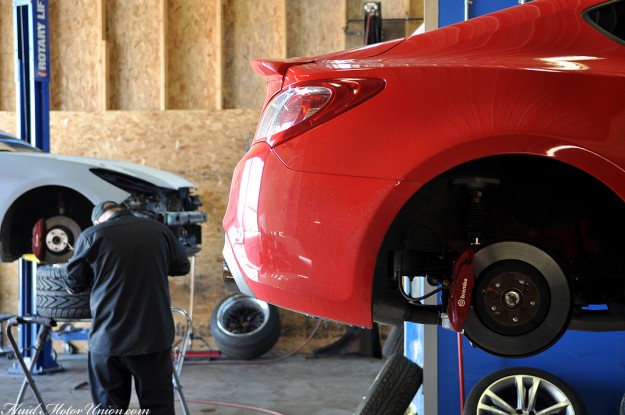 In-between those two Genesis Coupes is our main body man, Ron, who's working on an actual issue in the body shop. It's always best to buy parts from those that are trusted, or can be vouched for. Especially when it comes to painted body panels — there are so many things that can be done wrong in the course of prepping for paint and painting that one misstep can spell doom for a paint job. Like this bumper. If you notice the incredible smoothness of this bumper, it wasn't sanded or prepped at all prior to priming; to make matters worse, they forgot to include a key ingredient that helps the paint to set to the bumper. The result? The paint started flaking off like an old vinyl job. We're in the process of cleaning up after it and prepping it the right way, but always make sure you know who you're buying parts from.
Okay, this one has nothing to do with the body shop, so we'll just call it a break from your regularly scheduled programming. The E30-bound S54 has found its mate (the transmission case resting nicely in front of the E30) and is currently in the process of being stripped down to the bare essentials, so it's much easier to get it into the E30. Which will be happening very soon!
And finally, this shouldn't need much introduction at all. The SL's stretched rear wheel arches are finally being put together! Awww yeah.
See you tomorrow!