04 Oct

Around The Shop In (Less Than) 80 Days

If it takes us eighty days to get through this blog post, well, consider us terrible storytellers. We'll try to keep it faster than that.

We'll start with the body shop, as we've got a couple different cars to knock out over here. Start big, end small, you know. First is a black Audi Q5. Its rear bumper suffered enough damage to warrant replacement, so we've currently removed the offending panels and were awaiting the arrival of the new ones, which recently arrived in all their satin-grey glory. Now it's just a matter of cleaning them up and getting them ready for the paint booth. The vehicle itself didn't suffer damage, so it's just rote panel replacement this time around. Which is never a bad thing, seeing as how larger damage always runs the risk of creating drivability issues.

Moving to the other lift in the body shop, we have our friend Colin's E46 M3. He, too, suffered a bumper bash-in, albeit with a bit more parts damage. The bumper itself didn't survive the scrape, nor did a few BMW and VF Engineering pieces right behind the bumper (he's got a VF supercharger kit, in case you're wondering). So, after some finagling, we received fresh pieces from various sources and are installing them as we speak. We're also getting his new front bumper painted up, so he should be back in action by the weekend without a problem. And that's good timing for a supercharged car — when the weather is chilly, but not too chilly for sticky tires, you end up with a car that seems twice as responsive as before, with a bit more power, to boot!

Rolling our way over to service (we're too lazy to just walk there), we find a black-on-black Mazda3 surrounded by a block and some engine components. After putting two and two together, you can imagine what's taking place over here. As with all engine work, there's plenty of parts to be removed, cleaned, assessed and reinstalled, so this is a job that may end up spanning a couple different blog posts. Both OJ and Keller are working on it, so needless to say, we should be shuffling along at a good pace.

Turning our heads slightly, we've found our cleanest customer engine bay of the week! You could imagine that we see engine bays arrive in the shop in various states of dirty. Most tend toward the dirty side, as not everybody wakes up in the morning and plans to power wash their engine bay — it's typically the last place on the car you'll be, after all. Some customers, though, through either strict cleaning schedules or pure luck, have surprisingly minty bays. This one comes to us from a W220 SL65 AMG. It helps that half the engine bay is one giant piece of (fake?) carbon fiber cladding, but still, it's shiny.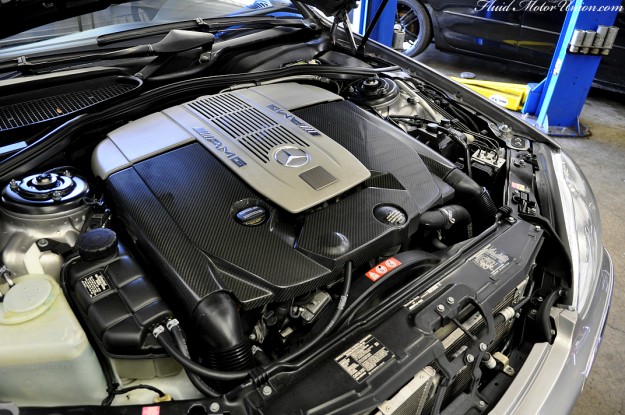 Drifting slowly towards fabrication, we've ripped out pretty much the entire interior of the LS-swapped WRX, and still have some more to go. The Wilwood clutch master cylinder that we were given with the car sits where it's supposed to, but since we're dealing with an engine not designed for this car, the CMC ends up bumping into the head of the LS motor. Therefore, it's time to move it a little bit, so we'll need to access both sides of the firewall in order to do that. If you look really hard, there's a firewall somewhere behind that mess of bracing and wiring. Almost there!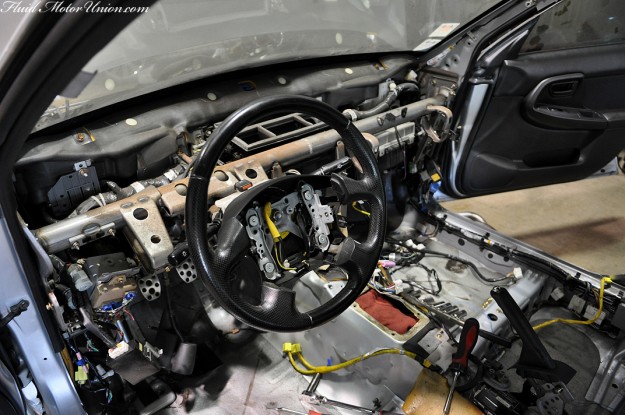 And we've now landed at our final stop on the world tour of Fluid MotorUnion's garage. Here, we have…um…something. What is this pipe? Why is it white? Why does it look like it's not coming from an exhaust manifold port on the block? All we know is…it's called the mysterious build, and we're currently about to make an exhaust for it.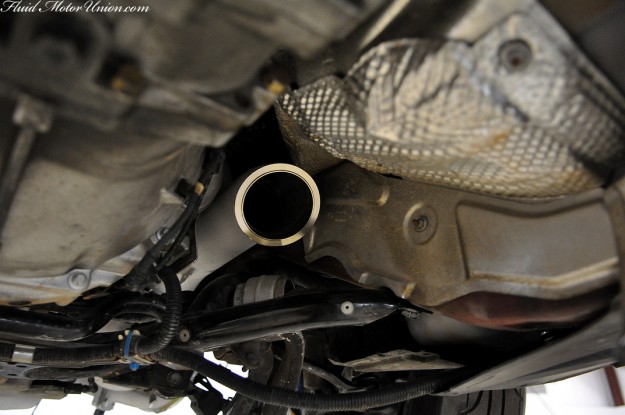 It's the last warm day in Chicago for a long time, folks. Go get some sun and relish in it!