20 Jan

All The Small Things, 190 Edition

We just love Blink 182 so much that we'll keep reusing this title over and over. Or, perhaps, it's just a fitting title. Mostly the latter.

We'll start with the largest item and move smaller as we go through. Earlier, we had removed Perry's 190E's valve cover for something nefarious. Well, guess no more, it's once again another personalized FMU nameplate. It's going to be heading off to the powdercoaters soon, but we wanted to give you a quick look of it before it undergoes its color transformation.

Now we'll change our focus back onto the car itself. After rearranging the radiator's inlet and outlet tubes, we've gone about reconnecting everything, and we're starting to run all the necessary oil and coolant lines. The addition of the braided steel lines are a good contrast against the utter darkness of the oil cooler and intercooler below. It also gives it a bit of a bosozoku style, as well, since the oil cooler is smack dab in the front. It's not full boso, as that would require an externally front-mounted oil cooler, but it's almost there.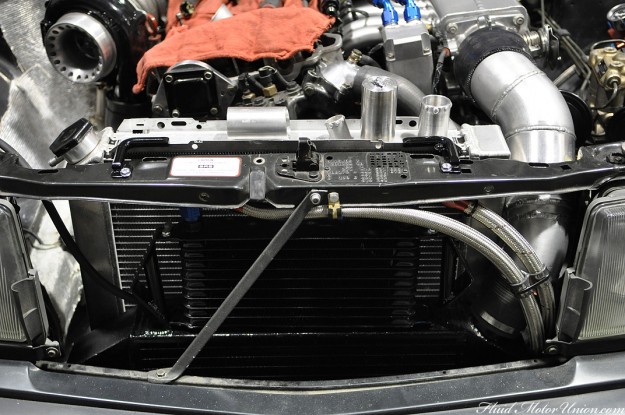 And finally, we move to the smallest piece of customization happening on the 190 this week. Since the OEM rubber coolant hose is getting rather gangly and unbefitting of the rest of the bay, we're coming up with a custom solution to give it a bit more edginess. One piece from this custom solution is a block we're incorporating. As always, we had to find a way to make it ours, and with a bit of mill work and paint, we did:
Have a great weekend. Drive safely!